This easy cucumber sambar is yummy, simple & easy to make and goes great with rice, dosa and idli for lunch, breakfast or snack.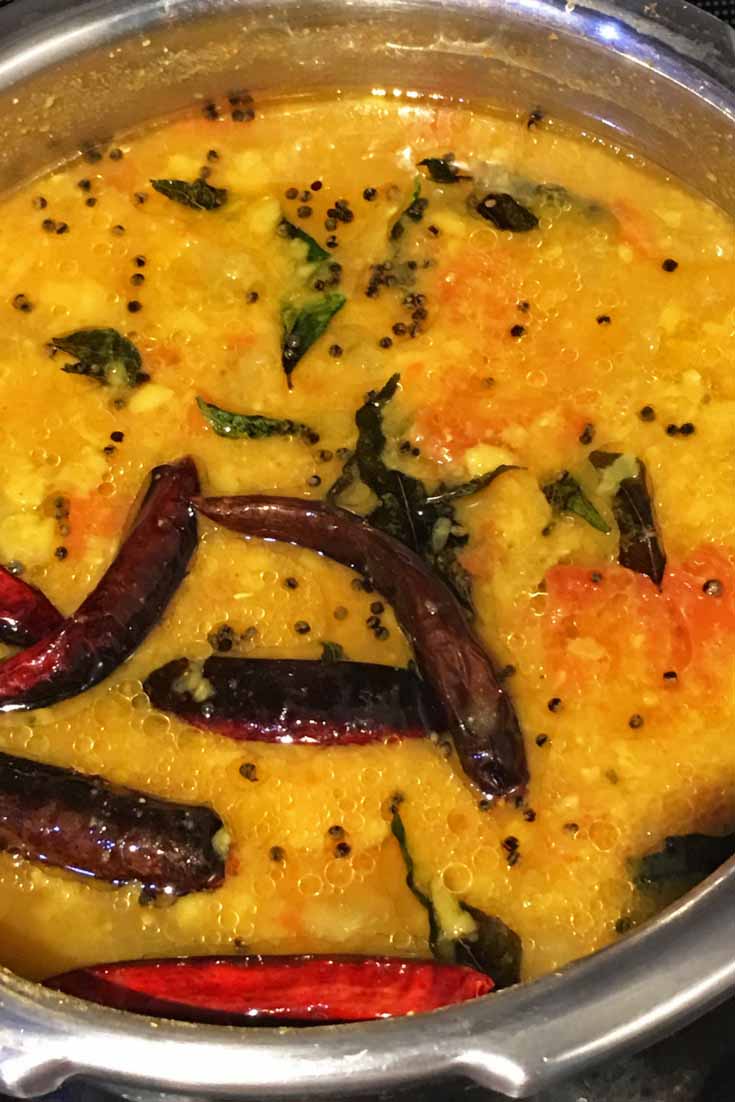 This is not a traditional Mangalore style cucumber sambar recipe which is quite popular (especially in Karnataka) & delicious too, but this is a much simple recipe for cucumber sambar which is yummy as well and you can prepare this easily and quickly for breakfast or lunch so you can use this cucumber sambar for rice or as a side dish for dosa or idli.
This is kind of Kerala style vellarikka parippu curry (cucumber dal curry) which is made into a delicious sambar (vellarikka means cucumber and parippu means dal).
Thus cucumber sambar makes a simple and tasty South Indian style or Kerala style vegetarian/vegan curry perfect for vegetarian lunch, dinner or even breakfast.
There are many different sambar varieties with different sambar recipes.
There are also other yummy side dishes for dosa & idli which you can easily make at home.
I have added seasoning to this sambar after preparing the sambar, so I used a small pan to make the seasoning or tadka.
Below picture is before adding the seasoning
Below picture is after adding the seasoning
If you prepare the seasoning ahead of making the sambar using the same pressure cooker, you can make this as a one pot sambar too, which will make it more quick and easy.
When I have time, I prefer to make the seasoning separately and add it to the dish after the dish is prepared, which looks more pretty & delicious to me :), but you can make this ahead as well to save time and to make it a one pot dish.
I made this cucumber sambar without tamarind pulp, so I used two fresh tomatoes to add sourness to the sambar. If you don't have tomatoes or if you don't want to use tomatoes, feel free to use tamarind extract as you use in regular sambar recipes.
Just make sure you dissolve the tamarind (about 1 teaspoon is enough in this recipe) and filter the extract before you add it to the cooker to prepare the dish.
If you follow this cucumber recipe, you can easily make the sambar using fresh cucumber & few tomatoes and also the exotic spices for sambar.
So here is how I prepared this simple and yummy cucumber sambar following this easy cucumber sambar recipe.
Print Recipe
Easy Cucumber Sambar Recipe
Mangalore style (Karnataka style) cucumber sambar is a popular variety in South Indian sambar recipes. This is a much simple and easy version of cucumber sambar or vellarikka sambar that you can make quickly and easily and makes an easy, delicious side dish with rice, dosa and idli for a simple and easy breakfast, lunch or dinner.
Ingredients
1

cucumber

2

fresh tomatoes

¾

cup

toor dal

(yellow pigeon peas split)

salt

as required

3.5

cups

water

or little more if needed
Spice Powders
2

tablespoons

sambar powder

1

teaspoon

turmeric powder

1

teaspoon

red chili powder

2

tablespoons

coriander powder
For seasoning
1

tablespoon

oil

1

teaspoon

mustard seeds

5

red chilies dry

1

string

curry leaves
Instructions
Wash and peel the skin of the cucumber.

Cut the cucumber lengthwise and cut in half, and scrape off the seeds to remove them easily.

Dice the cucumber in little long and medium uniform sized pieces.

Transfer the diced cucumber pieces to a pressure cooker.

Wash and cut tomatoes in medium sized pieces and add the cut tomatoes to the pressure cooker.

Wash the toor dal (yellow pigeon peas) and add it to the cooker which contains cucumber and tomatoes also.

Add salt and all the spices & sambar powder to the cooker, mix everything well.

Add the water and mix all contents very well (make sure the dal is not sticking to the bottom of the cooker).

Close the lid of the pressure cooker with the safety valve and cook in medium heat for about 12 minutes or until 3 whistles come.

After cooking for about 12 minutes, switch off the cooker and wait for it to cool down.

Once the pressure cooker is cooled enough, open the cooker and mix the contents. See if all the contents are cooked enough and blended with the spices to make the yummy sambar. In case you need little more gravy, you may add more water (but this is usually not needed for cucumber sambar).

Cucumber sambar is ready now we can make the seasoning for the sambar.
To make the seasoning for cucumber sambar
To make the seasoning, heat oil in a small pan and add the mustard seeds.

When the mustard seeds splutter, add the red chilies and curry and fry for few seconds.

The seasoning is ready, so you can pour this hot seasoning to the sambar and gently mix the contents.

Cucumber sambar made using fresh cucumber, tomatoes and spices is ready to serve!
Notes
You can serve the cucumber sambar with rice for lunch or dinner or you can use it as a yummy and simple side dish for dosa or idli for breakfast, snack or dinner!
Nutrition
Calories:
215
kcal
|
Carbohydrates:
33
g
|
Protein:
12
g
|
Fat:
5
g
|
Saturated Fat:
1
g
|
Sodium:
32
mg
|
Potassium:
827
mg
|
Fiber:
15
g
|
Sugar:
6
g
|
Vitamin A:
1285
IU
|
Vitamin C:
103.8
mg
|
Calcium:
69
mg
|
Iron:
4.4
mg
Hope you found this post on cucumber sambar recipe or vellarikka sambar recipe helpful in making easy, simple and delicious vellarikka sambar for rice, dosa or idli!