This homemade chocolate frosting without powdered sugar is absolutely delicious, creamy and you can frost multiple layers of cake using this recipe for homemade chocolate frosting without powdered sugar.
If you don't have powdered sugar(you can buy it here), it is difficult to make whipped cream frosting or buttercream frosting as the frosting will turn grainy as the granulated sugar will not dissolve completely in the frosting.
The reason why I did this frosting was not just because I didn't have powdered sugar but also because I was short of 2 cups of heavy cream I needed and it turned out absolutely delicious so I wanted to save the recipe and share it too.
The powdered sugar for frosting, popularly known as confectioner's sugar usually come with corn starch which added stability to the whipped cream frosting or buttercream frosting.
You may make homemade powdered sugar from granulated sugar if you wish, by just processing the granulated sugar in your food processor until it is powdered well. I could have done the same, however I didn't have enough heavy whipping cream too, as needed for the whipped cream frosting recipe to make enough for the multiple layers of cake.
I had 2 cups of whipped cream which is very much enough to frost an entire single layer cake, but I had to make more frosting and the heavy whipping cream was not enough.
Also I didn't have powdered sugar. So I decided to go for a chocolate frosting without powdered sugar where I didn't need so much heavy cream.
Somewhere I read that we could make heavy cream (not heavy whipping cream) by heating butter and whole milk in a specific ratio. So I tried to compensate for the heavy cream, by making this mixture by heating the milk and butter and then combined it with the two cups of heavy whipping cream I had in my hand.
However the mixture was more of liquid consistency and it won't whip enough to make whipped cream.
So I had to use something to add thickness to the frosting. And I used flour. I also used shredded cheddar cheese which I had at my home.
The frosting recipes that use cheese for thickness usually call for cream cheese, however I didn't have cream cheese too 🙂 and I had this shredded cheddar cheese, so I decided to try it my homemade chocolate frosting without powdered sugar, and I have to say that this frosting turned out absolutely delicious and awesome!
I filtered the frosting while it was still slightly warm for a very smooth consistency.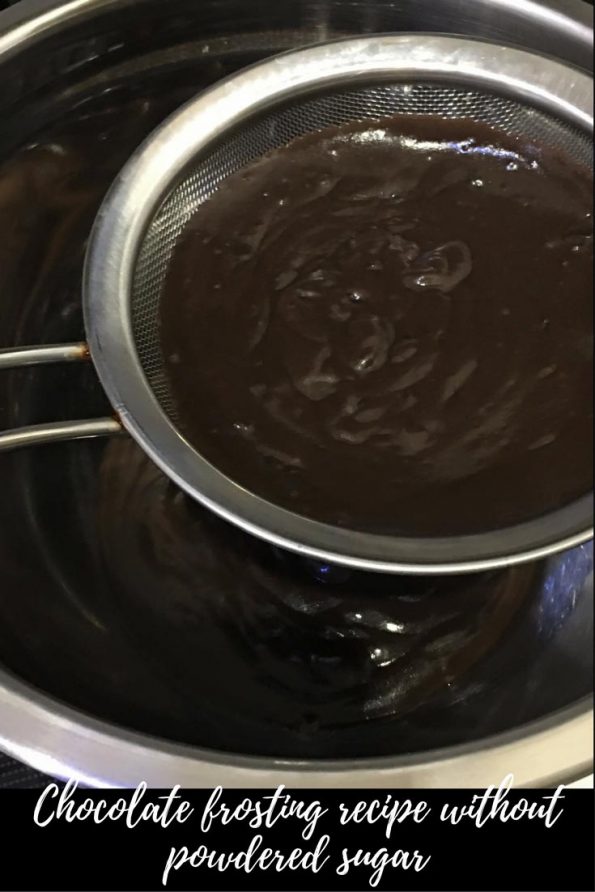 The amount of frosting is good enough for frosting multiple layers of cake.
If it is a two layer cake, you will have some extra left over frosting, which you can refrigerate and use later, after bringing down the frosting to room temperature before trying to apply on the cake, as the refrigerated frosting will turn little thick.
As you bring down the frosting to room temperature, you can easily apply it on the cake.
You may store the frosting in refrigerator for 3 to 4 days for later use.
This homemade chocolate frosting without sugar was smooth, creamy and delicious and it was so easy to frost the cake using this frosting!
This is a recipe that just happened out of the situation based on the ingredients I had with me and it turned out so delicious I had to share it. So go ahead and try this recipe if you have all the ingredients listed here.
So here is how you can make this homemade chocolate frosting without powdered sugar following this chocolate frosting recipe using flour and cheese.
How To Make Chocolate Frosting Without Powdered Sugar
Homemade Chocolate Frosting Recipe Without Powdered Sugar
This homemade chocolate frosting (cooked) using flour, cocoa powder, cheese and granulated sugar is delicious and you can use it easily for frosting cakes or cupcakes whenever you do not have powdered sugar.
Print
Pin
Rate
Servings:
8
cups approximately
Instructions
In a bowl, mix together the heavy whipping cream, cocoa powder and sugar.

Melt the butter and add the melted butter, whole milk and also vanilla essence to the heavy cream mixture in the bowl.

Mix the mixture well without any lumps, you can use an electric mixer or whisk if needed.

Now heat the contents in a saucepan stirring continuously and as the mixture begins to boil, transfer it from the hot stove.

Add the shredded cheese and flour, mix again using a whisk or mixer and take it back to the stove.

Heat the mixture in medium heat until the mixture starts to thicken as it begins to boil.

Transfer from the hot stove and wait for the mixture to cool down.

As it cools down, the mixture becomes more thick. You can filter the contents in case there is any lumps to obtain a smooth, creamy frosting.
Notes
Apply the frosting on the cake once the prepared frosting reaches room temperature and you can keep the cake refrigerated for a while so the frosting will set nicely. Refrigerate any leftover frosting, enjoy the frosted cake!
Nutrition
Calories:
606
kcal
|
Carbohydrates:
36
g
|
Protein:
12
g
|
Fat:
48
g
|
Saturated Fat:
30
g
|
Cholesterol:
155
mg
|
Sodium:
351
mg
|
Potassium:
235
mg
|
Fiber:
2
g
|
Sugar:
28
g
|
Vitamin A:
1695
IU
|
Vitamin C:
0.3
mg
|
Calcium:
322
mg
|
Iron:
1.1
mg
Hope you found this post on homemade frosting without powdered sugar helpful in making yummy homemade chocolate frosting with no powdered sugar.