If you wonder how to cook dried chickpeas (also known as garbanzo beans) in a pressure cooker, let me tell you this is so easy if you follow the instructions and tips given in this post for cooking dried chickpeas. This is not a method where you can cook the dried chickpeas directly in the pressure cooker, but we use the soaking and cooking method, where we soak the dried chickpeas in advance and then cook the soaked chickpeas easily in the pressure cooker, and this is so easy to do!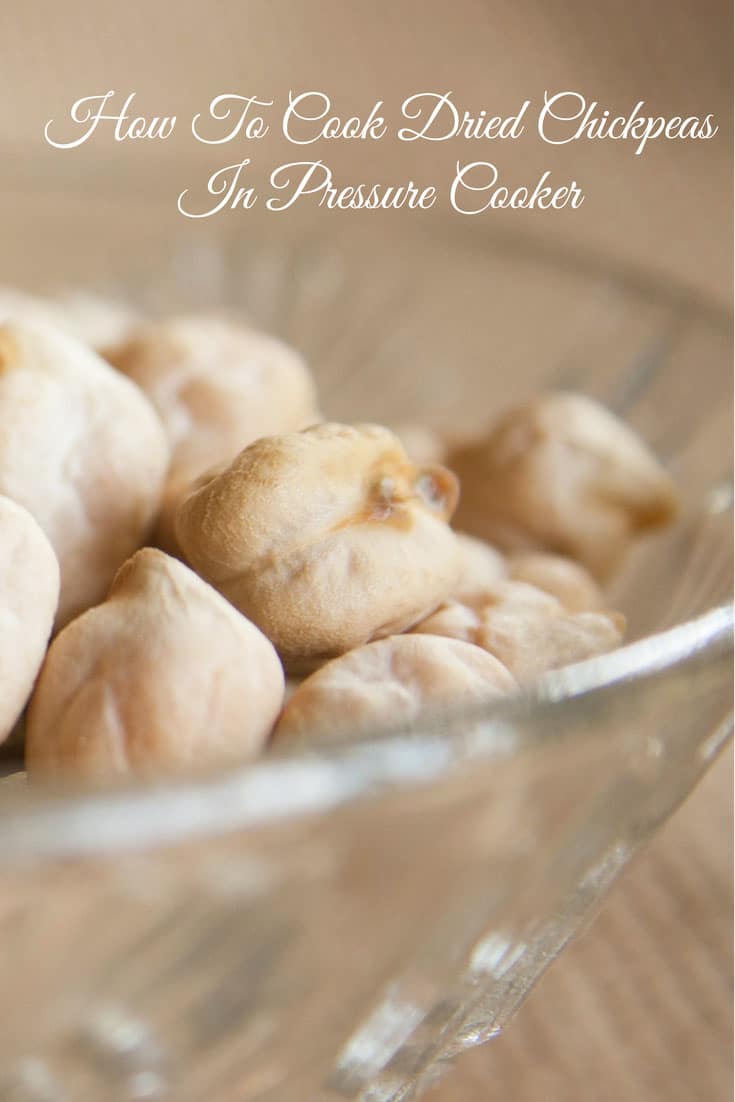 If you are new to using a pressure cooker to cook dried beans or peas or any other food, please go through the manual of the pressure cooker and follow the guidelines carefully as they are very important for your safety.
If you usually use pressure cooker for cooking, but just wonder how to cook dried chickpeas in a pressure cooker, you can read this here.
You can also cook chickpeas easily in an instant pot if you have instant pot with you.
You might also like to see my posts on how long to soak chickpeas and also coconut chickpea curry recipe which is made using roasted coconut blend and chickpeas using a pressure cooker.
Canned chickpeas is more easy to cook as you can directly rinse and add them to the cooker to cook it immediately.
However dried chickpeas need soaking. As I mentioned above, you can read my post on soaking dried chickpeas here which will help you to learn more about soaking dried chickpeas. Ideally you should soak the chickpeas for about 8 hours or you can soak it overnight so you can cook it the nest day morning.
Soaking in water for few hours will help make the chickpeas soft and they double in size and they will also undergo fermentation.
So here is how you can prepare the dried chickpeas for cooking in pressure cooker.
How To Cook Dried Chickpeas In  A Pressure Cooker
Easy Tips & Instructions For Cooking Dried Chickpeas
If you need to make almost 2 cups  of cooked chickpeas, you can take 1 cup of dried chickpeas (this will usually give 2 cups and little more amount of cooked chickpeas).
Using a measuring cup, you can take the right amount of dried chickpeas you need to use in your recipe.
Follow the below instructions to cook the dry chickpeas by soaking in water and cooking the soaked chickpeas using a pressure cooker.
Wash the chickpeas and soak it in water (use a container large enough to hold the chickpeas that will grow in size with soaking). You can use enough water to immerse the entire chickpeas, and it is ideal to use more water as the chickpeas will probably double in size as they are soaked
After the soaking is done, drain the water used for soaking and keep the chickpeas aside after lightly rinsing it once more.
Now, you can start to cook the chickpeas in pressure cooker.
Transfer the chickpeas to the pressure cooker with enough water to cook the chickpeas. For 1 cup of chickpeas you can use a 3 quart/liter pressure cooker but I recommend using slightly larger ones like 4 to 5 quarts/liters to avoid crowding in case (you can use large ones also but slightly increase the amount of water required than mentioned below)
For one cup of chickpeas, you can use about 3 to 4 cups of water, depending on whether you want to cook it for dry recipes or curries which need gravy. For more details on the amount of water needed to cook with dried peas and beans, refer to my post on how to cook with dry beans and dry peas.
After adding water, you can add enough salt and close the pressure cooker with the lid (make sure you use the safety valve and follow the directions in the manual of the pressure cooker).
Cook in medium heat for about 12 minutes or until 3 to 4 whistles come.
After 12 minutes, you can switch off the cooker. Wait for the cooker to cool down.
Once the pressure cooker is cool enough, you can open the pressure cooker and see if the chickpeas is cooked enough and soft.
Now, depending on your recipe, if you want gravy in your recipe, you can use the water used to cook the chickpeas as this is very healthy. However, if you just want to use the chickpeas and discard the remaining water, you can carefully drain the water using a strainer and use the cooked chickpeas for your recipes. Now your cooked chickpeas is ready to be used for your chickpea recipes where cooked chickpeas is needed!
Hope you found this post on how to cook dried chickpeas in a pressure cooker helpful!