How To Roast Paneer In Oven – Simple Roasted Paneer Recipe – How To Prepare/Make Oven Roasted Paneer – Basic Baked Paneer Recipe Simple – Crispy Soft Paneer Recipe For Sides, Snacks
If you wonder how to roast paneer in oven, to get soft and crispy baked paneer, here is how you can do it. The roasted paneer will be crispy outside and soft inside which makes it an excellent side or snack.
I lightly roasted this paneer without changing its color and it was soft inside and crispy outside, you may try baking for a while more if you want it to have a golden brown color.
Paneer is Indian style cheese which is very delicious and you can enjoy the paneer as a snack or side you can make very delicious curry recipes using paneer.  I have this super easy and quick paneer curry recipe here.
This is a simple and basic oven roasted paneer recipe, however you may add your favorite spices to the paneer cubes and modify the recipe if you wish and see how you like it.
In this roasted paneer recipe, I am using lime juice to add flavor for the roasted paneer, without using very hot spices.
This is a kid friendly paneer recipe too, and although I have given black pepper as an extra optional ingredient in the ingredients list, you can avoid using black pepper if you are making for kids, to make it even less spicy.
The oven roasted paneer recipe gives you paneer with crispy outside yet tender and soft inside. However a lot can depend on your oven temperatures too, and things may slightly vary with different kinds of oven. You can follow this roasted paneer recipe for nice baked or roasted paneer cubes. If you feel you want it more soft, you may decrease the oven temperature a little and bake for a bit longer. If you want it more crispy, try with slightly increased oven temperature and less cooking time.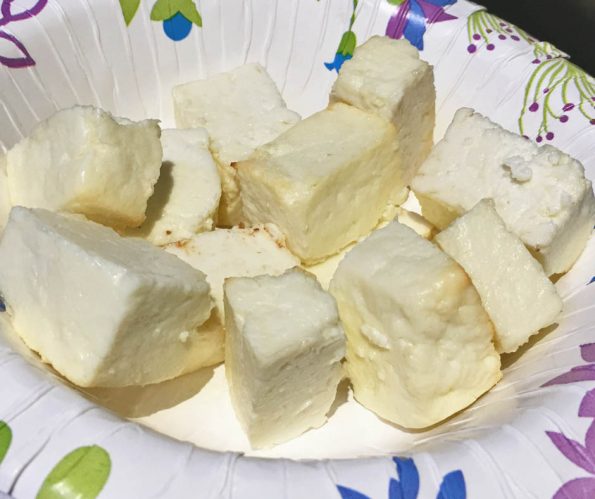 Paneer cubes tend to stick to the baking sheet as it gets baked, so you can use a reusable silicon baking mat for easy clean up later.

I had bought store bought paneer which came wrapped in a plastic cover and it was frozen. So I kept the paneer block outside the refrigerator for a couple of hours and then removed the plastic wrap using a knife, without cutting the paneer. Then I defrosted the paneer in the microwave by heating in the microwave in high for about 2 minutes.
You can cut the defrosted paneer into cubes so easily without crumbling the paneer.
So here is how to roast paneer in the oven following this simple oven roasted paneer recipe.
How To Roast Paneer In The Oven - Oven Roasted Paneer Recipe - Baked Paneer Recipe
Simple and easy oven roasted paneer recipe (Indian style cottage cheese recipe).
Ingredients
Ingredients for oven roasted paneer recipe
Paneer 1 block sliced into even sized medium cubes

Salt as required

oil 2  tablespoons

black pepper powder 1 teaspoon

optional, avoid if making for kids

lime juice 2 tablespoons

or little more if you like

garlic powder 1 teaspoon

optional
Instructions
Instructions for how to roast paneer in the oven
Preheat oven to 400 degree Fahrenheit.

Transfer the sliced paneer cubes to a large bowl, and add salt and oil, gently mix well to coat the paneer cubes.

Add the garlic powder, lime juice and black pepper powder also to the paneer cubes, gently mix the cubes to combine all ingredients so the paneer cubes will be coated nicely with the spices. Make sure you mix gently to avoid the paneer cubes crumbling.

Let it sit for about 15 minutes for marination.

Line a baking sheet with non stick silicon mat (which will make the work easy as the paneer tends to stick to the pan while baking) and lay the marinated paneer cubes in a single layer (you can discard any excess oil or water residue from the bowl, and just transfer the paneer cubes to the baking sheet).

Bake for about 10 to 12 minutes, as the paneer will get nicely cooked by this times, leaving a tender and soft texture inside and a nice crispy outside.
Hope you found this post on how to roast paneer in the oven helpful!