Easy Indian Style Pasta Recipe Topped With Roasted Cauliflower Florets – No Cheese Vegetarian Pasta Recipe With Garam Masala – Roasted Cauliflower Pasta Recipe Indian Style Masala Pasta Recipe Without Cheese
This Indian style pasta recipe topped with roasted cauliflower florets is delicious, healthy and easy to prepare. You can roast the cauliflower with your favorite spices and keep aside and finally top the pasta with the roasted cauliflower florets as needed. See my recipe here to make roasted cauliflower florets
You can use any pasta shells you like including spaghetti. I have used here store bought vegetarian marinara sauce to which I added the spices and then tossed the cooked pasta with the spiced marinara sauce. Alternatively you can toss the cooked pasta with spices and then add the sauce too. If you don't have store bought marinara sauce, you can follow my recipe here to make homemade fresh pasta sauce from fresh tomatoes (in that case you don't need to add any extra spices since my recipe for pasta sauce is already using spices).
So here is how we can make this simple Indian style masala pasta topped with roasted cauliflower florets following this easy Indian style pasta recipe.
Ingredients For Indian Style Pasta Recipe With Cauliflower & Masala
Pasta 1 package
water – needed to cook pasta
salt as required
olive oil 2 to 3 tablespoons
fresh marinara sauce 2 cups( or as needed)
turmeric powder 1 teaspoon
red chili powder 1 teaspoon
ginger garlic paste 2 tablespoons
garam masala powder 2 teaspoons
oregano powder 1 teaspoon
For Topping
Roasted Cauliflower Florets – use 1 to 2 cups for one plate serving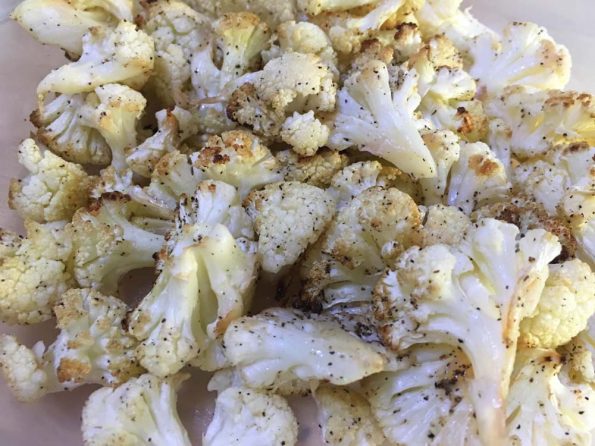 (Click here to see the recipe for roasted cauliflower florets)
Instructions to make Indian style pasta recipe – masala pasta recipe
Cook the pasta using salt and water in a large pan, follow the package instructions for cooking time which is usually about 10 or 12 minutes, drain the cooked pasta and keep aside.
You can add a little oil and toss the cooked pasta shells, which will prevent the shells from getting stick to each other.
Heat oil in a pan and add the marinara sauce.
Add all the spices and mix well.
Cook in low heat for about 2 to 3 minutes at least until the spices are all well blended with the sauce.
You can even cook more time till the oil starts to separate which will make the sauce more delicious.
Once the sauce is well combined with the exotic spices, pour the sauce over the cooked pasta and toss well until well combined.
Alternatively, you can simply serve the cooked pasta in a plate topped with spoonfuls of prepared sauce (you can use as much sauce as you like).
Either way, you can serve the delicious pasta with sauce topped with roasted cauliflower florets, like you see below, enjoy!
Enjoy the Indian style masala pasta topped with roasted cauliflower florets for an exotic healthy and delicious vegetarian lunch or dinner!
Hope you found this post on Indian style pasta recipe – masala pasta recipe – vegan cauliflower pasta recipe helpful!