Easy Vegetable Rice Recipe One Pot Dish For Lunch & Dinner – Simple Healthy & Easy Vegetable Rice Recipe – How To Cook Vegetable Rice For Lunch Or Dinner
This easy vegetable rice recipe is a healthy and simple one pot rice recipe perfect for an easy and tasty vegetarian lunch or dinner. I used a little butter but if you skip that and just use oil, it is still a delicious vegan vegetable rice recipe as well. It is very easy, as we just dice the vegetables quickly and cook them along with the rice mixed in with a little butter and few exotic whole spices. See my post on easy cauliflower fried rice recipe using leftover rice and roasted cauliflower florets.
The addition of spices like cardamom pods, bay leaves, cinnamon sticks and cloves add fragrance to the rice and they help to add more flavor to the rice, and they are healthy too. You can make this simple easy vegetable rice for lunch or dinner so quickly. You may cut the vegetables in advance and keep refrigerated for one or two days so the preparation will be more quick and easy.
This vegetable rice is also easy to pack and you can also take this for picnic or potluck as a main course dish. I used the vegetables onions, carrots, green beans and potatoes to make this vegetable rice, you may also add other vegetables like green peas which will be great with this recipe.
So here is how I made this simple yummy and easy vegetable rice for lunch & dinner following this easy vegetable rice recipe from scratch.
Ingredients for easy vegetable rice recipe
White basmati rice 2 Cups
Water 5 Cups
Salt as required
Oil 2 tablespoons
Butter 1 tablespoon (optional)
ginger garlic paste 2 tablespoons
cardamom pods 2 to 3
bay leaves 2
cloves 2 to 3
cinnamon sticks small 2
Onion 1 medium sized (peeled and diced)
carrots 2 medium sized (peeled and diced)
green beans 1.5 cups (chopped)
Potatoes 2 medium sized (peeled and diced)
Instructions for easy vegetable rice recipe
Wash the rice and soak in water for about 10 to 15 minutes.
After soaking, rinse the rice lightly again, drain and keep aside.
As I already mentioned in the ingredients list, we are using chopped vegetables to make this vegetable rice. If you don't have chopped vegetables, wash all the vegetables, peel the onion, carrots and potatoes and dice them all into into even sized medium pieces.  Keep the chopped onions separately from other vegetables. Also chop the green beans into medium sized pieces ( no need to cut them very small, you may trim the ends if you wish). Keep the chopped vegetables aside.
Heat oil in a large pan or pot, and lightly fry the cardamom pods, cloves, cinnamon sticks and bay leaves.
Add the onions and ginger garlic paste, and saute for few minutes, about 3 minutes or more until they are lightly browned if you like. The more the better, but this is not necessary.
Add the remaining vegetables, and lightly fry for about 2 to 3 minutes.
Add the rice, butter and salt, and saute for about another 1 minute.
Add the water, mix everything well and bring the mixture to a boil by keeping on high heat.
As the water starts boiling, mix the contents again, and close the pan and cook in very low heat for about 10 to 12 minutes or until the rice is cooked and soft.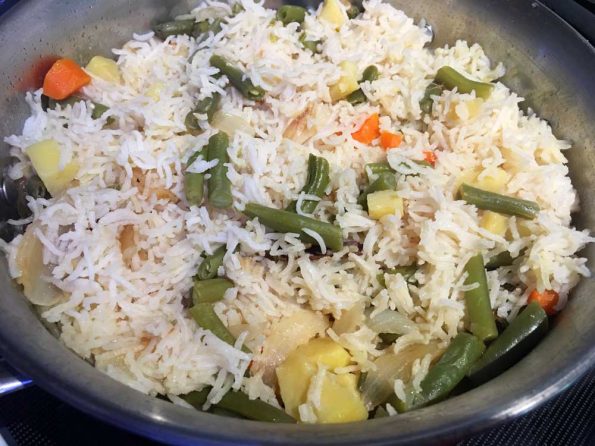 Serve the delicious vegetable rice with any vegetable curry or chutney or fresh yogurt or raitha as you wish!
Notes: If you want to improve the flavor or if you feel the rice is not cooked completely after the water is absorbed (this sometimes happen if the heat is not evenly distributed), you can keep the pan closed and heat an iron skillet and keep your closed pan on top of the heated iron skillet and cook in low to medium heat for few more minutes until the rice has reached the desired consistency. Just make sure you watch it and stir occasionally in between to see the rice is not getting burnt.
Tip: You can caramelize an onion and fry some cashews and top the rice or mix in with the rice to make it more delicious!
Hope you found this post on easy vegetable rice recipe helpful!