Homemade naan bread is easy to make, soft, eggless and made on an iron skillet or tawa without using tandoor oven.
You can make this popular Indian flatbread using all purpose flour or wheat atta flour (the kind of flour used to make Indian flatbreads) as you like, yogurt, oil, yeast etc as the main ingredients.
Popular Indian Flatbread (Leavened Bread)
If you are unfamiliar with naan bread, it is one of the most popular flatbreads from India, which is also quite popular in other parts of the world.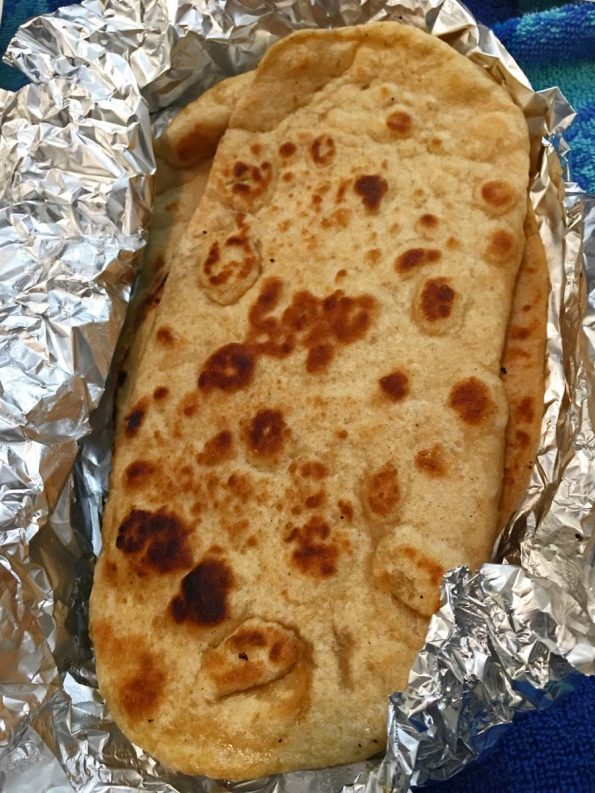 Naan bread is usually leavened with yeast and traditionally made in hot tandoor ovens.
You can make these in conventional ovens too, but you can also make these soft naans easily in a tawa  or iron skillet as we do in this recipe
This is also simple naan bread recipe without eggs (some naan bread recipes calls for eggs as well).
In India, the naan bread is usually served with any curry of your choice, raita (yogurt based salads) etc.
I used a combination of all purpose flour and wheat flour, which helps to make the naan bread soft and while also making the dough easy to handle during the process.
When we use just all purpose flour I find it little difficult to handle the dough, and adding the wheat flour will also make this more healthy.
So I think using a mix of all purpose flour and wheat flour is the best, but you can use whatever works for you the best.
We make this easy and soft naan bread without baking powder. We uses active yeast and yogurt to make this soft, homemade naan bread from scratch and I used my instant pot to proof the dough!
After kneading the dough, I kept the dough inside the instant pot in warm setting (keep warm) for few minutes and then unplugged the pot and let the dough rest for a couple of hours and the dough turned out nicely!
However this is not necessary, it helps only if you are living somewhere its very cold and so the instant pot can help you with keeping the dough in a slightly warm environment even if you don't want to turn on the oven.
You can just keep the dough covered in a bowl and keep in a warm place instead.
You can see all my instant pot vegetarian recipes here if you like!
After the dough is rested and the dough rose to about double the size, we will make balls out of the dough, roll each of the ball and cook those in a tawa or iron pan or skillet (traditionally these are baked in a tandoor oven but its also done in conventional ovens or tawa or iron pans as you see here).
Serve with any curry of your choice, yogurt, raita etc.
Some suggestions for curry include palak paneer, paneer butter masala, matar paneer, chana masala (chickpea curry), tomato onion curry, easy peas potato curry, easy potato masala, egg masala curry etc. You can also serve this with just plain yogurt, butter or ghee, or yogurt based salads (raita) like this easy onion tomato raita.
You can also see the most popular Indian flatbread chapathi recipe here (with tips to make soft chapathi).
More similar bread recipes:
Soft Homemade Naan Bread Recipe Below
This recipe makes about 15 medium sized naan bread.
Homemade Naan Bread
Soft naan bread (popular Indian style leavened flatbread) is easy to make at home from scratch! Can be enjoyed for breakfast or dinner or can be enjoyed along with rice as a side for lunch or dinner as well.
Print
Pin
Rate
Instructions
Add the yeast to the warm water, add sugar and also 1 tablespoon of all purpose flour, stir this mixture well and keep covered for about 15 minutes.

After 15 minutes, stir the yeast mixture again and add the warm milk, stir well.

Add the remaining flour and enough salt to the yeast and milk mixture, stir well to combine. Using your hands, mix the mixture very well.

Add the yogurt and knead the mixture very well using your hands. Finally add the oil also and knead well to form the dough. If the dough is too sticky, you may add a little flour and knead again (one tablespoon flour at a time if adding extra flour).

Now that the dough is ready, you need to keep this to rest for at least 2 hours for best results. Keep the dough covered.

After 2 hours, knead the dough again and make balls out of the dough.

Heat a tawa or iron pan (or non stick pan), grease with oil or butter (or ghee).

In a clean, flattened surface, roll the first dough ball to make the naan. You can flatten the dough in elongated oval shape,  or you can make round ones or triangle ones as you like.

Once the pan is hot, place the rooled, uncooked naan. Brush some more oil or butter (or gheand cook until the bottom side is cooked, which will take almost a minute.

Once the bottom side is cooked,gently flip and cook the other side too. Transfer the cooked naan immediately to a serving dish or plate (keep covered to keep it soft).

Similarly make balls out of the remaining dough and make all the naans. Serve hot with any curry, raita, yogurt, pickles etc.
Notes
to prevent the dough from drying out while you make the naan, keep the dough covered with a damp paper towel.
Nutrition
Calories:
159
kcal
|
Carbohydrates:
27
g
|
Protein:
5
g
|
Fat:
3
g
|
Saturated Fat:
1
g
|
Cholesterol:
2
mg
|
Sodium:
12
mg
|
Potassium:
80
mg
|
Fiber:
1
g
|
Sugar:
2
g
|
Vitamin A:
30
IU
|
Calcium:
30
mg
|
Iron:
1
mg
Hope you found this post on soft homemade naan bread recipe helpful in making easy, soft and yummy homemade naan bread!