Easy Bell Pepper Pasta Recipe (Without Cheese) With Marinara Sauce & Fresh Tomatoes For Vegetarian Lunch & Dinner
This bell pepper pasta recipe is so easy to make from scratch and it is so colorful, healthy & filling meal for a vegetarian lunch & dinner.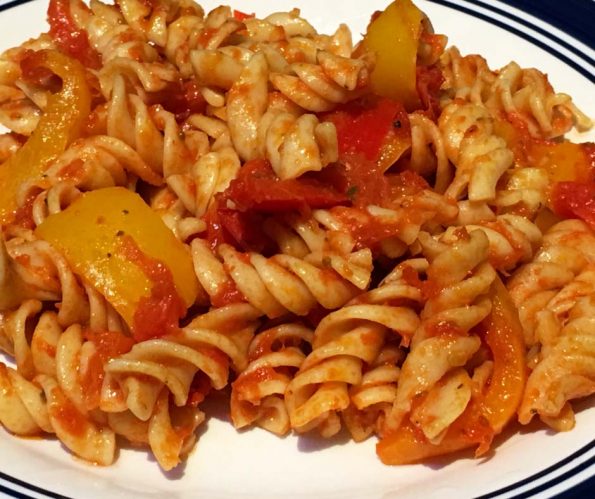 You can use fresh marinara sauce or homemade pasta sauce using fresh tomatoes for pasta sauce. I used red bell pepper and also orange and yellow bell peppers to add to this pasta which added much flavor and color to this pasta dish.
And it is so easy to make. You don't need many vegetables to make this delicious and healthy pasta, as we only use a variety of bell peppers and also fresh tomatoes other than the cooked pasta and marinara sauce. You may also add a few spices of your choice if you like.
Oh and I forgot to tell you that this is free of cheese and butter (free of any dairy products) so this is a vegetarian as well as vegan pasta which is full of flavor.
So here is how I made this delicious vegetarian pasta without cheese, following this simple & easy bell pepper pasta recipe.
Bell Pepper Pasta Recipe For Vegetarian/Vegan Lunch & Dinner
Ingredients for bell pepper pasta recipe
Pasta 1 package
bell peppers 3 ( I used red, orange & yellow bell peppers)
fresh tomatoes 4
marinara sauce as needed
salt as needed
Olive Oil 2 tablespoons
garlic powder 2 teaspoons (or crushed fresh garlic or minced garlic)
dried oregano powder 1 teaspoon
turmeric powder 1 teaspoon (optional)
Instructions for bell pepper pasta recipe
Cook the pasta according to the package instructions, drain the water and keep aside.
Add a few drops of olive oil to the cooked pasta, so the shells won't stick each other.
Wash the bell peppers and slice to remove the seeds. Slice the peppers into medium sized pieces (after removing all seeds).
Heat oil in a pan and add the bell peppers.
Saute the bell peppers for about 2 to 3 minutes.
Meanwhile wash the tomatoes, chop into medium sized pieces and keep aside.
Once the peppers are sauteed, add the salt and chopped tomatoes, mix well. Reduce the heat to medium and cook for about 4 to 5 minutes.
Add garlic and oregano powder and also turmeric if you are using it and mix all until well blended with the vegetables. Turn off the stove and keep this mixture aside.
Add enough marinara sauce to the cooked pasta and mix well, switch on the stove and heat in low heat for about 2 to 3 minutes.
Add the bell pepper mixture to the pasta (with the sauce) and mix well. Heat for another 1 minute so everything is blended well and the bell pepper pasta is ready to serve!
Serve the yummy bell pepper pasta for a delicious vegetarian lunch or dinner!
Hope you found this post on bell pepper pasta recipe helpful!