Squash flatbread recipe using roasted acorn squash (you can use any leftover mashed acorn squash or other squashes as well) is so easy to prepare, will give you easy, delicious and very healthy flatbread which you can enjoy for dinner, lunch or breakfast as you wish, with any vegetarian side dish, fillings, dips, curry of your choice or with plain fresh yogurt or salads.
This squash flatbread recipe uses oven roasted acorn squash which makes it even more delicious and soft naturally.
And this is a kid friendly squash recipe, as they won't even know there is any veggie in the flatbread as the flatbread made this way easily sneaks the mashed acorn squash so easily.
How To Make Acorn Squash Flatbread?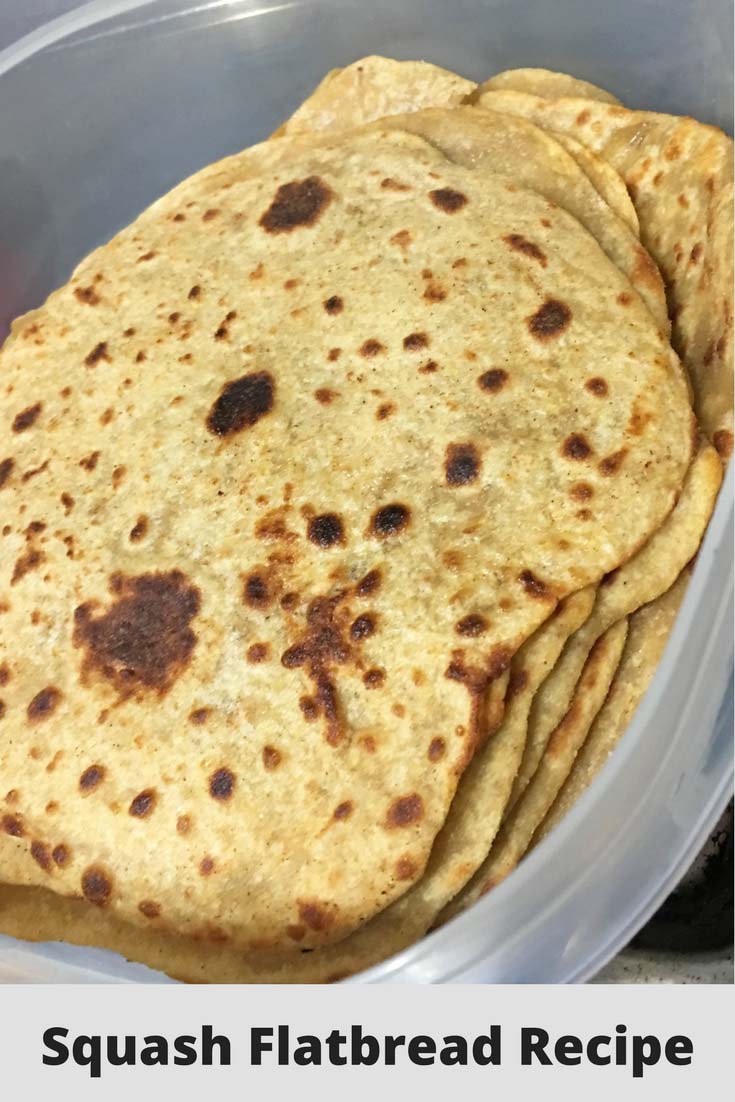 We need mashed acorn squash (recipe here) to make this flatbread.
From the above mentioned recipe link, you can easily learn how to make oven roasted mashed acorn squash using a fresh acorn squash.
Once you have roasted mashed acorn squash (just use the half of an acorn squash for this recipe, once the acorn squash is roasted), add few spices to it to make the flatbread more yummy or you may totally skip adding any spices and just use some oil and salt.
Either way, once you have the mashed acorn squash, we can mix this with the flour and make the flatbread easily which I will explain in the below recipe.
Steps - Process To Follow
Use any leftover mashed acorn squash or make mashed acorn squash from about half of an acorn squash. You can do this by first roasting the squash in the oven, then peel and mash the contents (discard any seeds).
Once you have the mashed acorn squash, mix it with flour to make the dough.
Divide the dough into small balls.
Heat a skillet or pan, roll the balls to flatten and cook the rolled dough on both sides (explained in more detail in recipe card). Do the same for all the dough balls to make flatbreads.
Chapathi is a most popular &basic Indian flatbread we make using wheat flour. If you are not familiar with Indian style flatbread known as chapathi, read here my blog post on how to make soft Indian chapathis.
So here is how you can easily make this acorn squash flatbread using roasted and mashed acorn squash (recipe here), following this easy squash flatbread recipe from scratch.
Squash Flatbread Recipe Using Acorn Squash
Squash flatbread recipe using acorn squash uses oven roasted mashed acorn squash to make easy, tasty and healthy squash flatbread at home.
Print
Pin
Rate
Servings:
8
squash flatbread
Ingredients
2

cups

mashed acorn squash

roasted

salt

as needed

2

tablespoons

oil

or use butter or ghee (plus more for greasing the pan as needed)

1

teaspoon

cumin seeds powder 1 teaspoon

optional

3

cups

wheat flour

or use all purpose flour (keep little more to use as needed)
Instructions
Add the salt, 1 tablespoon of oil and cumin seed powder (if using) to the roasted and mashed acorn squash, mix very well, keep this aside.

In a large bowl, add the flour and enough salt, mix well to combine.

Add the mashed acorn squash to the flour and mix well with your hands, forming the dough.

Add the remaining oil to the dough, mix and knead the dough again for few minutes to form the dough ball. In case, the dough is sticky, you will have to add more flour little by little until the desired consistency is attained to make the flatbread(the dough shouldn't be wet or sticky but soft so you can form the balls and roll them easily to make the flatbread).

Cover and let the dough rest for at least half an hour.

Make equal medium sized balls out of the dough, keep this aside. I made 8 equal sized balls from the dough.

Dust a flat surface with little flour and roll the first dough ball in circular shaped flatbread in even thickness. You may use a little oil of extra flour to make the rolling more easy, if necessary.

Grease a hot iron pan or non stick pan with ghee or little oil and transfer the rolled faltbread or chapathi to the hot pan. If you are using non stick pan, using ghee or oil is not necessary, but it will definitely add much flavor to the flatbread if you use.

Cook the flatbread for about a minute or until the bottom side is cooked, then flip and cook the other side too which will take a couple of minutes, depending on how hot your stove it. Make sure not to keep your stove on very high heat to avoid burning the flatbread or chapathi.

Roll all the balls and cook the flatbread until the dough is finished. Serve the squash flatbread with any vegetarian curry or yogurt or raitha (yogurt based salad) for a healthy and tasty lunch or dinner!
Notes
Notes: If you are serving the flatbread later, I would recommend keeping the warm chapathis closed in an airtight container so that they will remain soft.
Nutrition
Calories:
217
kcal
|
Carbohydrates:
40
g
|
Protein:
5
g
|
Fat:
4
g
|
Saturated Fat:
1
g
|
Sodium:
2
mg
|
Potassium:
176
mg
|
Fiber:
2
g
|
Sugar:
1
g
|
Vitamin A:
130
IU
|
Vitamin C:
3.9
mg
|
Calcium:
21
mg
|
Iron:
2.6
mg