If you are looking to know how to clean rusty cast iron skillet or pan or how to cure cast iron skillet or an old cast iron pan which is rusted, know that cleaning rusty cast iron skillet or cast iron pan or any cast iron vessels is much easy to do if you have the right cleaning products and cleaning tools for removing rust,and if you follow the instructions right with patience.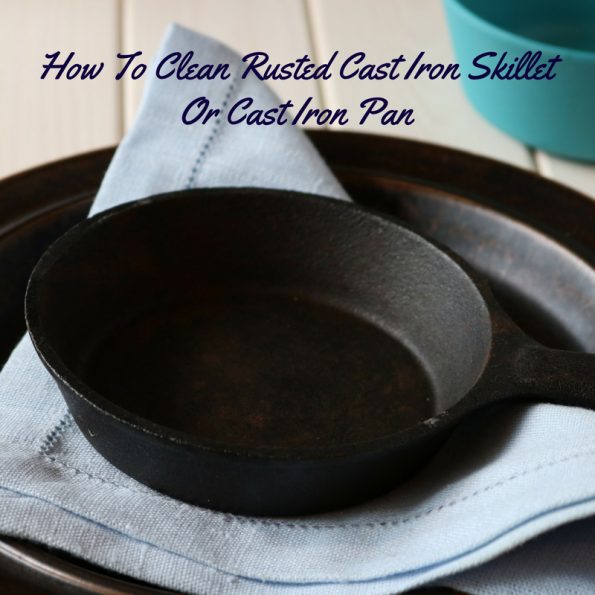 I have used these easy tips to take care of my cast iron griddles and pans, over the years. You can restore your cast iron pans, griddles or other utensils even if they are rusted.
Iron utensils are nevertheless an asset to anyone who loves cooking. I prefer iron pan over non stick pans for making pancakes and omelettes, because I don't have to worry about scratching the pans and having them to be replaced so soon. In fact, iron utensils last for years if you take proper care of it.
Buy The Best Cast Iron Scrubber Here - Best For Cleaning Seasoned Cast Iron cookware
Even the ones rusted can be brought back to life and use, with some effort and proper care afterwards. I believe it is worth the efforts to have a couple of iron utensils in every kitchen, because they make trustworthy long lasting cooking utensils which you can use forever. So here are some tips to take care of your precious iron utensils which will help you even if they look rusted now.
The actual color of the cast iron is kind of a silver grey whitish shade. So don't worry when you see this silver surface of your iron pan after a good scratch in dish soap and scrubber. It only means you have just scrubbed out the seasoning of your pan, which provides the non stick coating for easy cooking.
This non stick coating is present in only seasoned cast iron utensils, if the utensil is new. By coating the iron pan in oil and using it for cooking over the years, this coating naturally develops over the pan.
However, just now you scrubbed off this natural or preseason-ed coating from your iron pan. But don't worry, you can restore this pretty easily by seasoning it again. Read on to see the tips on caring for your pan and bring it back to life even if it is rusted.
When you want to clean rusty cast iron skillet or pan, vinegar is your best friend - Buy White Distilled Vinegar Here
I used diluted white distilled vinegar to clean rusty cast iron skillet and also remove the rust from my cast iron pan, after I scrubbed off the greasy build up that was stuck inside.
So here is how you start the cleaning and restoring process of your rusted cast iron skillet or pan or any other utensil made of iron.
First you can start to clean rusty cast iron skillet or cast iron pan using oil, salt, tissue paper and the best scrubber and a mild dish soap, if needed.
Usually it is best to avoid using a dish soap in your cast iron utensils since it will destroy the nonstick coating which is developed over years or by seasoning. But on situations where the build up is so hard it won't go away just by using oil and salt.
So you will have to use the best scrubber and a mild detergent to clean up the residue if needed ( don't use the detergent often).
1. You can start  the cleaning process to clean rusty cast iron skillet by putting little salt and oil over your pan and gently scrub off the residue using a paper towel.
2. if there is hard residue build up, the next step is to wash off the skillet or pan in water and then start scrubbing the dirt build up using the scrubber and mild detergent. You may also try to scrub off the build up using the edge of a steel spatula.
3. Repeat the scrubbing process until all of the build up is gone.
4. Wash again and go to the next step to remove the rust, if any.
5. Soak your skillet or pan in vinegar solution if the pan is completely rusted, or sprinkle the vinegar on areas where the pan is rusted. It doesn't matter how you do it, the thing is that there should be vinegar over the rusted area.
Leave the vinegar on the rusted cast iron skillet or pan for hours, say 3 to 4 hours, by the time you can see the rust has come off!
6. Wipe away the rust using a paper towel, yes it is as simple as that, once the vinegar solution has done its job!
7. If there is rust or build up left in any area of your cast iron skillet or pan, repeat the process of scrubbing and soaking in vinegar until all of the build up and rust is gone.
8. Now that all the dirt and rust is removed from your cast iron skillet or pan, you will see a silvery grey shade of color which is fine. Apply oil all over your skillet or pan. This step is very important as oil naturally provides a coating for your skillet or pan which protects it from rusting.
Now we are going to season it which will build up a layer of non stick coating which will protect your cast iron skillet or cast iron pan from future damage, if you handle and take care of the skillet or pan properly in the future.
9. To season the cleaned and oiled iron skillet or pan, preheat the oven to 350 degree Fahrenheit.
Bake the cast iron skillet or pan for about 45 minutes to 1 hour. You can see that your iron skillet or cast iron pan is restored to its shiny, black vessel which can be used for cooking. In any case, if the results are not satisfactory, you can season it again by repeating the baking process.
10. Once baked and cooled enough in the rack, apply oil all over the skillet or pan, and start using it as normal!
You don't need to wash your cast iron skillet or cast iron pan pan using scrubber and detergent always, unless it is really needed.
Just sprinkle some salt, pour a spoonful of oil and then scrubb off the grease using the paper towel to clean the pan. If needed, gently wash and use a good scrubber, but don't forget to oil the pan all over again.
Never leave your cast iron skillet or pan with water after washing. It will rust.
After a wash, always dry the cast iron skillet or pan using a paper towel and then apply oil to cover the skillet or pan.
Handling your cast iron utensils this way, will ensure a nice and shiny pan perfect for cooking!
Just remember the most important things needed to help you with the restoring of cast iron skillet or cast iron pan - White Distilled Vinegar And The Best Cast Iron Scrubber