Easy 4th July food ideas to celebrate American Independence Day on 2018, which is falling is on a Wednesday this year.  This 4th of July food ideas will be helpful if you are planning a party, picnic or a potluck on the fourth of July and looking for ideas to make easy snack at your home.
This is not a post for recipes but this is a post with food ideas on red, blue & white colored foods to make easy snacks for the fourth of July.
Let us celebrate with red, blue & white colors in American flag which can be easily done with the help of fresh fruits, food colors or colorful red, white & blue food sprinkles.
Cupcakes decorated with white frosting and sprinkles can be made at home from scratch or you can use an easy to make cake mix. 
You can also buy the best July 4th party supplies set including cupcake liners and toppers decoration kit here
One of the most important part of the July 4th celebrations is sharing food with your friends and family. If you can make homemade snacks for party at your home or if you can bring snacks from your own home for any potlucks outside your home, that is one of the best things you can do.
You might like to see my posts on other celebrations like easy vegetarian recipe ideas for Valentine's Day & easy vegetarian recipes for St Patrick's Day.
You will love it when you can make the snacks in no time and also have fun doing it and sharing them.
After all, no one wants to spend all their time cooking in the kitchen, when its time to celebrate. There are actually many great snack ideas you can make in no time, and they are perfect for the July 4th celebrations.
Here you can read about some of the easy 4th july food ideas. Use your own imagination and ideas, and make them even more fun!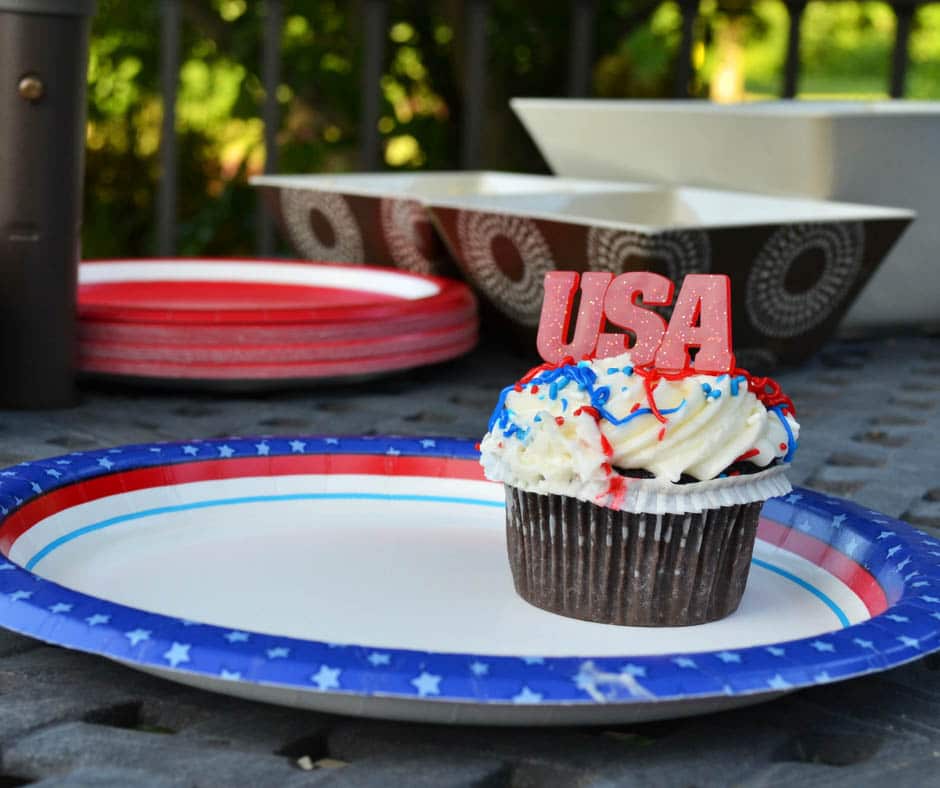 Easy 4th July Food Ideas
Make It Simple Using Fruits
You can use fruit snacks to easily prepare the colourful and tempting summer snacks. Its summer time, and fruits can be the most refreshing things from nature, especially if you are out in the beach or anywhere out in the sun.
The following fruits are ideal for July 4th celebrations:
Red - Raspberries,strawberries, cherries, watermelon cubes etc.
White - Peeled and sliced bananas, peeled apple cubes or slices, custard apples (peel and remove the seeds), peeled and sliced peaches, mangosteen, peeled white guavas, peeled litchi etc..
Blue - Blueberries ( As of now, I can't remember anything else), but they are the best, isn't it?
Snack Ideas using fruits
Ok, now that you have sorted out what fruits you can use for making some easy snacks, here you can see some quick fixes for fruity snacks.
Peel the fruits, slice them in to cubes or thin rounds and insert them to a wooden skewer in layers, to make fruit kabobs. What a wonderful snack to enjoy the beautiful summer day!
Just make some refreshing fruit salads, simple yet great!
Make a fruit pie, or make an easy fruit tart. You can even make a fruit pizza by baking the crust and use a fruit topping.
Or you can even buy a basic white cake and decorate on top with the fruits you have in hand. It will look awesome and make a wonderful snack too for the celebrations.
Instead of white fruits, you can also use white cheese cubes.
Make Easy Parfaits
Parfaits are awesome snacks that refreshes you in seconds, especially during the summer time.
You can use white vanilla ice creams or fresh and sweetened yogurt to make the parfait. Use layers of fresh fruits (blue and red) along with layers of white ice cream or yogurt to make the perfect July 4th parfaits.
As an example, fill a layer of fresh blueberries to a glass bowl or cup, then add a layer of white vanilla ice cream or sweetened yogurt, and then add a layer of fresh and colorful red raspberries ( or even sliced strawberries or cherries). Repeat the process of adding the three layers as needed and enjoy!
Using homemade white whipped cream is another great idea to make the white layer of July 4th parfaits.
Just use ice creams
If you wants a more easier option, just go for scoops of ice creams that you can use as layered desserts. Buy white vanilla ice cream, and colorful blue and red (or deep pink) ice creams. Blueberry ice creams and raspberry or strawberry ice creams will do if you are looking for the natural flavors. Add them in layers to your ice cream bowls or to your parfait cups and enjoy the summer!
You can also buy plain white vanilla ice cream in bulk, and then add food coloring to make them colorful. Take the white ice cream in three different bowls. Add the blue food coloring to one of the bowls of ice creams and then add the red food coloring to the next bowl of ice cream.
Use blue and red sprinkles on white frosting
This is an awesome way to decorate your desserts like cupcakes, cakes, parfaits and even more.
Just make sure you use white frosting for your desserts, be it white vanilla flavored whipped cream, buttercream, fondants or whatever you use. Just use the white frosting or icing, and then sprinkle the blue and red sprinkles all over.
You can even use the blue and red sprinkles over your white vanilla ice creams or even the parfaits.
Sprinkles bring easy colors to the desserts with little efforts!
Hope you found this post on easy 4th July food ideas helpful!