Diced green chilies or green chiles are great for Mexican food or Indian food & you can easily add them to spice up burritos, tacos, curry, stew, soup, enchiladas etc.
Green chilies add the perfect spiciness to foods, whether you want it to be mildly spicy, medium or hot as there are different varieties available.
However, if you do not have diced green chilies at home or if you are looking to find substitutes for diced green chilies, read this post for substitute ideas for canned diced green chilies.
Diced Green Chili Peppers
The canned diced green chilies that you usually find in stores are mostly mild green chilies perfect to be used in most of the Mexican dishes that calls for diced green chilies.
They are already cleaned & deseeded to keep them mild & not very spicy though you can also find spicy hot chilies too.
Once they are cleaned, they are roasted, sliced & canned to make diced green chilies.
So, if you do not have store bought diced green chilies, the best option is to make homemade diced green chilies using whichever green chilies you like the best!
Substitute With Homemade Diced Green Chilies (Chiles)
If you prefer milder green chilies, you can use that to make homemade diced green chilies.
If you prefer spicy green chilies, go for spicy varieties.
The most important thing to keep in mind while handling chilies at home, is to use a good pair of gloves to protect your hands from the heat of the chilies!
This is most important while handling green chilies or any chilies!
To substitute diced green chilies, you can use different varieties of green chilies like Indian green chilies (long, thin and quite spicy), jalapeno peppers, poblano peppers, serrano peppers, banana peppers, anaheim peppers etc.
It is a good idea to do the reasearch on how spicy each of these varieties are, before you decide what green chili pepper you want to use, since some of the varieties can be very spicy.
Personally, I prefer using Indian green chili peppers for spicy Indian recipes and I prefer to use jalapeno peppers for many mild Mexican recipes.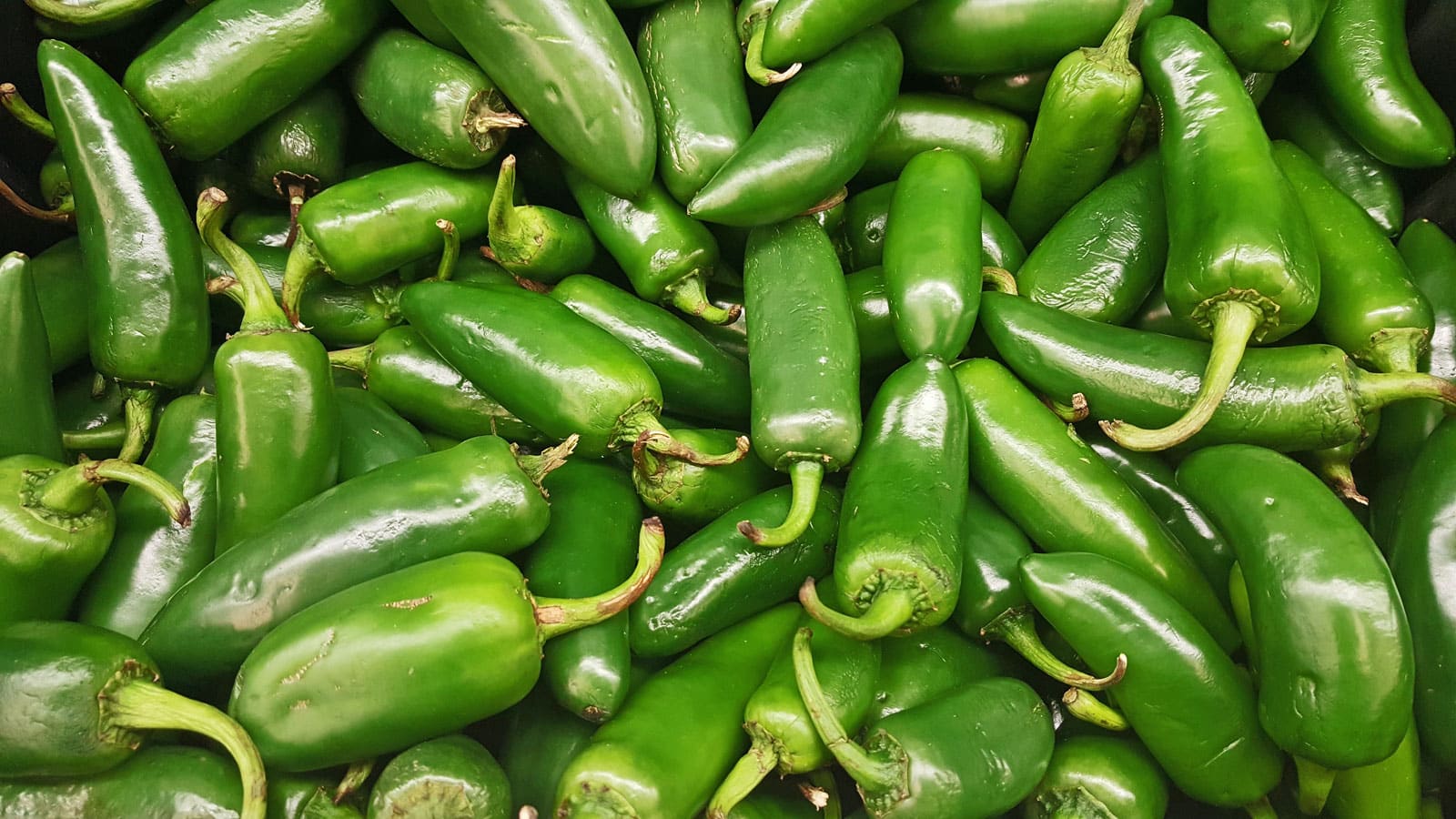 Here is a good example of how I made hot spicy oatmeal with diced green chilies, but I didn't deseed them since I wanted the oatmeal very spicy, but it is a good idea to deseed the chilies if you are not used to spicy food.
Also I have this spiced Indian buttermilk recipe with green chilies!
In fact, I like to use green chilies and red chilies in many recipes, I usually do not deseed them if I want the food to be very spicy, but it is a good idea to deseed the peppers before you slice them!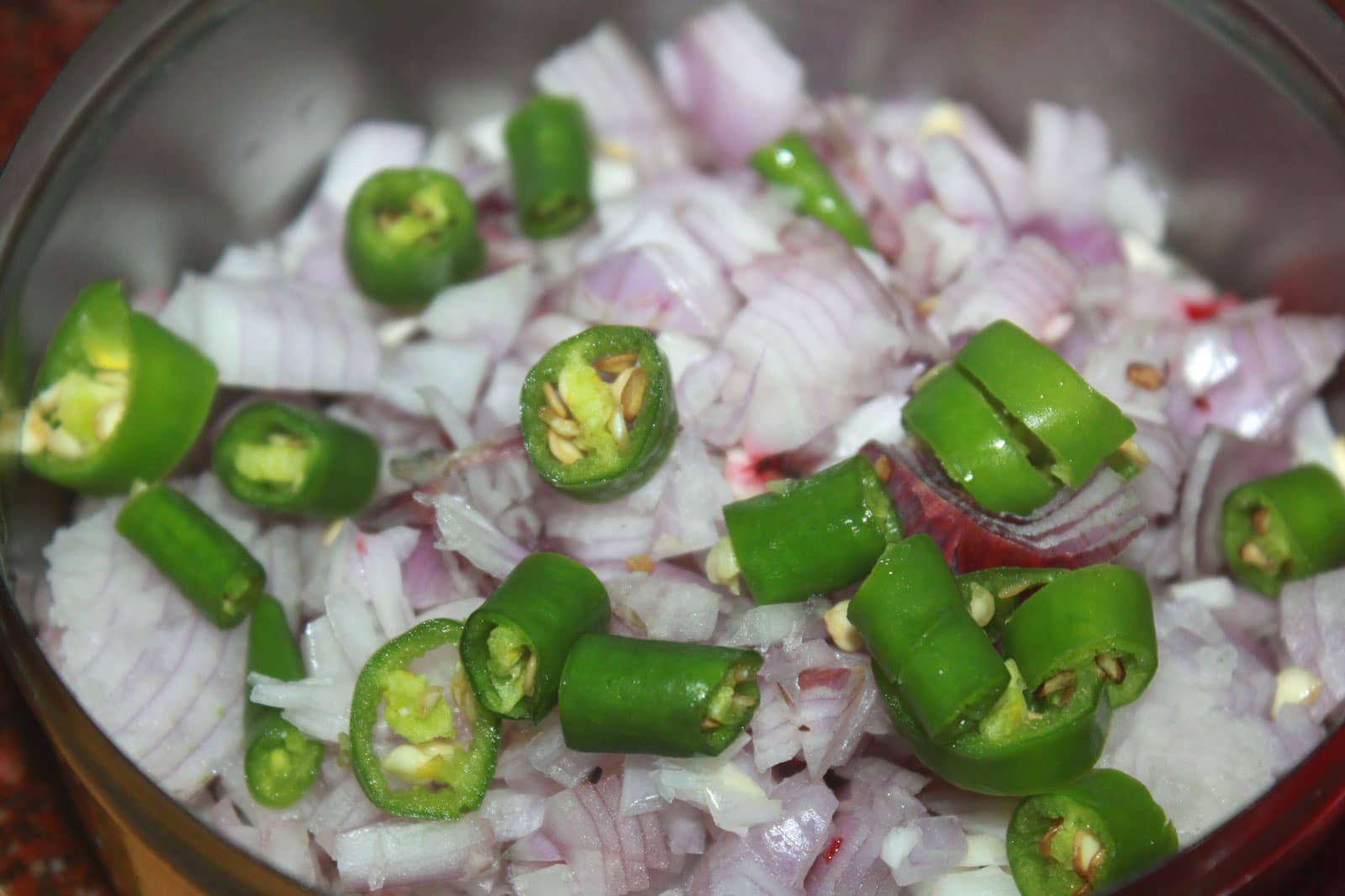 I also like banana peppers which is one of my favorites!
Here is a good guide to peppers discussing mild & hot peppers if you are unsure about the mildness of each variety.
You may also use bell peppers like red bell peppers, green bell peppers or yellow sweet bell peppers (usually mildest among the varieties) as a substitute to green chilies!
You may also do an individual research on each kind of green chili pepper specifically, if you are concerned about the spice level of the pepper that you want to use.
Once you have decided which green chili pepper you want to use to make diced green chilies as a substitute for canned green chilies, buy them fresh, wash and clean very well, then dry them.
You can remove the seeds of the green chilies and make sure to wear gloves while you are handling these chilies for your safety!
Now, you can dice them fresh and use them in your recipes if that is what you want but instead of using diced fresh chilies, you can roast the peppers in the oven or stove top if you like.
Here is a good guide on how to roast chili peppers if you like.
Once you have roasted the green chili peppers, you can peel the peppers (remove the stems too if they are not already removed), dice them carefully (while wearing gloves!) and use them in recipes that call for diced green chili peppers or store them in air tight dry, clean glass jars & refrigerate for later use.
Since this is homemade roasted green chilies, you should be able to store them in the refrigerator for few more days time, if stored properly in air tight containers so you can use them in recipes over the week.
If you want to can the green chili peppers, here is good guide on how to can chili peppers!
Other Substitute Ideas For Green Chilies
If you do not want to make your own homemade diced green chiles as a substitute for canned diced green chiles, then here you can find some more ideas to substitute the diced green chiles.
These substitute ideas other than using homemade diced green chiles include using red chili peppers (dry red chili peppers or fresh chilies), black pepper (whole black pepper corn or ground black pepper powder), white pepper, red chili flakes, green chili paste, green chili sauce etc!
Among these green chili paste made os green chilies is popular in Indian cuisine and it can be quite spicy since the chilies are usually not deseeded before using them to make the paste.
I think the best substitute other than making your own diced green chili peppers would be to use green chili sauce or you can use red chili flakes which are very commonly used in most cuisines.
Also ground black pepper adds the perfect spiciness for most of the dishes, so that will make a good substitute too!
Red chili peppers is another great alternative or replacement to green chili peppers.
Red chili peppers are available as dry red chili peppers, red chili flakes and also fresh red chilies.
Red chiles can be quite spicy so it is best to research on the heat level of red chilies before using them as a substitute.
In Indian cuisine, we usually use Kashmiri red chilies or Kashmiri red chili powder, which is mildly spicy but has good red color!
So if you want to use a mild red chili, Kashmiri red chilies or red chili powder will make a good substitute.
If you just want to add spiciness, you can also use sriracha hot sauce, paprika etc also as you need!
Hope you found this post on substitute ideas for diced green chiles helpful!
You might also like to see my post on greek yogurt substitute for sour cream!