If you wonder what does pomegranate taste like or what does pomegranate seeds (pomegranate arils) or poemgranate juice taste like, read this blog post to find out! In brief, pomegranate fruit tastes sweet and slightly tart though the taste of the fruit can slightly vary depending on the ripeness of the fruit and also many other factors like whether they are in season etc. Pomegranates have a very pleasant taste and the slight tangy or tart taste is not at all strong, they are not even sour like blueberries or sour grapes.
The tart flavor of pomegranates seeds or arils are much lesser than the tart flavor of blueberries or grapes in general, if you want to compare the fruits.
Fresh ripe pomegranate seeds are usually mild & sweet in flavor with a slight tartness to the seeds.
The small seeds inside the fruits are slightly crunchy and the fruit part of the arils are juicy!
The fruit part of the arils actually tastes much sweeter & you feel refreshing when you enjoy the pomegranate seeds, just like when you enjoy a cup of juice. Because the fruits are so juicy and tasty!
If you have never tried to cut open a pomegranate, you might find that cutting a pomegranate to separate the seeds from the outher thicker skin is quite tricky.
Also, if you are not familiar with pomegranates, the juice of the pomegranate has a very bright reddish pink color and the juice can splash while you cut open the fruit, which may stain the clothes, kitchen counter etc.
We have different easy ways to get around this & I have this easy method of cutting the pomegranate to separate the seeds easily.
You can find more information on how to cut the pomegranate to separate or remove the seeds easily here.
Pomegranate seeds or arils are often enjoyed as they are and also they are used in making fruit salads and for garnishing rice pilaf, curd rice etc.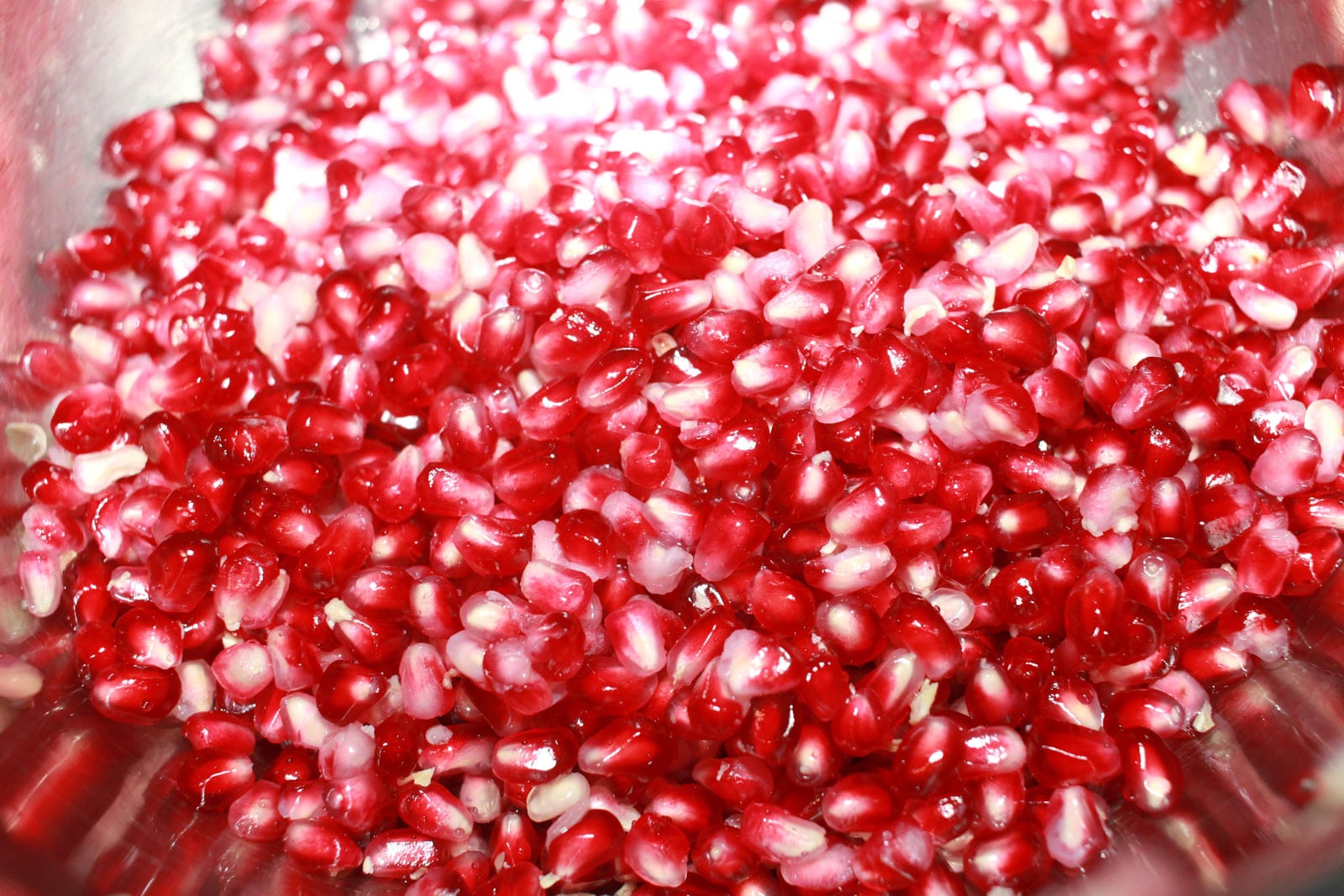 Garnishing with pomegranate arils is great because pomegranate arils look so bright pink red in color and they can easily make foods look so colorful!
What does pomegranate juice taste like?
Pomegranate juice is also very popular drink because of it's color, flavor and taste!
In fact, pomegranate juice has many health benefits just like pomegranates have many health benefits.
Pomegranate juice is often bought from stores, but fresh, homemade pomegranate juice tastes even more better!
You can easily make pomegranate juice at home that tastes great & looks great!
The taste of fresh pomegranate juice is sweet and slightly tart, though the taste and flavors may vary if you are buying the juice.
If you make the pomegranate juice at home, you can make fresh pomegranate juice and add any sugar or natural sweeteners only if you want more sweetness.
If you make pomegranate juice without a juicer, you will need to use a blender to make the juice and so you will need to add some water which can dilute the taste of pomegranate juice.
To adjust the sweetness, you may add honey or sugar as you like.
Also, I like to add some lemon juice also to my homemade pomegranate juice, because adding lemon juice makes it even taste more better & delicious almost like a pomegranate lemonade!
I hope you have got an idea on what does pomegranate taste like now, if you have never tasted pomegranate fruit or pomegranate juice before.
If you have decided to try pomegranate for the first time and was wondering how pomegranates taste like (or to make sure they don't taste bitter or not too sour), I hope this post has helped you understand more about the taste of pomegranates.
Pomegranates can be expensive, but they last fresh a lot longer than other fruits usually.
For the best taste & best price, I recommend trying the pomegranates when they are in season and available in plenty.
Keep in mind that, if you buy pomegranate juice or any pomegranate products from stores, the taste can vary sweet or sour based on the ingredients and also many other factors.
The taste of fresh pomegranate fruit seeds and fresh pomegranate juice is what we are really discussing here.
Hope you found this post on what does pomegranate taste like helpful in finding the information on pomegranate taste that you are looking for!
If you want to share your thoughts on how you find the pomegranate taste, please share them in the comments section.
You might also like to see my post on what does chamomile tea taste like!