How long to soak chickpeas (garbanzo beans) or if you really need to soak chickpeas before cooking is something you will be wondering if you are not very used to cooking chickpeas or if you are used to cooking with canned chickpeas. Find my complete guide here on how to cook chickpeas(garbanzo beans) with basic, simple recipe to cook chickpeas at home! Learning to soak dried chickpeas and cooking with them, makes it easy to include chickpeas in many recipes that call for chickpeas, like vegan chickpea burgers, falafel, chickpea patties, roasted chickpeas, salad recipes using chickpeas, chickpea curry etc.
Most stove top recipes using chickpeas or garbanzo beans need advanced soaking in water for easy cooking.
However, with instant pot pressure cooker, you can cook dried chickpeas or garbanzo beans directly without soaking.
See here my post on instant pot chickpeas no soak recipe.
If you have an instant pot pressure cooker, you may skip soaking or dried chickpeas and other beans like black beans since it is possible to cook dried beans directly in instant pot pressure cookers.
What Kind Of Chickpeas Need Soaking In Water Before Cooking?
Canned chickpeas needs no soaking and so it is easy to use in recipes but dried chickpeas or garbanzo beans need soaking in water prior to cooking them.
Keep in mind that if you have an instant pot, you do not need to soak even the dried chickpeas in advance, since you can directly cook the dry chickpeas in instant pot without soaking in water.
However, cooking dried chickpeas in a regular pressure cooker or other means of cooking will require advance soaking of chickpeas in water for several hours or overnight for best results.
Buying dried chickpeas in bulk can save you money and and it is also easy to store the dried beans and peas in proper storage containers.
You can just use a little of them as needed.
I have been using different kind of dried peas and beans in my vegetarian cooking for a long time and dried peas and beans form an important part of my everyday food.
I love chickpeas as they are filling and quite easy to prepare.
You can prepare them in different ways and add them in a variety of recipes.
And buying dried chickpeas in bulk can help you if you plan to use them in different recipes or make it a staple in your pantry. Dried legumes including chickpeas are especially important for vegetarians as they are packed with plant based protein and fiber.
See my post on how to cook with dried beans and peas here
There are different kind of chickpeas available - like brown chickpeas, white chickpeas and green chickpeas.
The white ones tend to be little large in size compared to the other two varieties, but we don't have to worry about using any of these, as they are all healthy and yummy and you can use them in different recipes.
Even if a recipe calls for a particular type of chickpeas, I have found from my experience that it doesn't make much difference in cooking even though there is slight difference in texture and taste.
See my post on chickpea curry recipe with roasted coconut here
Coming back to the soaking of chickpeas, the soaking of chickpeas, or any other dry beans or peas, serves two purposes. It helps reduce the overall cooking time by making the chickpeas softer and they also doubles in size.
Another thing is that soaking leads to natural fermentation which in turns improves the nutritional value of the peas and beans.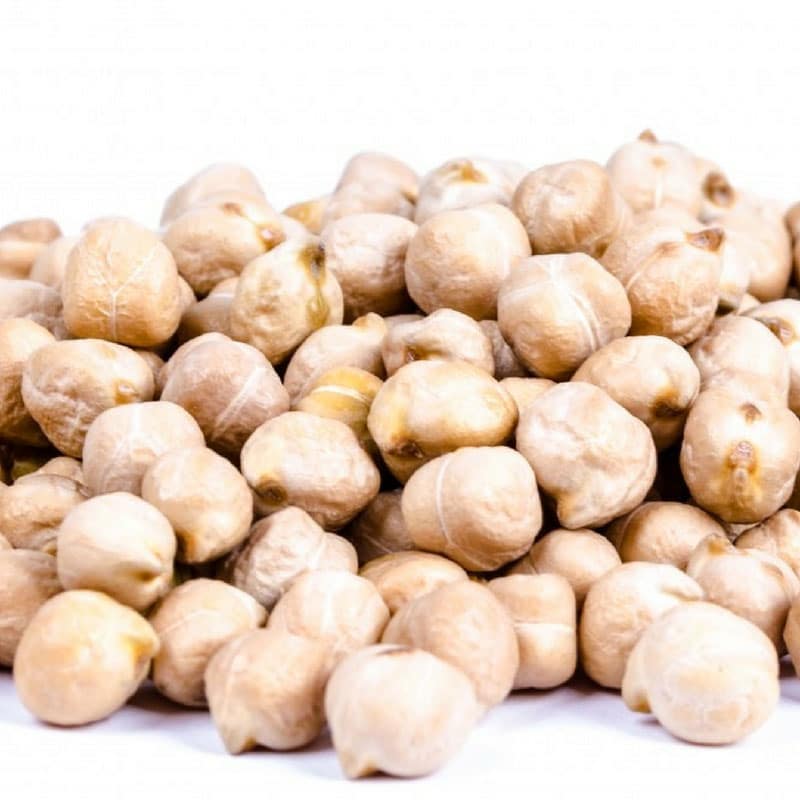 So it is always a good idea to soak the chickpeas before cooking.
But some varieties of dry peas and beans really don't need soaking, for example it is easy to cook the green mung beans without soaking in water in advance (still you can soak them or some time if you want to improve their nutritional value as the nutrients become more easy to absorb when you soak them in some water).
Some varieties of beans like red kidney beans can be toxic in its raw form and so soaking is always recommended.
So whichever beans or peas you are using, make sure to do your research before deciding whether you need to soak them in advance or not.
So here is how long to soak chickpeas for best results.
How Long To Soak Chickpeas?
With dried chickpeas, you need to soak them prior to cooking.
The soaking makes them soft and their size doubles after soaking for at least 5 to 6 hours.
Then you can easily grind them in your food processor to make hummus or falafel, or you can cook them in a pressure cooker or instant pot to make chickpea curry or whatever.
You can also roast them in an oven along with some exotic spices for an exotic vegan dish.
So as I mentioned above, the minimum time that you have to soak chickpeas is ideally 5 to 6 hours.
For best results, you can soak the chickpeas overnight.
So if you soak them in water at night before going to sleep, you can drain the water in the morning to use them in recipes.
If you soak them for too long more than a night time, chances are that they may start to sprout, which we don't want if we are planning to use them in recipes which don't call for sprouted chickpeas.
So as soon as you are done with soaking, you can drain the water, lightly rinse in new water and use them right away in recipes.
If you don't want to cook them right away, you can keep it in a storage container and keep it refrigerated for 2 to 3 days(after draining and rinsing).
Another important thing that you need to make sure while you soak the chickpeas in water is that you have to use a container that is large enough to hold the chickpeas which have doubled in size.
So if you keep them soaked in containers which can barely contain the dried chickpeas and water, the water will overflow as the chickpeas doubles in size.
The chickpeas will absorb water which will make them soft and grow in size but still the water and even the chickpeas will overflow the container if you don't use a container large enough to hold everything.
Ideally you can use a container which will have the dried chickpeas about half of its size and then fill water for about ¾th of the container.
Hope you found this post on how long to soak chickpeas or details about soaking dried chickpeas helpful!