This kiwi strawberry salad (simple kiwi fruit strawberry salad) is one of the most simple and easy fruit salad recipe using fresh kiwis and strawberries.
This strawberry and kiwi salad is just perfect for summer, as it is so refreshing and delicious!
Lemon poppy seed salad dressing is popularly used with kiwi and strawberry salads, which is of course delicious, however this is a very simple and easy kiwi salad without lemon poppy seed dressing.
So you can easily make this using fresh fruits even if you do not have poppy seeds(you can buy here if you wish) at home.
The kiwi fruit strawberry salad looks so colorful with the yellow/green kiwi fruits and pink/red strawberries 🙂
If you have lots of kiwis or any leftover kiwi fruits and strawberries, enjoy them fresh in a simple fruit salad made of fresh kiwis and strawberries.
In fact, you may also use other berries like raspberries or blackberries, but I love the combination of kiwi and strawberries the best.
The kiwi strawberry fruit salad is very refreshing after a heavy meal (or before) and you can enjoy this for a light and healthy breakfast or snack too.
It is a good way to use up any leftover kiwi fruits and strawberries that you may have at home.
My son loves kiwi fruits and he loves this simple and yummy kiwi fruit strawberry salad.
You can easily make this using fresh strawberries and kiwi fruits, but make sure to use fresh fruits always.
The juice from the kiwi fruits and strawberries is enough for a natural dressing, so its really not necessary to add an additional dressing for this fruit salad.
However you can also add the simple and easy dressing with lime and honey which adds a hint of sourness and extra sweetness to the fresh kiwi and strawberry fruit salad.
What Kind Of Kiwis Are Best For Kiwi Fruit Salad?
I used the ripe New Zealand kiwi fruits with slightly yellow flesh and it is more sweet and less sour than the green ones, so I recommend this variety if you can find them.
If not you can use the green ones too, but make sure to use fresh kiwi fruits that are also ripe enough.
If the kiwi is not ripe, it will usually be firm.
Once they are ripe, they turn soft so you can easily identify the ripe ones to use for this easy fruit salad recipe.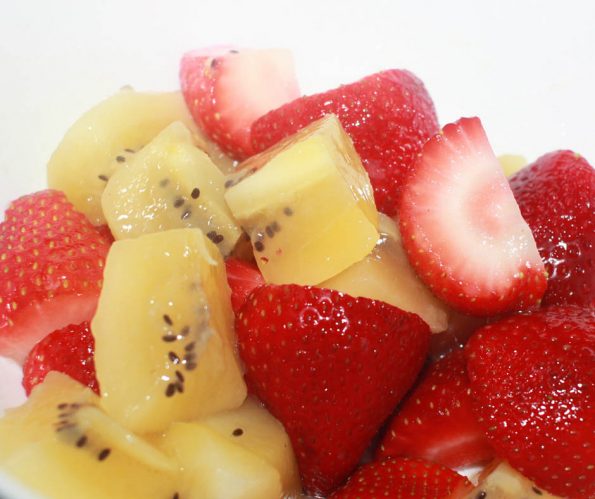 More Simple Fruit Salad Recipes In This Blog:
easy mango fruit salad with grapes
easy mango banana salad recipe
So here is how you can prepare this easy and refreshing kiwi strawberry salad following this easy recipe using fresh fruits.
Kiwi Strawberry Salad Recipe Below
Easy Kiwi Strawberry Salad Recipe, How To Make Simple Kiwi Fruit Salad With Strawberries
Fresh kiwi fruits and strawberries make a delicious combination, you can quickly and easily prepare this healthy and yummy fruit salad in no time for a simple breakfast or refreshing snack.
Ingredients
2

kiwi fruits

ripen

8

strawberries

large
For salad dressing (optional)
1

teaspoon

lime juice

1

teaspoon

honey
Instructions
Wash and peel the kiwi fruits, cut in small sized cubes, transfer the chopped kiwis to a salad bowl.

Wash and core the strawberries, cut in halves or quarters as you wish, transfer the chopped strawberries also to the salad bowl.

Mix in the strawberries and kiwis together using a spoon. The juice from the kiwis will coat the strawberries and you really do not need an additional salad dressing, but you can prepare a simple honey lime juice salad dressing if you wish, especially if the kiwis are sour.

To prepare the salad dressing, mix the honey and lime juice together in a small bowl until well combined and add the mixture to the kiwi strawberry salad in the salad bowl, mix everything well until the salad dressing is evenly coated in all strawberry and kiwi slices. Now the delicious, simple kiwi fruit strawberry salad is ready, you can enjoy it as you make it or you can chill it in the refrigerator and serve later as you like.
Notes
The most important thing you need to make sure while making this kiwi fruit strawberry salad is to use fresh fruits.
Also it is important to use ripe kiwi fruits, preferably with a slight yellow flesh, as they taste the best in this kiwi strawberry salad.
The green colored ones may be slightly more sour, so the taste of the salad will actually depend on the kind of kiwi fruits you use.Whatever variety of kiwi fruits you use, make sure they are fresh, ripe and soft (do not use unripe, firm ones) which is essential to make this fruit salad yummy!
Nutrition
Calories:
164
kcal
|
Carbohydrates:
40
g
|
Protein:
2
g
|
Fat:
1
g
|
Sodium:
6
mg
|
Potassium:
714
mg
|
Fiber:
7
g
|
Sugar:
26
g
|
Vitamin A:
160
IU
|
Vitamin C:
226.6
mg
|
Calcium:
77
mg
|
Iron:
1
mg
Hope you found this post on kiwi strawberry salad recipe helpful in making easy, quick, yummy and refreshing fruit salad using fresh kiwis and strawberries!