How To Cut Butternut Squash Easily – How To Peel Butternut Squash Easily – Peeling And Cutting Butternut Squash Easily 
If you wonder how to cut butternut squash easily or how to peel butternut squash easily without cutting your hands, read this! Butternut squash skin is quite thick and it can be really difficult or not even possible to cut the raw butternut squash with a regular knife. However, you can easily cut the butternut squash if you bake/roast it in the oven.
Roasted butternut squash is easy to peel and cut and roasting adds flavor to your recipes too. I bake them in the oven for about 50 minutes which make them really easy to peel the skin and then cut easily with a normal knife. You can cut it lengthwise first, then remove the seeds and then cut it into pieces as you wish.
I usually bake the squash for about 50 minutes only, but if you want to be able to mash the pieces with your hands, try roasting them for about an hour. It is really easy to do all the peeling, cutting and mashing too!
You can use the roasted and cut butternut squash in your favorite butternut squash recipes. I have this butternut curry recipe with red kidney beans and another butternut squash curry with red cowpeas where you can use the cut butternut squash pieces. If you are using roasted butternut squash in recipes that call for raw squash, just adjust the cooking time as the squash is already roasted and somewhat softer than the raw form. For example, if you are using the roasted squash in the above recipe on butternut squash curry with red kidney beans, instead of cooking the squash along with the kidney beans as called in the recipe, you can cook the beans first and then add the roasted squash and cook for a few more minutes until it is well combined with the other ingredients. This way, you can slightly adjust the recipes by reducing the cooking time of butternut squash while using roasted squash in recipes.
Here is how to bake the butternut squash easily and make the cutting easy.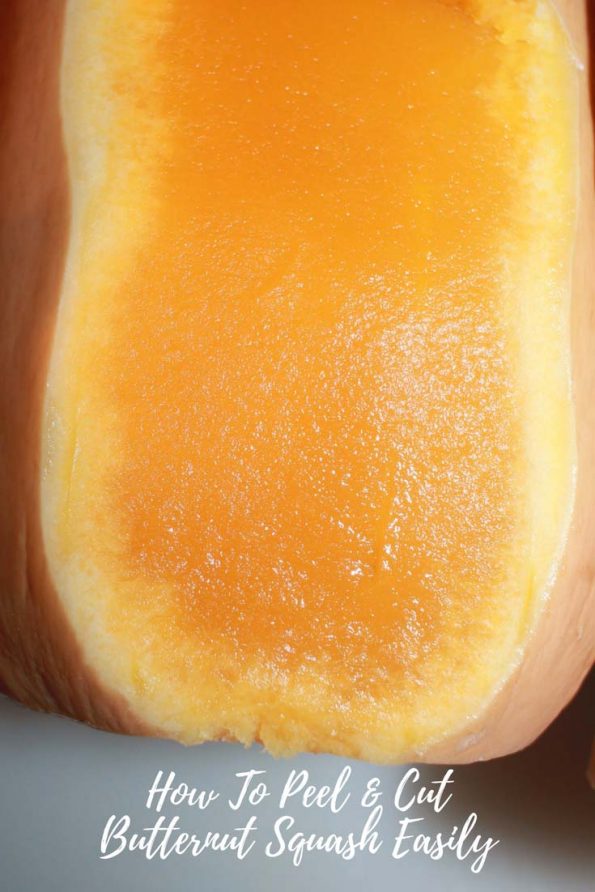 How To Cut Butternut Squash Easily – How To Peel & Cut Butternut Squash Easily
Things you need
Instructions
Preheat oven to 375 degree Fahrenheit.
Wash the squash and core gently on different parts of the skin around the squash using a knife.
Place the squash in a baking sheet lined with aluminium foil or non stick silicon baking mat (for better clean up later) and bake for about 50 minutes.
The roasted squash will have a slightly golden brown skin with small wrinkles in it.
Allow the squash to cool on the rack itself.
Once the squash is cool enough, easily cut the top and bottom of the fruit using a knife.
Peel the skin easily using a knife, or you may even do it with your hands.
Once completely peeled, cut the squash lengthwise into two equal halves.
Now easily remove the seeds from each half of the squash.
Cut the squash into cubes very easily using any knife that you use!
Notes: You can use the butternut squash pieces in a variety of recipes including soups, stews, pasta and also stir fries. Use the cubes of roasted butternut squash as they are called in recipes, or mash them or easily puree in a blender if you want them to be used in baked goods like muffins, cakes and breads. If you want to mash the pieces, you can do so with the roasted, cut pieces of the squash. It is doable, but not super easy, so if your aim is to mash them, you can do so easily if you roast them for an extra 15 minutes or so.
Hope you found this post on how to cut butternut squash easily helpful in peeling and cutting butternut squash easily!