This is basic instant pot one pot pasta recipe with added marinara sauce and some cheese and will help you to learn how to cook pasta in instant pot.
Nothing fancy here, just the basics of cooking pasta perfectly in the instant pot!
I do not recommend quick release for instant pot recipes, especially for pasta or anything with hot liquid for safety reasons and to avoid any hot liquid mess all over.
So I almost always look out for options to cook with more of a natural pressure release method and a gradual and slow manual release after a while on natural pressure release.
This method usually works for me, but if you let it sit for so long the pasta can get overcooked, so you can do a gradual and slow manual pressure release after about 12 minutes of natural pressure release to avoid overcooking the pasta.
We first make plain pasta in instant pot with little salt, olive oil and butter and then add marinara sauce, milk and cheese to the cooked pasta which makes it so simple to prepare yet very quick and delicious with minimal work to do.
While I mostly used the penne pasta to make the pasta in this way, I also used bow tie pasta/farfalle pasta (butterfly shaped) and also spaghetti (for spaghetti I used a different measurement for water to pasta ratio).
See instant pot spaghetti recipe here.
Keep in mind that the amount of water used may slightly vary with different kinds of pasta shapes as well as different brands as even the flour used to make the pasta can have an impact on the cooking time and also the amount of water absorbed by the pasta.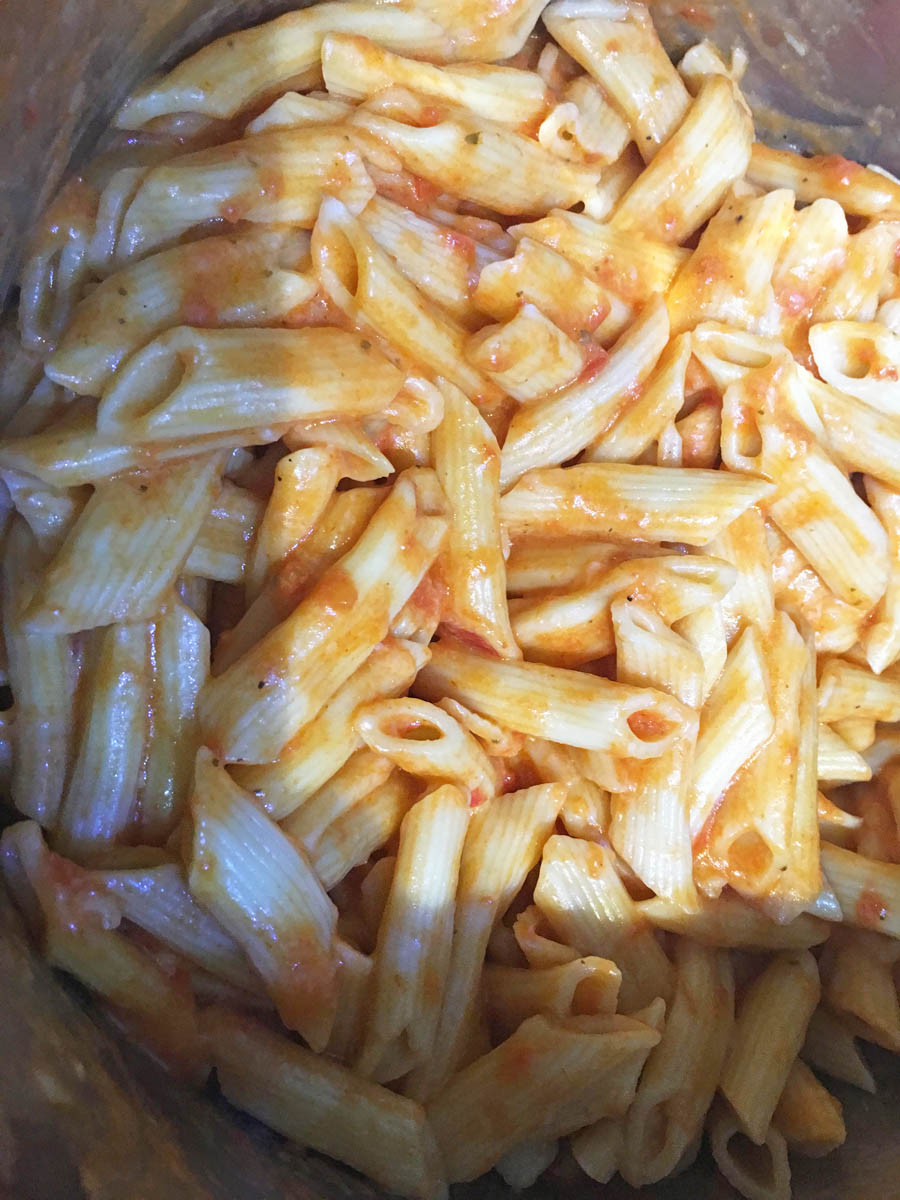 For this instant pot one pot pasta recipe, I have used quite a different varieties of pasta successfully so I can recommend this method as a general guidance for easily cooking plain pasta using instant pot.
A 6 quart instant pot is perfect to cook this amount of pasta as mentioned in the recipe.
We do not have to drain the pasta using the instant pot method, so nowadays I almost always cook pasta using my instant pot, unless there are specific recipe requirements where I have to do it the other way.
While you learn to cook the past using instant pot, the biggest advantage is that yo do not have to drain the pasta once it is cooked, since we only add enough water in the instant pot which will all get absorbed while the pasta gets cooked.
But don't worry the pasta won't be mushy or overcooked as we only use just enough water for cooking and also we cook only for the minimum amount of time in the instant pot, to avoid the pasta getting mushy or overcooked.
It is also important to add the fat (I used a combination of butter and olive oil) so the pasta shells won't stick together once it is cooked.
In fact we only cook the past for 2 minutes in the instant pot for this basic instant pot pasta recipe which is just enough to cook the pasta.
Instant pot pasta dishes are the quickest and best if you are looking for quick and easy one pot dinners and this is the best method to cook pasta which I know so far!
I used 6 quart instant pot to cook this amount of pasta as called in the instant pot pasta recipe below.
The instant pot pasta water ratio and time we take to cook the past in instant pot are very important since it can be a messy failure if you use a different amount of water of different total time for cooking.
If you want a more firm consistency, you may also slightly reduce the amount of water, but make sure not to use even a little more amount of water than the recommended amount, since using more water will make the pasta overcooked.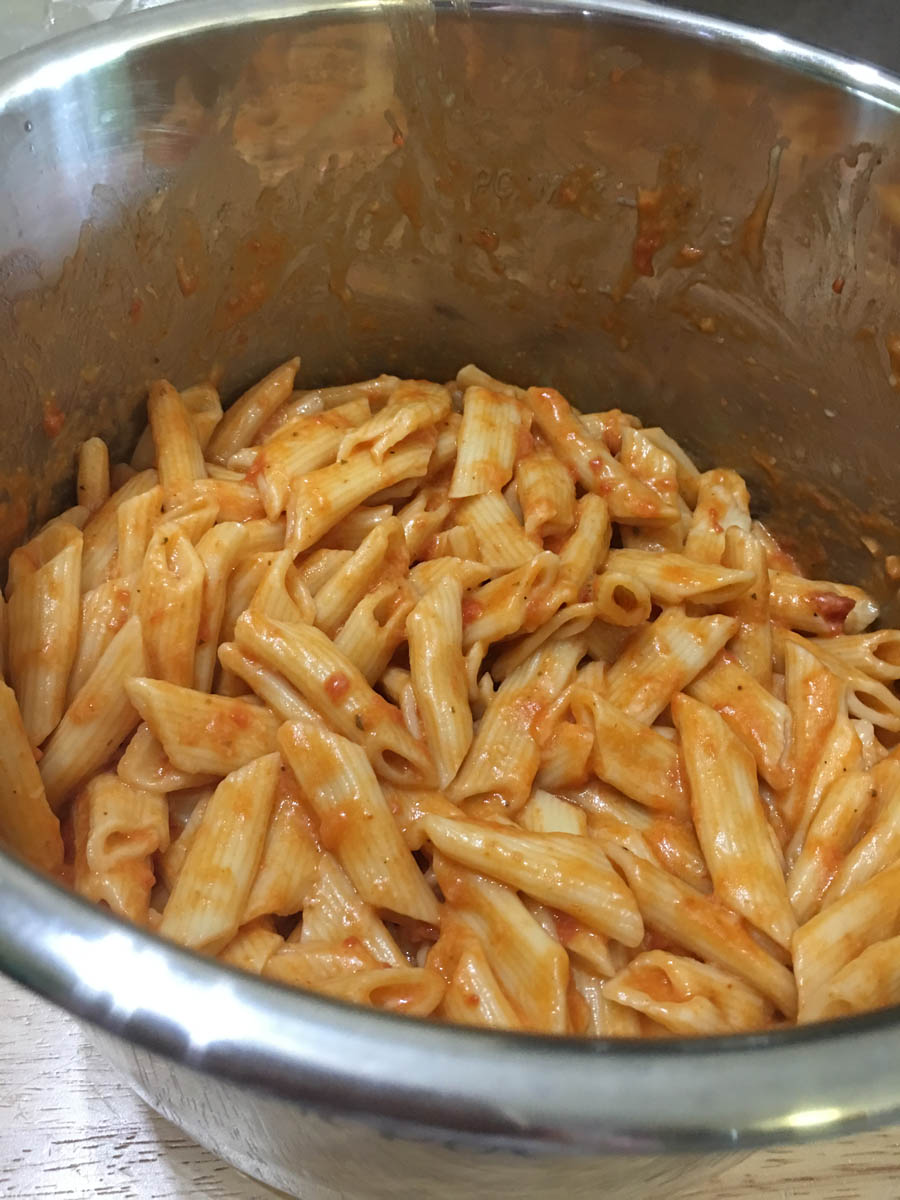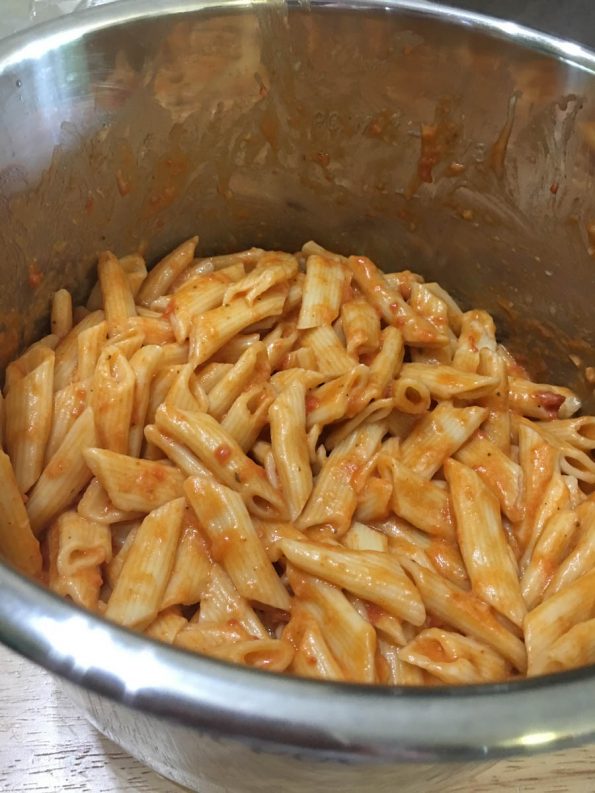 Also the amount of water may slightly differ based on the brand or shape of pasta shells that you are using, so a basic rule that you need to remember is to use just enough liquid to cook the pasta, now that I realize you really do not need to immerse your pasta in water in the instant pot, since it will get cooked in the pressure.
Here we are only using water for the liquid part before cooking the pasta, as we are adding the marinara sauce later once the pasta is cooked.
As I mentioned, I tried this method for pasta to water ratio in instant pot for farfalle pasta as well as penne pasta and they turned out perfect.
Also we only use the natural pressure release method (instead of quick release) with a manual release later and for this amount of water and pasta ratio, this method is just perfect!
If you change the amount of time for cooking and also do not do natural pressure releasing method, the amount of water required can change.
See this easy instant pot pasta soup recipe here where we quickly make a delicious instant pot pasta soup with marinara sauce.
So here is how you can make easy instant pot pasta using this basic and easy instant pot pasta recipe.
Try farfalle pasta or penne pasta to make this easy instant pot pasta.
This marinara sauce is perfect to make any pasta delicious and you can use it in this easy instant pot pasta recipe as well.
Basic Instant Pot One Pot Pasta Recipe Below, Easy Instant Pot Penne Pasta Recipe
Simple Instant Pot One Pot Pasta Recipe, How To Make Penne Pasta In Instant Pot
Easy, delicious instant pot one pot pasta using penne pasta with marinara sauce and cheese makes a quick one pot lunch or dinner. You can try bow tie pasta shells also with the same method and ingredient ratio.
Recipe updated recently
Print
Pin
Rate
Ingredients
for the sauce
2

cups

marinara sauce

may adjust a little

1

cup

shredded cheddar cheese

(or another cheese that you use for pasta, adjust the amount slightly based on your preference)

½

cup

milk

or cream
Instructions
Add the pasta shells, water and salt to the inner pot, make sure there is water at the bottom of the pot.

Sprinkle the garlic powder and also add the butter.

Close the instant pot with lid in sealing position and plug the instant pot.

Press on manual and pressure cook on high for 1 minute. It will take a few minutes for the pressure to build up inside instant pot and once the pressure is built (which takes a few minutes and it will show 'On' until then) the count down of the minutes (here 1 minute) will start and it shows the number of minutes left for cooking.

Once the cooking is finished, the pot will beep and you press the 'keep warm' button and wait until the pressure is naturally released and the valve goes down, which will take another few minutes of time. You can carefully do a manual release by turning the lid to the venting position after 12 minutes of NPR (natural pressure release) if needed, if the NPR is not completed by this time.

Once the pressure is all released, open the pot by turning the lid very carefully, gradually and slowly, be very careful while opening the pot as the contents are very hot with steam. Drizzle the olive oil, gently stir the pasta using a good quality spatula to combine the olive oil with the cooked pasta, but make sure not to overly mix.
to prepare the sauce
Add the marinara sauce and shredded cheese to the cooked pasta.

Also add the milk and gently mix so the milk reaches the bottom of the pot, press the saute function to simmer the contents in medium heat (normal mode).

Simmer for about a minute (make sure the milk is not getting burnt at the bottom of the pot, if you keep simmering for more time it may happen) and gently toss so the sauce is blended with the pasta. Press the 'keep warm/cancel' button to stop the cooking, and transfer the pot carefully so it won't cook further. You can serve this right away or you may leave in for a few minutes but the sauce will thicken as it sits for more time. If you wish, you can also add one more tablespoon of olive oil and stir in gently which will add even more flavor to the pasta. Serve the pasta hot for a delicious lunch or dinner!
Notes
If you do not wish to prepare the sauce, you may just add the marinara sauce or any sauce of your choice and may add your favorite cheese for pasta as you like, once you have cooked the pasta.
In any case if there is any little liquid content left on the pot once the pasta is cooked, you can add an extra tablespoon of olive oil, give a gentle stir and keep it aside for another few minutes and the liquid content should be absorbed as the pasta cools down, while each pasta shell will still remain intact and not getting mushy or overcooked.
If you want a more firm texture to make pasta salads, you may reduce the amount of water slightly.
Make sure to add the sauce and cheese only after the pasta is cooked while following this method, as mentioned in the recipe.
To double the recipe - To cook 16 oz pasta
To cook 16 oz pasta which is double the recipe, use 5 cups of water and cook in high pressure for 1 minute itself (cooking time remains the same), but do a natural pressure release for 15 minutes and carefully do a gradual manual pressure release after that. You may increase the ingredients for the sauce and the remaining ingredients also as needed when you double the recipe.
Nutrition
Calories:
454
kcal
|
Carbohydrates:
52
g
|
Protein:
17
g
|
Fat:
20
g
|
Saturated Fat:
11
g
|
Cholesterol:
47
mg
|
Sodium:
893
mg
|
Potassium:
619
mg
|
Fiber:
4
g
|
Sugar:
8
g
|
Vitamin A:
1020
IU
|
Vitamin C:
8.6
mg
|
Calcium:
272
mg
|
Iron:
2.3
mg
More Pictures From The Preparation Of Instant Pot Pasta Using Penne Pasta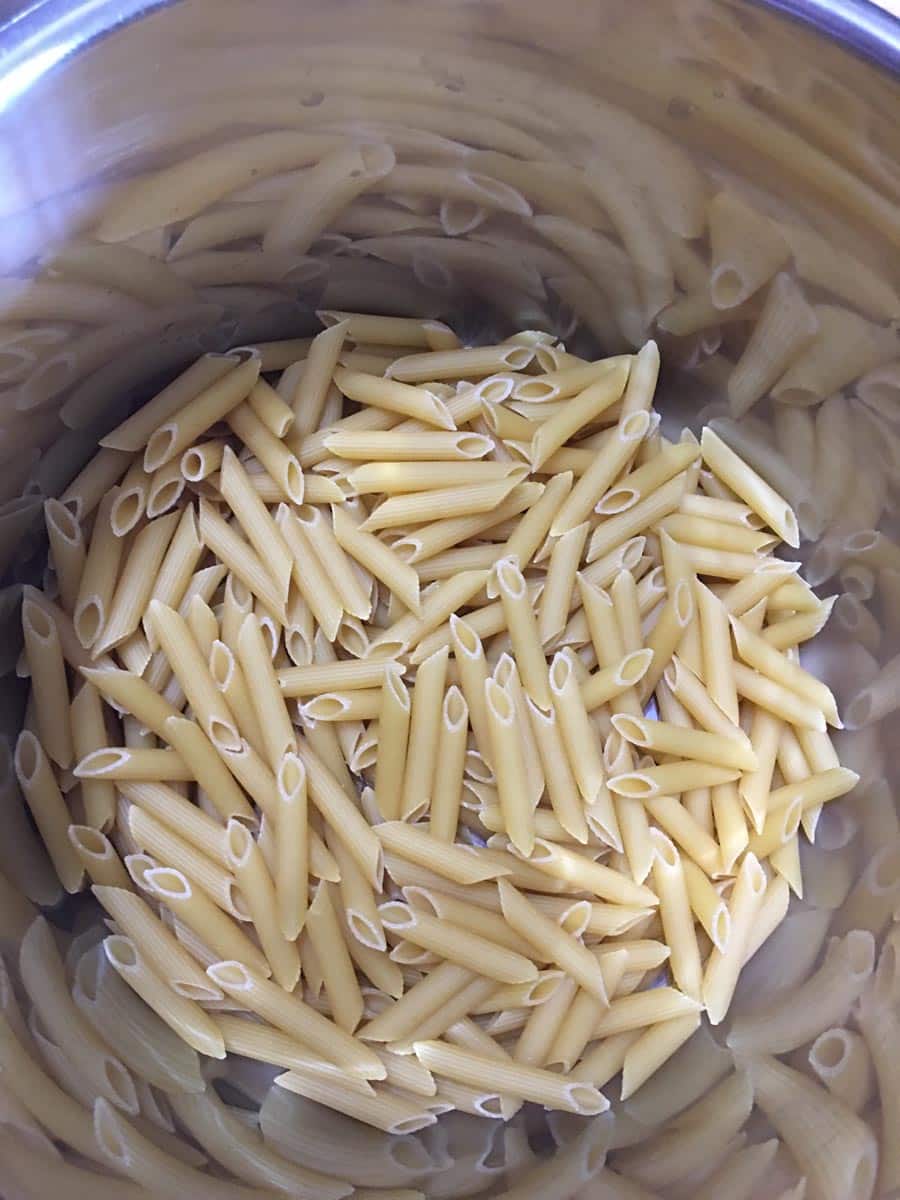 Hope you found this post on simple instant pot one pot pasta recipe helpful in making easy, quick and delicious one pot pasta using instant pot.