Easy Oven Roasted Potato Salad Recipe – Healthy & Easy Simple Oven Roasted Potato Salad Recipe For Lunch & Dinner
Vegetarian/Vegan Oven Roasted Potato Salad Recipe Without Mayo
This oven roasted potato salad recipe is free from mayo and it is vegetarian as well as vegan. This super easy oven roasted potato salad recipe is very delicious and filling as well, I just enjoyed it as my lunch. Many of the vegetarian or vegan salads are really not very filling if you are trying to replace it for a full meal for lunch or dinner, but this oven roasted potato salad is very much filling and you won't feel missing the mayo or cheese. See my posts on lettuce tomato salad recipe here and watermelon salad recipe here.
Cheesy potatoes are definitely delicious but if you want to make a delicious potato salad without cheese or mayo, this oven roasted potato salad recipe is perfect. We don't use many ingredients for this potato salad, we just use potatoes, salt, a few spices and a little oil. You may also add a little lemon juice if you wish, but I like this potato salad very much even without the lemon juice.
And this is so easy to make too. I peeled the potatoes but you can leave the skin if you want to. The only hard part is to peel the potatoes but if you use a good quality potato peeler, peeling potatoes is not a job anymore. In fact, I use this peeler not just for peeling potatoes but also for peeling other vegetables like carrots, cucumbers, zucchini etc.
So here is how you can make this easy, delicious and filling potato salad following this super easy oven roasted potato salad recipe.
Makes 2 servings
Roasted Potato Salad Recipe
Ingredients for oven roasted potato salad recipe
Potatoes 6
salt as required
Oil 3 tablespoons
garlic powder 2 teaspoons
black pepper powder 2 teaspoons
For dressing
black pepper extra a little
olive oil 1 to 2 tablespoons
lemon juice 1 tablespoon (optional)
Instructions for oven roasted potato salad recipe
Peel the potatoes and roughly slice to make thick round slices.
Transfer the sliced potatoes to a large bowl and add garlic powder, black pepper, salt and oil.
Mix everything well so as to coat the potato slices in garlic, pepper, salt and oil, let it marinate for about 15 minutes.
Preheat oven to 425 degree Fahrenheit.
Grease a large baking sheet with some oil and layer the sliced potatoes in a single layer.
Bake for about 25 minutes or until the potato slices are roasted and browned.
Once the roasted potatoes are transferred from the oven, sprinkle the oven roasted potatoes with some black pepper powder and olive oil for dressing. If you are using lemon juice for dressing, you can add that too to the roasted potato slices and toss gently before transferring to a salad bowl or any serving plate.
Serve the potato salad for lunch or dinner or you can also use it as a side or snack!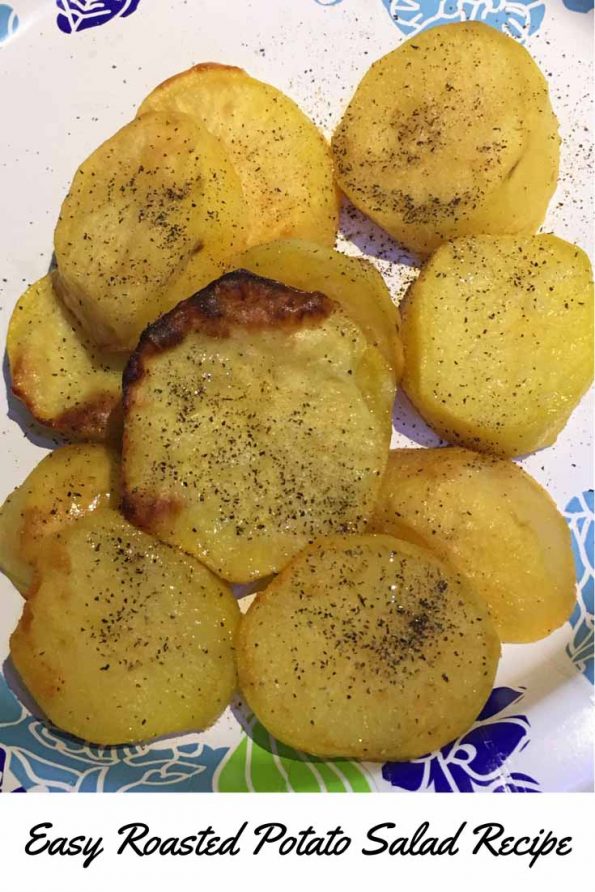 Notes: The oven roasted potato salad tastes best while it is still hot. Once it is cool, you can warm up in the microwave for a few seconds before serving.
Hope you found this post on easy oven roasted potato salad recipe helpful!