Best Fried Eggplant Recipe With Spiced Eggplant Slices – Easy Fried Eggplant Recipe
Here is my all time favourite and best fried eggplant recipe which is also a very easy fried eggplant recipe for fried eggplant slices.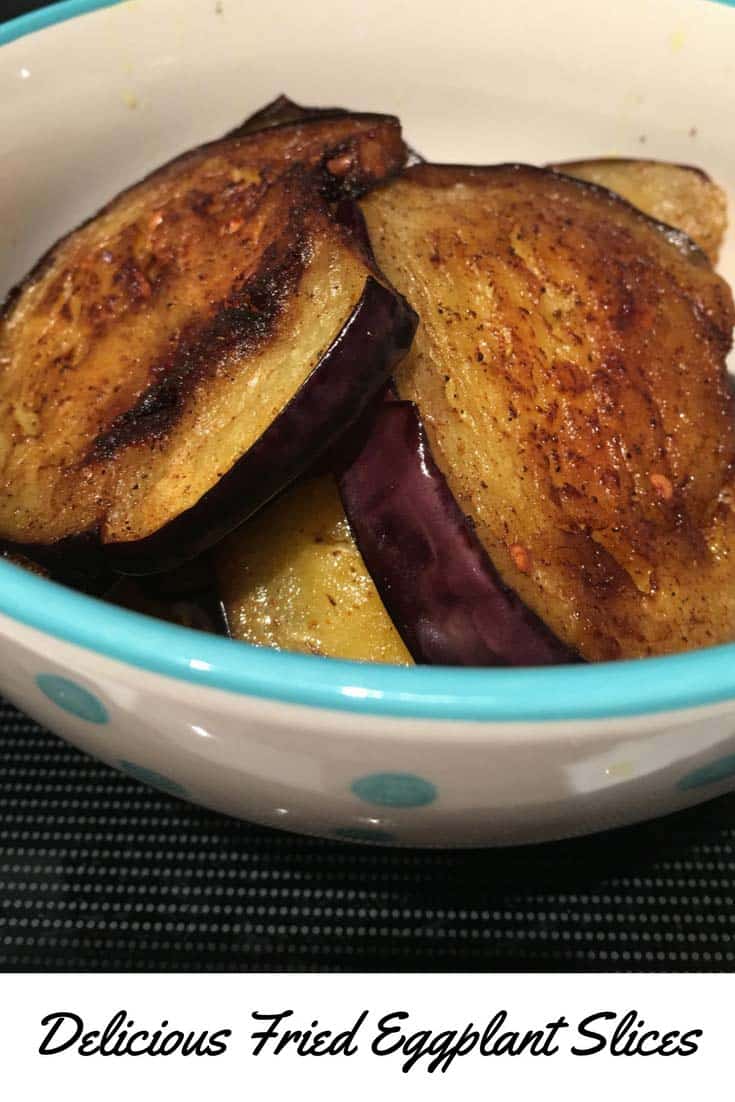 We marinate the eggplant slices with our favorite spices and then shallow fry the slices, that's it! This fried eggplant recipe is vegetarian and vegan as well, so this is perfect for lunch or dinner if you are following a vegetarian or vegan diet.
You can use your favorite spices for this easy recipe for fried eggplant slices to make the eggplant slices very flavorful. In my recipe for this easy fried eggplant recipe, I use the best spices that really gets well with the fried eggplant slices leaving a wonderful flavour of eggplant and slices in little oil.
Use you favorite oil to fry the eggplant slices. I prefer to use sunflower oil or non GMO Canola oil, as these oils have a neutral flavor, which is good because you get the fried eggplant slices full of flavour only from the fried eggplant in spices.
There are many spices that I have used to coat the eggplant slices, you can experiment with your own favorite spices too. I recommend using the curry powder or garam masla powder for the best taste.
This recipe for the best fried eggplant recipe for fried eggplant slices is adapted from my mom's cooking and it basically uses the spices we use in India to flavor the sliced eggplant. We used to get the small sized eggplants in India very commonly, so those small eggplants were used to make this easy fried eggplant slices. However, I find many kinds of eggplants here in the US, and I use them all to make this fried eggplant recipe for fried eggplant slices. That is why I tell you this is the best eggplant fried recipe, which is full of flavor and completely vegetarian and the recipe is very much flexible too. You can use your favorite kind of eggplants and you can use your favorite kind of spices.
Let us go on to the best fried eggplant recipe where I will show you how to make the most yummy fried eggplant slices. We are not deep frying the eggplants, we are shallow frying the eggplant slices in a pan. But you may also deep fry the eggplant slices if you wish!
In case you like to deep fry, see electric deep fryers here.
So here is the recipe for fried eggplant slices with spices, which is also the most easy fried eggplant recipe.
Best Fried Eggplant Recipe - How To Make Fried Eggplant Slices South Indian Style
The South Indian style fried eggplant slices with spices (vegetarian and vegan) makes an easy and very delicious side dish which can be enjoyed with rice for lunch or dinner.
Ingredients
Ingredients for best fried eggplant recipe
1

large eggplant

or 2 small or medium sized eggplants

Oil as required to shallow fry and 2 tablespoons extra to marinate the slices

salt as required

you may try himalayan pink salt

turmeric 1/2 teaspoon

red chili powder a pinch

Masala powder or curry powder 1 to 2 teaspoons
Instructions
Instructions for the best fried eggplant recipe
Slice the eggplant in round slices sized evenly.

Transfer the eggplant slices to a large bowl, add 2 tablespoons of oil, salt and all the spices - turmeric powder, red chili powder and masala powder.

Gently mix all the ingredients with your hands so that each eggplant slice will get coated with the mixture of salt, oil and spices.

Let it sit and marinate for about 15 to 20 minutes.

Heat oil in a pan to shallow fry the slices and add the slices slowly spread in one layer.

Wait for the eggplant slices to get shallow fried on one side, this will usually take about 1 to 2 minutes if you use medium to high heat.

Once the eggplant slices are cooked and fried enough on one side, you can gently flip them over so the other side of the slices too get fried.

I suggest you to be very cautious while flipping over the slices in hot oil, as you need to make sure the hot oil is not splashing. I use a steel spoon and spatula together to gently flip them over with out splashing the oil.

The other side of the eggplant slices will get cooked and fried much faster, probably in less than a minutes, since we have already fried the other side.

The perfect and best fried eggplant slices will be soft when you gently press with your spatula, and mildly browned on the surface.

You can use the spatula to gently transfer the fried eggplant slices from the pan to another bowl or plate.
Recipe Notes
Serve the fried eggplant slices as a side dish with rice for a delicious lunch or dinner, along with any other curry or gravy. Rice, fried eggplant slice and moru curry (South Indian style yogurt curry) makes an awesome, simple combination.
More pictures from the preparation of fried eggplant slices – pictures, photos – best eggplant fried recipe, easy fried eggplant recipe