This homemade mashed acorn squash recipe from scratch uses roasted acorn squash to make the mashed squash which is prepared using fresh acorn squash, which means there is no canned stuff used here.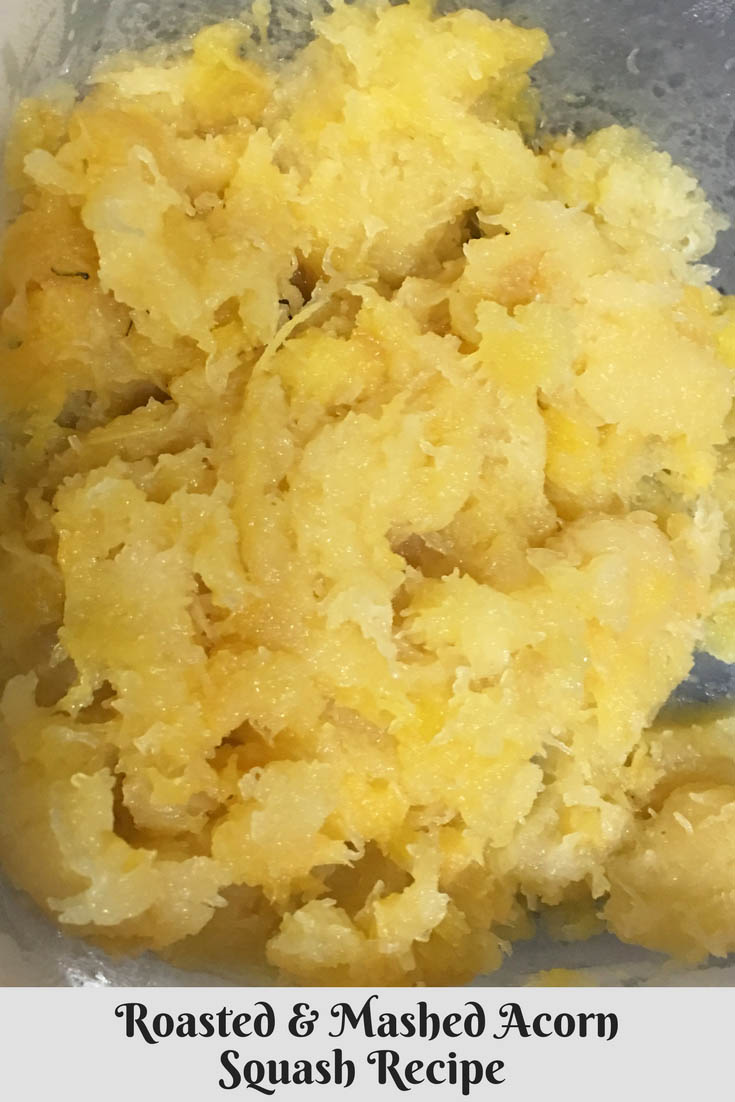 How To Make Mashed Acorn Squash Using Fresh Whole Acorn Squash From Scratch (by roasting the whole acorn squash in oven without peeling or cutting the raw squash first)
You can use fresh acorn squashes to make mashed acorn squash easily even without cutting raw acorn squashes which have very thick skin and hard to peel.
This is why we bake the acorn squash in the oven prior to cutting and taking the pulp out, which is then mashed so easily.
I usually do not prefer cutting or peeling raw squashes or pumpkins using knife, as it can be hard to do unless you use a good quality squash peeler like this.
If I need raw pumpkin puree I usually go for canned pumpkin puree but if I want to make something using the roasted squash, I always roast the squash in oven first, and then easily peel the skin and scoop out the flesh to be used in the dish.
One thing you need to be careful while roasting or baking a whole squash in the oven is to pierce on several parts on the squash over the skin and into the flesh, because otherwise there is a high chance that the squash can explode in the oven making it a big mess.
But do't worry, piercing through the skin using a knife is so easy and you can do it much easier than peeling the whole raw squash or cutting the raw squash.
Here is how you can bake a whole butternut squash if you want to see how you can bake a whole butternut squash without peeling or cutting the squash in advance.
In this mashed acorn squash recipe, we use a fresh acorn squash which is roasted whole in the oven after piercing through several parts of the squash.
Once the squash is roasted very well and once it is cooled enough, we will peel the skin, cut the squash in halves, scrape out the seeds and get the roasted squash which is soft and can be easily mashed.
And you can add your favorite spices to the mashed acorn squash as you wish.
I will give here some suggestions on what all spices or ingredients will be great with mashed acorn squash, however you can adjust the ingredients and make your own version as you wish.
More Pictures From The Preparation
Instead of adding the spices, you can use the mashed acorn squash pulp to make other dishes too, like soups, stews, squash flatbread etc.
So here is how you can make mashed acorn squash using this easy mashed acorn squash recipe using a fresh whole acorn squash.
Mashed Acorn Squash Recipe Using Whole Roasted Acorn Squash
Acorn squash can be easily baked in the oven to make mashed acorn squash which can be used in a variety of other recipes or you can just enjoy it as a side mixed with your favorite spices.
Print
Pin
Rate
Ingredients
for more seasoning (optional)
1

teaspoon

black pepper powder

1

tablespoon

maple syrup

1

teaspoon

cinnamon powder
Instructions
To roast the whole acorn squash
Preheat oven to 400 degree Fahrenheit.

Wash the squash and dry using a paper towel.

Pierce the squash at several parts over the skin  using a good quality knife, into the flesh of the squash, which will help with the steam build up as you bake the squash.

Line a baking sheet with foil or non slip baking mat and place the acorn squash on the baking sheet.

Bake for about 1 hour or few more minutes until the squash is well roasted.

Once the squash is roasted, allow the roasted squash to cool down before you try to peel or cut the squash.
To make mashed acorn squash
Once the squash is cooled enough, cut the squash in halves and peel the skin off easily using a knife .

Scrape out the seeds from both the halves of the squash and discard the seeds.

Now mash the squash using your hands easily or use a potato masher which can be used to mash the squash.

Add the olive oil (or melted butter) and salt to the mashed squash, stir using a spoon to combine the seasoning well with the mashed squash.

Now the mashed acorn squash is ready, if you are using the additional seasoning, you can add the recommended ingredients of cinnamon powder, black pepper powder and maple syrup or use your own favorite spices as you wish!
Notes
Enjoy the mashed acorn squash  as a side with your main course for lunch or dinner or you can use the mashed acorn squash without any seasoning for any other recipes like soups, bread etc. as you wish.
Nutrition
Calories:
121
kcal
|
Carbohydrates:
15
g
|
Protein:
1
g
|
Fat:
7
g
|
Saturated Fat:
1
g
|
Sodium:
4
mg
|
Potassium:
385
mg
|
Fiber:
2
g
|
Sugar:
3
g
|
Vitamin A:
395
IU
|
Vitamin C:
12
mg
|
Calcium:
46
mg
|
Iron:
1
mg
Hope you found this post on mashed acorn squash recipe helpful in making easy and yummy mashed acorn squash!