I think this is really the best crispy tofu recipe ever! Or may be this is really the best crispy tofu recipe I have tried yet 🙂 and I am not a big fan of tofu in general, as tofu taste so bland to me if not prepared right.
This crispy tofu (which is baked first) is pan fried with spices and sauce to make the perfect yummy tofu dish I ever tried.
I was not confident about what I was doing with the tofu, until I saw the end results and the tofu dish I prepared for dinner turned out to be absolutely delicious! And this comes from a not so tofu fan (me!).
This crispy tofu recipe baked and pan fried, gives you a very delicious vegetarian/vegan tofu dish which is perfect to be used as a snack or appetizer or enjoy it with rice or pasta or noddles as a topping or side for lunch or dinner.
How To Make Crispy Tofu
Draining the water from the tofu is very important and you can use a good quality tofu press to do the job easily!
If you are using the tofu press you can drain the water from the entire block without even cutting the block.
See below some of the best tofu press available to buy online.
EZ Tofu Press – Removes Water from Tofu for Better Flavor and Texture.

Super Tofu Press –4 Spring Model to Remove Water Quickly

Simple Tofu Press -New Model With 2 Springs

Otherwise you will need to slice the tofu and then keep it for draining water using a heavy object like a cast iron skillet, which I will explain in the instructions how to do.
Many recipes call to bake tofu to make it crispy while many recipes call to stir fry or deep fry the tofu.
I decided to bake the tofu first until they are crispy and then I marinated the baked tofu which is pan fried (with tomato sauce and spices).
When I tried tofu recipes a while back, the tofu used to crumble in the pan and I was at a lost on what to do with it or how to handle the tofu. I know my husband likes tofu very much, so I wanted to figure out a tofu dish which we both could enjoy.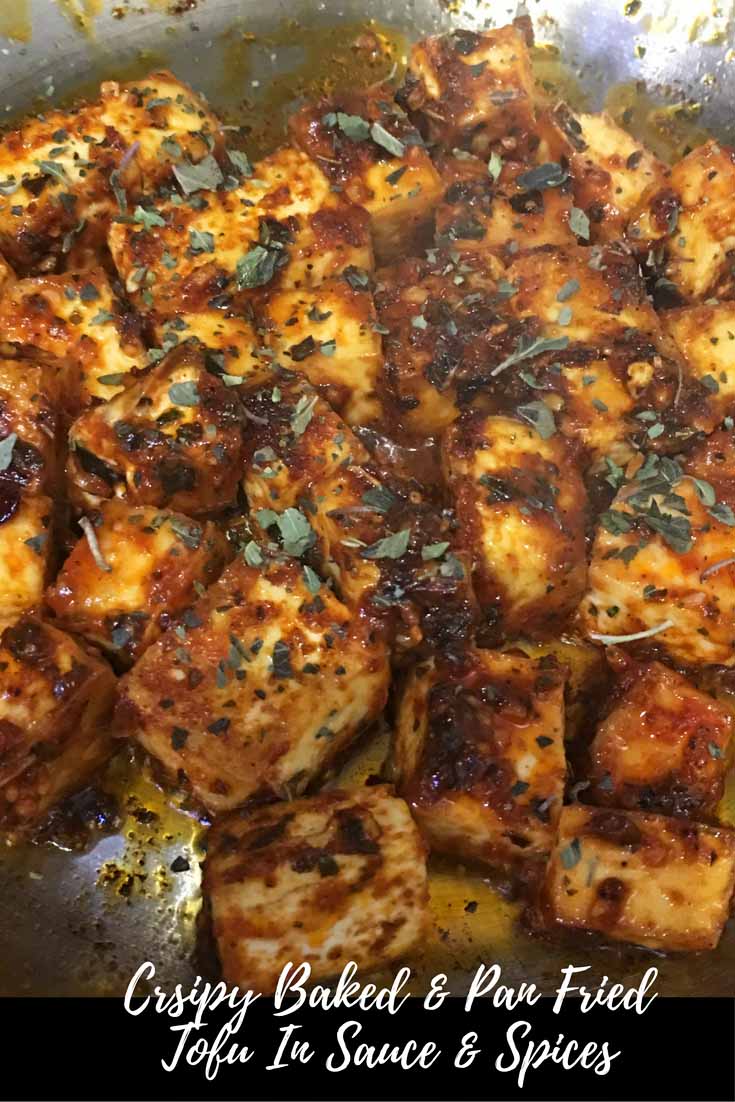 Tofu is much like paneer in texture, however, tofu is vegan as it is made from soy, but paneer in Indian style cheese which is not vegan. There is much difference between the flavor of tofu and paneer though.
Paneer is real cheese and it has a great flavor on its own and you can enjoy it even if its not flavored with anything else, though flavoring would be really nice.
I have posts here on how to bake paneer in the oven (basic recipe) and how to make quick paneer curry here and a masala paneer recipe here (baked paneer) which are all very easy to follow. So, the real difference is that paneer is very flavorful on its own while with tofu, the texture is awesome but you have to make it flavorful by preparing it the right way, or it may taste bland.
If you are like me and reluctant to try tofu dishes as they seem to be bland sometimes, please do try this recipe as the tofu turned out so delicious with this recipe. As this tofu recipe turned out to be a success, I hope to try out more tofu recipes in future.
As I mentioned above, I baked the tofu until the tofu is all browned and crispy and then I marinated the baked tofu in spices and tomato sauce (tomato ketchup) which is then pan fried.
So the baked crispy tofu which is then coated with tomato sauce and spices are lightly fried in a pan which makes it so so yummy.
Before starting to bake the tofu, one of the most important steps in preparing tofu for a dish is to remove the water content from the tofu block.
It is best to use extra firm tofu if you are looking to make crispy tofu dishes, but you can also do with firm tofu.
Step By Step Pictures From The Preparation Of Crispy Tofu To Help You More With Understanding The Process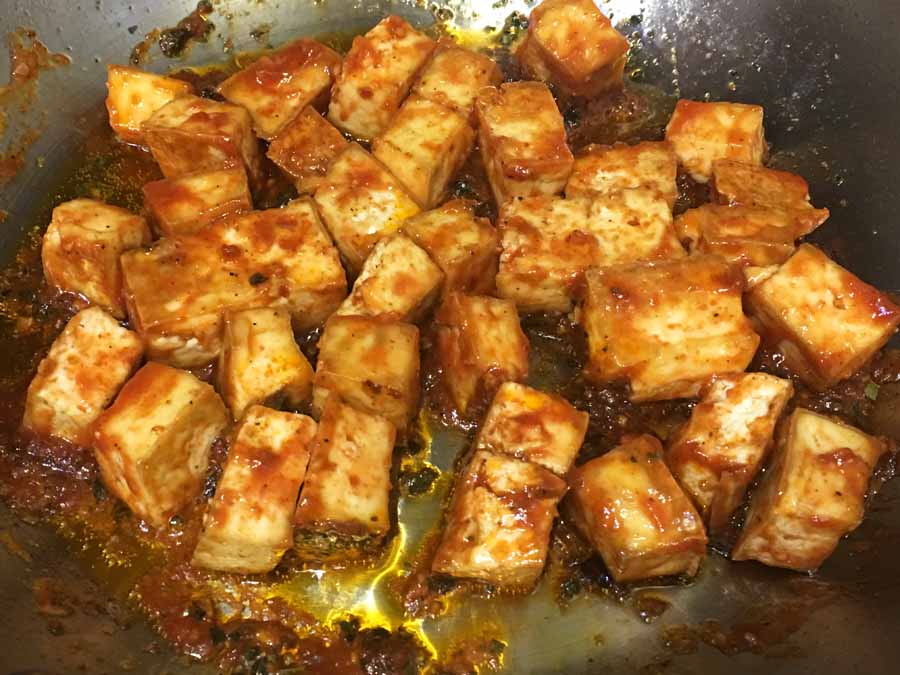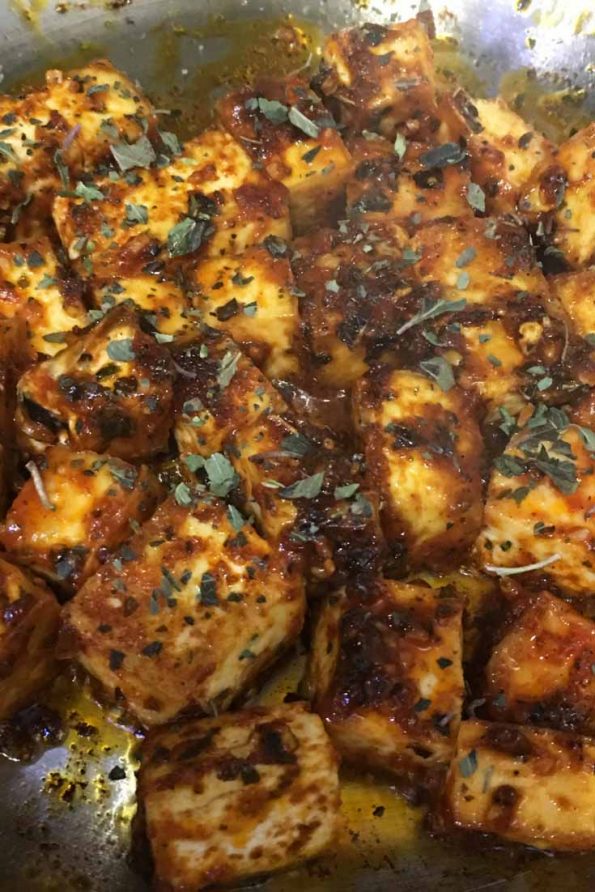 So here is how you can make this delicious crispy tofu dish following this easy and best crispy tofu recipe.

Best Crispy Tofu Recipe Baked And Pan Fried, How To Make Flavorful, Crispy Tofu
Easy baked and pan fried tofu recipe to make the best crispy tofu.
Instructions
Draining the moisture from tofu
Let us start by draining the water from the packaged tofu. Gently cut the sides of the package without scratching the tofu, and drain the excessive water used to store the tofu. Though we removed the water from the package, there is a lot more water inside the tofu block, which needs to be removed, and this is a very important step in preparing tofu, as the tofu won't absorb any flavors that you add, if it is lodged with water. I highly recommend using a very good quality tofu presser for best results.

However if you don't have a tofu press, read following instructions on how to remove the water from the tofu block.

After draining the excess water from the package which is used to store the tofu block, transfer the tofu block from the package to a cutting board.

Gently slice the tofu block in even sized cubes, without crumbling the block.

Line a tray with paper towels and transfer the tofu cubes, arranging them in a single layer.

Place another paper towel covering the top of the slices.

Now place something heavy on top of the slices, you can use something like a heavy cast iron skillet.

Let it sit there for a while, say 15 to 30 minutes, so all the water from the tofu will get absorbed in the paper towel.

After 15 to 30 minutes, remove the paper towel from the top, press the tofu slices using another new towel, for absorbing any remaining water.
To bake the tofu
Preheat oven to 400 degree Fahrenheit.

Gently transfer the sliced tofu to a baking sheet lined with non stick silicon mat, arranging the slices in a single layer in the baking sheet. If you don't have a non stick silicon mat, you may use an aluminium foil, just like I did, but I found that the baked tofu may slightly stick to foil.

Bake the tofu slices for about 30 to 35 minutes or until the tofu is lightly browned and crispy (oven times may slightly vary, so just make sure to keep watching).

Once the tofu is baked until light brown and crispy, transfer the baked tofu to a large bowl. If you taste the baked tofu at this point, you can see that the baked tofu is crispy but quite bland in taste, as we have not added anything to flavor it yet.
To marinate
In the mixing bowl, where we transferred the tofu, add enough salt, turmeric powder, red chili powder, garam masala and oil, mix everything well. You don't have to worry about the tofu crumbling at this point, as the tofu is baked and crispy!

Add one tablespoon of tomato ketchup or sauce to the bowl.

Stir well to coat all tofu pieces with all the ingredients including and spices and sauce nicely. (sorry I forgot to click a photo after I mixed the ketchup with the tofu and spices :), the above photo was taken as soon as I added the sauce. Just make sure to mix them up all to coat with the sauce).

I used

this tomato ketchup

which I like as it is very less in sugar and free of preservatives and uses natural ingredients.




Let the tofu mixed with spices and sauce sit there for a while, at least about 15 minutes, so the tofu will get marinated in the spice and sauce blend.
Pan frying tofu
After the tofu is marinated for 15 minutes, let's go on to pan fry the marinated tofu. Now, we use spices and the same tomato ketchup or sauce to make a mixture, in which the tofu will be pan fried. For the ingredients amount used to make the pan fried tofu, please refer to the 'Ingredients for pan frying marinated tofu' section above and use the amounts specified there accordingly.

Heat oil in a pan and add the 2 tablespoons of tomato ketchup or sauce.

Add the ¼ cup of water to the sauce in the pan and stir well the contents, keeping the heat very low.

Add the salt, ginger garlic paste and spices to the pan and stir everything well.

As the sauce starts to boil, stir the contents and add the dried parsley flakes to the pan and mix well.

Now add the marinated tofu slices and fry in low to medium heat for about 1 to 2 minutes. As the tofu gets fried, the sauce mixture will get coated with the tofu and makes the tofu very delicious and flavorful.

Once the tofu is pan fried for 1 to 2 minutes, gently flip the slices of tofu and fry the other side too until both sides are fried well. The pan fried baked tofu will be crispy outside and soft inside with full of flavor.

Sprinkle a little more dried parsley leaves to add more flavor and for garnishing. Serve the crispy pan fried baked tofu hot for lunch or dinner or snack!
Notes
You can enjoy this crispy tofu as a delicious snack or appetizer or you can enjoy it as a side with rice or use it as a topping for any pasta or noodles for lunch or dinner as you wish.
Nutrition
Calories:
216
kcal
|
Carbohydrates:
7
g
|
Protein:
10
g
|
Fat:
15
g
|
Saturated Fat:
1
g
|
Sodium:
128
mg
|
Potassium:
85
mg
|
Fiber:
2
g
|
Sugar:
2
g
|
Vitamin A:
300
IU
|
Vitamin C:
2.1
mg
|
Calcium:
159
mg
|
Iron:
1.9
mg
Hope you found this post on best crispy tofu recipe baked and pan fried helpful in making yummy tofu dish for lunch and dinner!