Easy Fresh Banana Blueberry Cake Recipe – Simple Recipe For Banana Cake With Blueberries Made From Scratch Using Ripe Bananas & Fresh Blueberries
This homemade fresh and easy banana blueberry cake recipe from scratch uses fresh blueberries and bananas and also used strawberry sauce for topping made from fresh strawberries.
See the photo of the banana blueberry cake below which is made using this easy banana blueberry cake recipe and topped with a simple homemade strawberry sauce topping.
You can also enjoy this banana blueberry cake without any frosting at all or you can use other simple and delicious frostings like simple vanilla whipped cream frosting or easy vanilla cream cheese frosting.
The best thing about this easy homemade banana blueberry cake recipe is that this is so easy and simple to put together and you can enjoy delicious homemade banana blueberry cake with or without any frosting, as it s very delicious on its own.
I always prefer adding fruits like bananas to cakes since that can reduce the amount of sugar needed in the recipe and also increase the natural sweetness and flavor.
I made this blueberry banana cake for the first time during one new year celebration at home and that is when I used the homemade strawberry sauce topping for the cake. After that I made the cake many times even without any frosting at all, and it was very delicious and simple.
The first time I made this banana blueberry cake at home, actually I didn't plan to make a specific cake and when I thought about the cake, I decided that it would be a banana cake since I had fresh ripe bananas at home.
Then I found that I have some blueberries also there in my fridge. And there was some fresh strawberries too, so I decided to add blueberries in the cake and use fresh strawberries to make fresh strawberry sauce for topping. After that I have made the banana blueberry cake again and again many times as I loved the combination very much.
You can actually use any frosting or topping you like or you can just enjoy this plan, as it is also very delicious as a simple banana blueberry cake which can be enjoyed with evening tea or coffee or you can serve this as a simple dessert for dinner with some whipped cream.
So here is how I made the easy banana blueberry cake following this simple and easy banana blueberry cake recipe.
I have made this banana blueberry cake using unbleached all purpose flour.
Easy Banana Blueberry Cake Recipe Below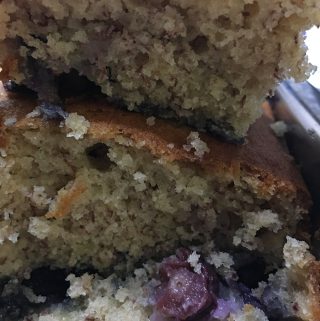 Easy Banana Blueberry Cake Recipe From Scratch
Easy and delicious banana blueberry cake with ripe bananas and fresh blueberries, a delicious way to make use of any leftover ripe bananas and fresh blueberries.
Print
Pin
Rate
Instructions
Preheat oven to 350 degree Fahrenheit.

In a bowl, mix the dry ingredients (flour, baking powder and baking soda).

In another bowl, whisk together the eggs, sugar and softened butter. You can start by mixing the butter and sugar until well combined and then add the eggs and mix very well to make an egg butter sugar mixture.

Add the milk and vanilla extract to the egg butter sugar mixture and stir well to combine.

Mash the bananas in another bowl and add the mashed bananas to the mixture and mix well to combine.

Slowly add the wet ingredients mixture to the dry ingredients mixture and stir well.

Once this is done, add the blueberries to the batter and gently to blend the blueberries to the cake batter.

Grease the cake pan with butter and pour the batter into it.

Bake for about 45 to 50 minutes or until a toothpick inserted comes out clean. If the top of the cake browns before the inside is cooked, cover the top of the cake pan with an aluminium foil and bake for the remaining time. I covered the top of cake pan with aluminium foil after 30 minutes of baking and baked the remaining time with the foil on. The cake was done in 50 minutes of time, however since oven temperatures can vary, I recommend you to check with a toothpick inserted at the center of the cake after a total baking time of 45 minutes. Allow the cake to cool down in the rack before cutting.
Nutrition
Calories:
375
kcal
|
Carbohydrates:
60
g
|
Protein:
5
g
|
Fat:
13
g
|
Saturated Fat:
7
g
|
Cholesterol:
72
mg
|
Sodium:
190
mg
|
Potassium:
295
mg
|
Fiber:
2
g
|
Sugar:
31
g
|
Vitamin A:
460
IU
|
Vitamin C:
4.8
mg
|
Calcium:
68
mg
|
Iron:
1.9
mg