This easy moist homemade chocolate cookie recipe from scratch gives you easy, moist and delicious homemade chocolate cookies baked from scratch.
This chocolate cookie recipe gives you 24 chocolate cookies, go ahead and bake them for Christmas if you love chocolate cookies for Christmas 🙂
These moist chocolate cookies have a crinkly surface or crinkle cookies like texture, with beautiful cracked surface on top due to the cakey, moist texture of the cookies and its very delicious.
So this is kind of chocolate crinkle cookies with added chocolate chips in them!
I added some semi sweet chocolate chips to make this chocolate cookies more delicious, as the chocolate chips that will melt in when you bake the cookies will make the chocolate cookies more delicious, moist and super yummy.
I baked these chocolate cookies for Christmas which my little one loved so much!
If you love homemade chocolate treats from scratch, see my post here on easy chocolate brownies from scratch which will help you to make easy and tasty chocolate brownies from scratch.
I highly recommend not skipping the chocolate chips for this chocolate cookie recipe from scratch, as the chips will help you make the cookies really full of chocolate flavor and moist so easily.
I also added a spoonful of canola oil to the cookie dough, which will make the cookies more moist and yummy.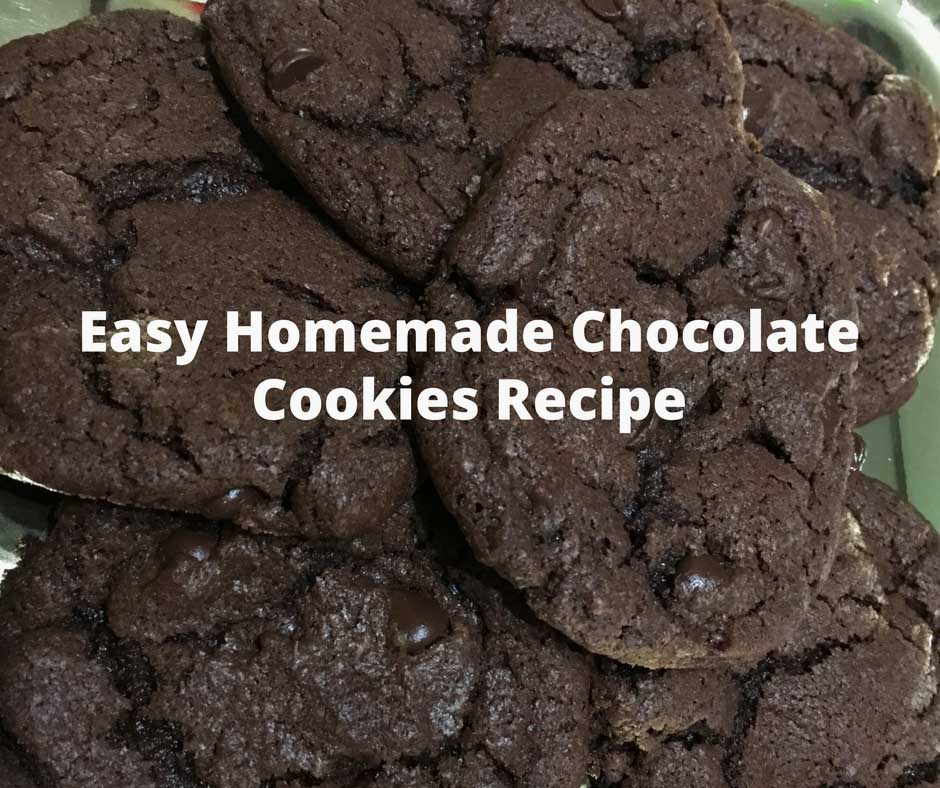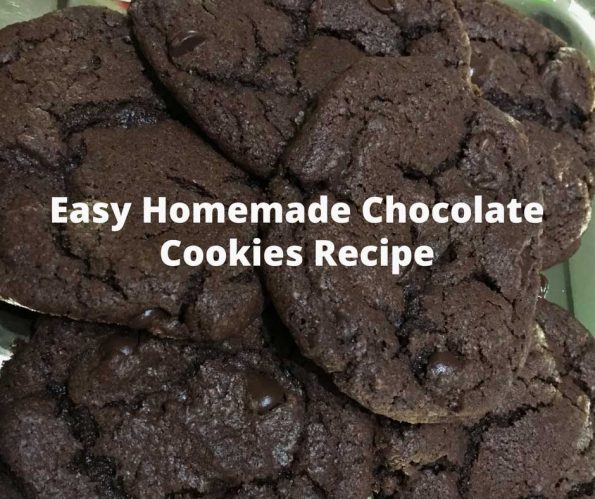 You can use any other flavorless oil as well instead of canola oil. The cookies will be yummy while its still warm, but I recommend allowing the cookies to cool down completely, before you serve them, as cookies will have a tendency to break apart while they are still warm.
Just allow them to cool down completely and they will be perfectly fine! The cookies are even more delicious the next day, you can easily save them for a few days by storing in air tight containers.
So here is how you can make this easy and moist chocolate cookies following this moist chocolate cookie recipe from scratch.
Moist Chocolate Cookie Recipe From Scratch
This moist chocolate cookies are easy to make and delicious too.
Print
Pin
Rate
Instructions
In a bowl, mix together the dry ingredients - flour, cocoa powder, baking soda and baking powder together.

In another bowl, beat well the butter and sugar (it should be creamy)

Add egg and vanilla extract to the butter sugar mixture and beat well.

Transfer the butter sugar egg mixture to the dry flour mixture and mix well.

Add the oil and chocolate chips to the cookie dough, mix everything well to form the final cookie dough.

Cover and refrigerate the cookie dough for at least 30 minutes since the chilled cookie dough gives you the best results.

When you are ready to bake the cookies, preheat oven to 350 degree Fahrenheit.

In a large baking sheet, drop spoon full of cookie dough to make medium sized cookies. Gently press them, but do not make it too flat, since the cookies will flatten out while baking. Leave enough space between the each drop of cookie dough, since the cookies will spread and take up more space as its baked. Since this cookie dough will give you about 24 cookies, you will probably need to bake the cookies in two batches. (Chill the remaining dough if not using right away, so you can bake it as needed (see notes how to use the dough if you have chilled the dough for a long time and not able to form the cookies due to hardening of dough)).

Bake for 12 to 14 minutes, allow the cookies to cool in the rack. Bake any remaining dough the same way (keep the remaining dough refrigerated until ready to use)
Notes
Enjoy the warm chocolate cookies with a cup of milk, tea or coffee for snack or breakfast as you wish!
Make sure to allow the cookies to cool down, as they are very moist and won't hold well if you try them while they are still warm.
Make sure to chill the cookie dough for at least about half an hour before baking the cookies for the best results. If you end up chilling the cookie dough for a long time and not able to form the cookie shape (because if you leave the dough for a longer time in refrigerator it can harden up), you may leave it in the kitchen counter at room temperature for a few minutes until you can make the cookies. Alternatively, as a quicker solution you can heat the dough in microwave for about 4 to 5 seconds or until they are slightly soft but make sure not to heat it or you will risk ruining the right texture and may need to chill again.
Nutrition
Calories:
116
kcal
|
Carbohydrates:
15
g
|
Protein:
1
g
|
Fat:
6
g
|
Saturated Fat:
3
g
|
Cholesterol:
10
mg
|
Sodium:
57
mg
|
Potassium:
70
mg
|
Fiber:
1
g
|
Sugar:
9
g
|
Vitamin A:
120
IU
|
Calcium:
14
mg
|
Iron:
0.7
mg
Hope you found this homemade moist chocolate cookie recipe from scratch helpful in making easy and yummy chocolate cookie recipes for snack or dessert!