This is the most easy corn on the cob recmipe I ever tried which happen to be a vegan corn on the cob recipe as well.
You can add more vegan corn on the cob toppings (like chopped fresh cilantro leaves or mint leaves more black pepper, red chili flakes, garlic etc) to this delicious boiled corn or you can enjoy it as it is.
I used fresh corn to make this recipe, but sometimes I also use frozen corns (mini corns as well) so you can try fresh or frozen corns, regular sized or mini corns (see recipe notes) to make this perfect vegan corn the cob for a delicious brunch, lunch or dinner.
These are also great for holidays like Thanksgiving, Christmas or anytime of the year.
If you don't want to keep this recipe vegan, you can easily replace the oil with butter and make this corn on the cob easily on stove top.
I like boiled corn on the cob as it is easy and simple to make and you get soft and delicious corn which is easy to bite into.
Whenever I make boiled corn on the cob with butter and milk, by boiling the corn ears immersed in a mixture of water, milk and butter, I love the results.
However I do not really wish to discard the leftover mixture or broth after cooking the corn.
After all its a delicious mixture of butter and milk in which corn is cooked and so it will have lots of flavor too, so I almost always use the leftover mixture to cook either pasta or rice, or I use it as a broth as I need it.
However if I have no plans for the leftover mixture from boiling corns over the stove top, I hesitate to use butter and milk, as I feel that will be a lot of butter and milk to discard it that way.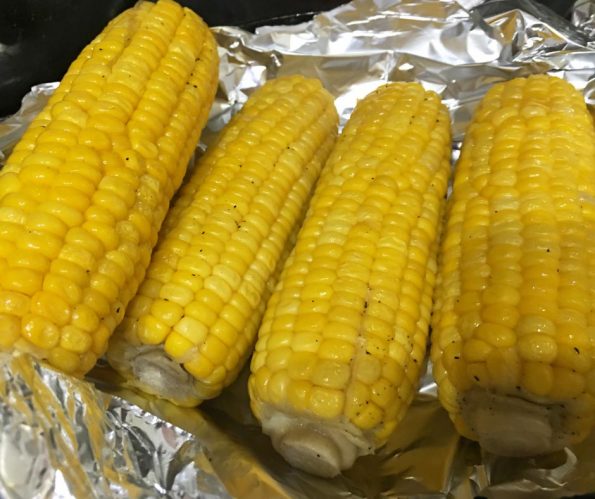 So I went for this easy way of making corn on the cob using a little different boiling method, where I used a mixture of water, little oil (I used a mixture of Non GMO canola oil and olive oil, but you can use any oil you like), salt, sugar and pepper to cook the corns.
And it turned out so soft and delicious, everyone in my family loved it including my kids!
So I didn't have to use so much of butter and milk which had to be discarded unnecessarily, and this method of boiling corns is super easy to do as well.
As I mentioned above, if you wish you can still use butter in this recipe instead of oil.
More Corn On The Cob Recipes:
Perfect Boiled Corn On The Cob Recipe
Mini Frozen Corn On The Cob In Oven
Instant pot frozen mini corn on the cob
So here is how you can make this delicious corn on the cob following this easy corn on the cob recipe.
Easy Corn On The Cob Recipe Without Butter And Milk
Easy, delicious vegan corn on the cob that you can quickly make for lunch or dinner.
Print
Pin
Rate
Instructions
Remove the husk and silk from the corn ears, wash very well and keep aside.

In a large pan (where you can fit all corn ears), place the corn ears in a single layer and add just enough water to cook the corns. You do not have to immerse the corn in water.

Add salt, sugar and oil to the pan and bring the mixture to a boil.

Once the mixture starts boiling, keep the stove in medium heat, sprinkle the pepper powder and cook the corns for about 7 to 8 minutes.

Gently flip each corn ear and cook the other side of the corn ears for another 7 to 8 minutes until the corn ears are cooked and tender.

Transfer the cooked corns to the serving dish, enjoy the corns while they are still warm for best results!
Notes
If you use mini corn ears instead of regular sized ones, you can use 6 mini corn ears for the same amount of other ingredients. If you are using frozen corns instead of fresh corn, the cooking time may slightly increase, you just need to make sure to cook until the corn is soft enough to your liking.
Nutrition
Calories:
184
kcal
|
Carbohydrates:
20
g
|
Protein:
3
g
|
Fat:
11
g
|
Saturated Fat:
1
g
|
Sodium:
159
mg
|
Potassium:
256
mg
|
Fiber:
2
g
|
Sugar:
8
g
|
Vitamin A:
170
IU
|
Vitamin C:
6.1
mg
|
Calcium:
4
mg
|
Iron:
0.6
mg