If you are looking how to cook brown Basmati rice in a pot or large pan or how to cook brown basmati rice without a rice cooker or pressure cooker, here is the easiest recipe for you.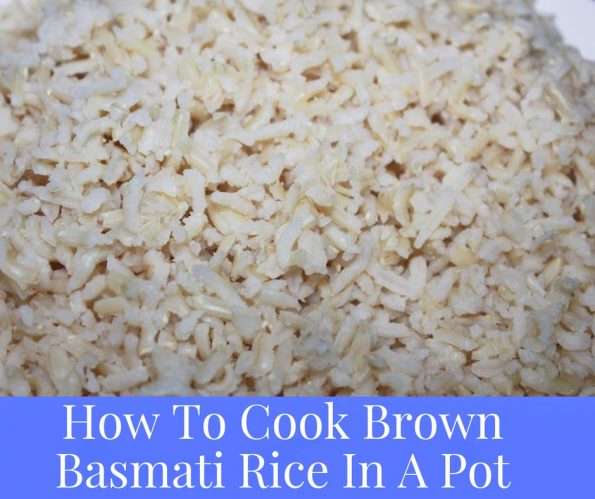 Cooked brown basmati rice is great for lunch or dinner, you can enjoy it with any vegetarian curry or you can use it in many brown rice recipes calling for cooked brown rice.
Basmati rice is popular in India though white basmati rice is most often used in recipes like pulao, biryani etc.
Rice cooker is helpful to make the perfect rice, but if you have only a pot, don't worry, you can still make the perfect rice every time.
In fact, you can use a rice cooker, a good quality pressure cooker or a programmable instant pot to cook the brown rice more efficiently. However, you can still cook the perfect brown basmati rice in a pot or pan if you follow the directions here.
The important thing is to have a pot (or pan) which is large enough to hold the cooked rice. It is best to have a pan with a wide base which is enough to hold the cooked rice.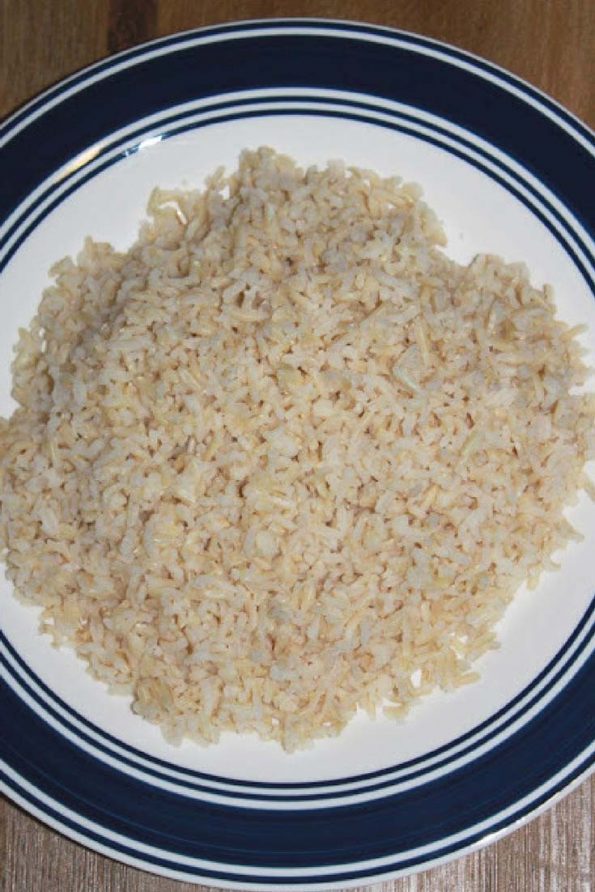 See my post here on how to cook white basmati rice without a rice cooker for the best tips and instructions which will help you to cook white basmati rice in a pot or pan.
If you have a pot or pan large enough to hold the cooked rice, that is enough. Making white rice is much simple and I will post it separately another time, but cooking brown rice requires more patience.
Brown rice is available from different brands, and I have tried the brown rice from Basmati, so here is the recipe for making easy brown basmati rice in a pot or pan.
See the water to rice ratio and instructions below (in the recipe card) to make brown basmati rice easily in a pot or pan
How To Cook Brown Basmati Rice In A Pot Or Pan - How To Cook Brown Basmati Rice Without A Rice Cooker
I used a ratio of 3 cups of water to 1 cup of brown basmati rice which is soft in texture. You can also use 2.5 cups of water for 1 cup of rice if you want a more firmer rice. The brown basmati rice is long grain brown rice but cooking time and amount of water may differ for other brands of rice.
Ingredients
2

cups

brown basmati rice

6

cups

water

may use 5 cups instead if you want more firm texture
Instructions
Wash the rice twice in water, drain it properly and keep aside. For best result, you may soak the brown basmati rice for about 20 minutes in water which will make it more soft and fluffy. Drain the water used for soaking if you decide to soak the rice before cooking.

Add the brown basmati rice and water to the pot.

Switch on the stove and cook in high heat till the water starts boiling.

Let it boil for a few seconds in high heat, then close the pot with a lid and reduce the heat to low.

Cook for 40 minutes, but I recommend checking the rice a few minutes before the recommended time because heat distribution can vary based on the kind of stove and also the kind of pots or pans used.

Once the rice is cooked and water is absorbed, gently fluff the rice with a fork, spoon or good quality steel spatula to see if there is any little remaining water in the pan. If so, you can close and cook in low heat for about 5 more minutes, or you can keep the pot open and cook in high heat for about 2 minutes. Don't worry if there is still water (it won't happen so usually, however, just in case..), the rice will absorb it and it will be fine.
Notes
Make sure you gently stir the rice preferably with a fork or good quality steel spatula right after it is cooked so that no lumps are formed. If you are not serving the rice immediately, you have to stir it with a fork once more after 15 to 20 minutes. This will prevent the rice from being sticky. As I have mentioned earlier, this recipe is specifically for brown basmati rice which cooks perfectly in 40 minutes. Different brands will have different cooking times, for example, I tried another long grain brown rice recently where it only needed 4 cups of water for 2 cups of rice and it was cooked in 20 minutes of time in a pan (the package showed a cooking time of 45 to 55 minutes but it cooked faster). The cooking times can also vary based on the stove and heat distribution based on the kind of pans that you use, so if you are cooking a new brand of rice for the first time, its always a good idea to check the rice few minutes before the time mentioned in the package or any recipe. Also if you have a glass lid for the pan or pot, you can see when the water is all absorbed, so its a good idea to check in and see if the rice is cooked, once all the water is absorbed.
Nutrition
Calories:
228
kcal
|
Carbohydrates:
47
g
|
Protein:
4
g
|
Fat:
1
g
|
Sodium:
16
mg
|
Potassium:
137
mg
|
Fiber:
2
g
|
Calcium:
2.2
%
|
Iron:
5
%
Hope you found this post on how to cook brown basmati rice in a pot or pan helpful in making brown basmati rice for lunch or dinner!