If you wonder how to eat cranberries without sugar or if you can eat raw cranberries, read this post with a simple, easy and quick fresh cranberry recipe and tips on how to enjoy cranberries without sugar!
By the way I have this instant pot cranberry sauce without orange juice, cranberry sauce stove top recipe and cranberry juice cocktail drink here which are perfect for Thanksgiving menu, but the sauce and juice have sugar in them but they make great Thanksgiving recipes using cranberries! You can find many cranberry products online like this dried cranberries (which contains very less sugar) which can be used for cranberry recipes, sweets, breads, cakes, salads etc easily. You can also find other popular cranberry products like cranberry sauce, cranberry tea, cranberry drink and many more, however they may contain sugar in some form.
Cranberry is one of my favorite fruits ever (I love the sour taste of fruits) and I love the fresh, raw and crunchy cranberries. However they are quite tart and little high on sourness along with a slight bitterness which may not appeal to everyone in its raw plain form. Olive oil and salt mixed with this spice is what I use to flavor the raw fresh cranberries.
Even I do not prefer the slight bitterness of cranberries, though I love the crunchy texture and sourness. But you do not have to hate them in raw form! And you do not need to add sugar to cranberries to enjoy these amazingly pretty and colorful fruits. Cranberries are loaded with lots of healthy antioxidants and nutrients, why should we add sugar to lessen the benefits anyway?
Most people enjoy cranberries in cooked form by making cranberry sauce, cranberry relish etc although recipes like cranberry salsa is also popular. You can find cranberries in a lot of baking recipes too, like cranberry muffins, cakes, pie and so on. Even you can find cranberry chutneys which you can enjoy as a dip. It is not that I do not like to try these cranberry recipes or I do not enjoy them. It is just that I love them more in its fresh, natural raw form but I just don't like the slight bitterness in them, and I think the sourness is little on the high side to enjoy it raw (I do like the sourness though, but I would prefer to reduce the sourness a bit). You can actually find a lot of sugar free cranberry recipes which are so yummy too.
easy cranberry recipes:
I would love to try cranberry recipes and I want to try many of the cooked cranberry sauces and baked treats. However I think we should enjoy these crunchy, easy to wash, healthy and colorful fruits in its raw form too.
Adding sugar is a good idea if you are trying to improve the taste but if you are planning to enjoy cranberries regularly in your diet, adding sugar may not be a good idea. Luckily, I have found a delicious way to enjoy the raw cranberries without sugar! This only works if you generally love the sour and tart taste. You cannot completely get rid of the sourness, but the sourness will reduce a great deal and there won't be any bitterness at all, if you enjoy cranberries the way I do.
So here is how you can make raw cranberries taste good.
how to eat fresh cranberries without sugar - how to make cranberries taste good without sugar
Other than trying cranberries in sugar free cranberry recipes (which is a great option) you can simply mix the raw cranberries with salt, olive oil and spices in a microwave safe bowl, mix well and heat in the microwave for about 30 seconds and let it sit there for a while say 10 minutes. After 10 minutes, stir well the cranberries and they will taste great! The bitterness is gone and the sourness is reduced and the addition of spices will take the taste to a new level.
Actually I like to use either red chili pepper (a pinch) or red chili flakes for spices to mix with cranberries along with salt and olive oil. If you can't handle too much spicy food, you can mix with black pepper powder(which will be less spicy) and garlic powder if you wish. These are suggestions, just try your favorite spices and see how the seasoned cranberries turn out.
I highly recommend adding something spicy to the cranberries as they balance out the sourness and the combination of the hot spice and sourness of the raw cranberries is just awesome. I recommend using red chili flakes with the cranberries if you can handle spicy food, which tastes the best when mixed with salt and olive.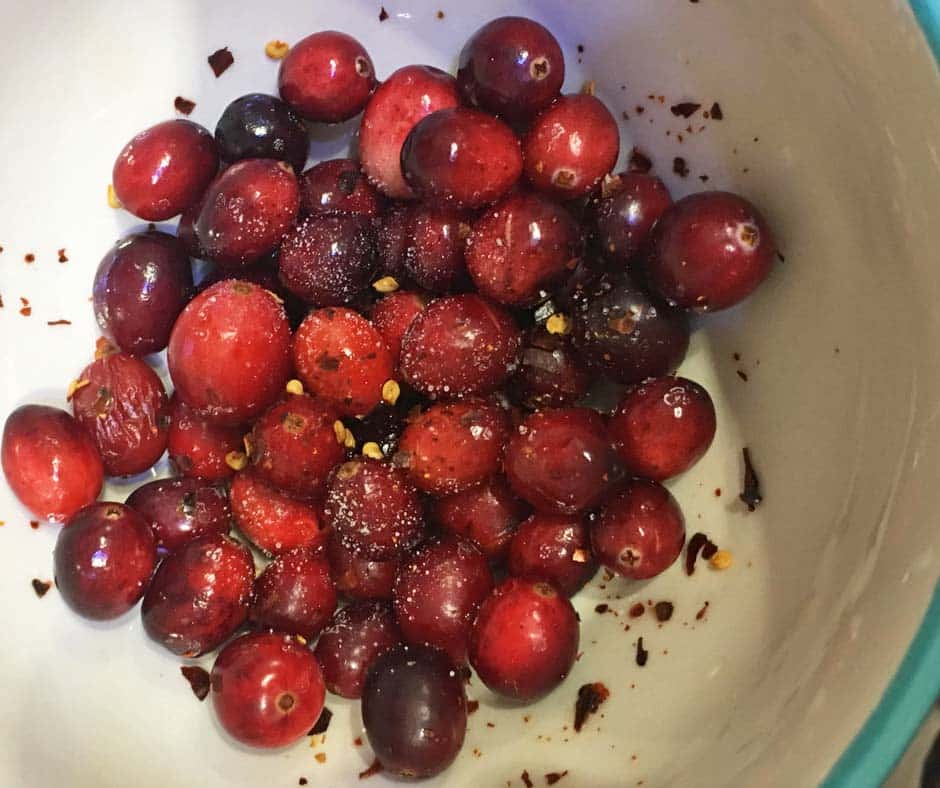 So for a cup of cranberries, I recommend using ½ teaspoon of red chili flakes (or black pepper powder), ½ teaspoon of salt and 1 tablespoon of olive oil. Mix them all together in a microwave safe bowl and warm it up for 30 seconds and enjoy the warm seasoned cranberries.
Below you can get the recipe for cranberries without sugar in detail.
How To Eat Cranberries Without Sugar
Easy, delicious cranberries mixed with spices, salt & olive oil makes one of the most healthy cranberry side dish or snack which you can enjoy for holidays & more. Adjust the spice level based on your preference if you don't want it spicy.
Print
Pin
Rate
Instructions
Place the cranberries in a microwave safe bowl. You may slice the cranberries in half if you wish.

Add the red chili flakes (or black pepper powder), salt and olive oli.

Mix the cranberries very well with the spice, oil and salt so they are evenly mixed with the cranberries.

Heat in the microwave for about 30 seconds, mix again and serve!

You can enjoy this easy cranberry side or salad warm or cold. If you like it cold, place the prepared cranberries in the refrigerator until it's well chilled, serve as you need.
Nutrition
Calories:
86
kcal
|
Carbohydrates:
6
g
|
Protein:
1
g
|
Fat:
7
g
|
Saturated Fat:
1
g
|
Polyunsaturated Fat:
1
g
|
Monounsaturated Fat:
5
g
|
Sodium:
9
mg
|
Potassium:
52
mg
|
Fiber:
2
g
|
Sugar:
2
g
|
Vitamin A:
178
IU
|
Vitamin C:
7
mg
|
Calcium:
6
mg
|
Iron:
1
mg
Hope you found this post on how to eat cranberries without sugar helpful in enjoying yummy and healthy raw cranberries.
You might like to see my post on how to make chamomile tea taste better.