Quick Easy Cranberry Sauce Recipe Using Fresh Cranberries – Easy Fresh Homemade Cranberry Sauce Recipe Using Whole Cranberries From Scratch – Tart & Sweet Cranberry Sauce Recipe
This quick easy cranberry sauce recipe is so easy and you can make yummy cranberry sauce, slightly tart and mostly sweet using fresh cranberries in very little time. You can easily buy delicious cranberry sauce online, but you can also make yourself easy, quick, delicious and fresh cranberry sauce using fresh cranberries at your home.
I had used this quick easy cranberry sauce recipe to make easy and yummy cranberry sauce for thanksgiving dinner which was enjoyed with mostly cornbread and it was so flavorful and yummy my kids loved it. The fresh cranberries are so sour but you won't feel any extreme sourness in this sauce, but the tartness is just enough which pairs well with the sweetness of the sugar that we add.
I used fresh cranberries for this quick easy cranberry sauce recipe. We cook the cranberries with sugar and little water to make this yummy cranberry sauce which is much like a jam in texture and taste which you can enjoy as it is or pair it with any bread you love. If you want to enjoy fresh cranberries without adding sugar, read my post here in how to enjoy cranberries without sugar.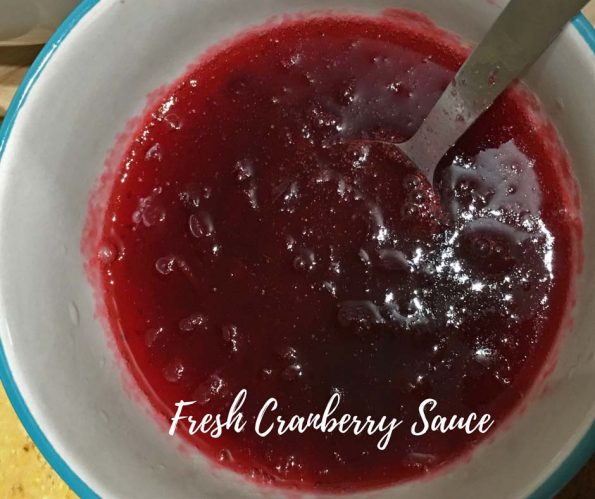 I haven't tried using dried cranberries or frozen cranberries to make this cranberry sauce, but it should be fairly easy to make cranberry sauce using dried cranberries or frozen cranberries by adjusting the cooking time and other ingredients a bit.
So here is how you can make this yummy and easy cranberry sauce with in few minutes following this quick easy cranberry sauce recipe from scratch.
Quick Easy Cranberry Sauce Recipe Below
Quick Easy Cranberry Sauce Recipe, How To Make Homemade Cranberry Sauce From Scratch Using Fresh Cranberries
Easy and quick cranberry sauce made at home from scratch using fresh cranberries will make a very delicious side and you can use this as part of a vegetarian Thanksgiving dinner menu too!
Ingredients
fresh cranberries 1 cup

sugar 1/2 cup

water 1/4 cup

salt 1/2 teaspoon

vanilla extract 2 drops
Instructions
Wash the cranberries and add it to a small saucepan.

Add the water, salt and sugar, bring the mixture to a boil.

As the mixture starts boiling, the cranberries will burst and will soften.

Simmer the mixture for another 8 to 10 minutes until the cranberries are well cooked and soft and the mixture is saucy in texture. Stir the contents occasionally.

Cover the pan, reduce the heat to very low and cook for another 3 to 4 minutes.

Open the pan,  stir the contents, add the vanilla extract, cook for another 2 more minutes keeping the pan open.

Stir the contents again, switch off the stove and keep the pan away from heat. Close the pan and keep it covered, serve as needed, enjoy!
Recipe Notes
You can serve the cranberry sauce while it is still warm, as we did, or you can refrigerate the cranberry sauce once it has reached room temperature and enjoy the chilled sauce for best results.
As the sauce is refrigerated, it will thicken naturally to the consistency of a jam. You may keep this in the refrigerator for about 2 to 3 days in a glass container.
Enjoy the cranberry sauce as it is or enjoy it with any bread or cake or anything you like!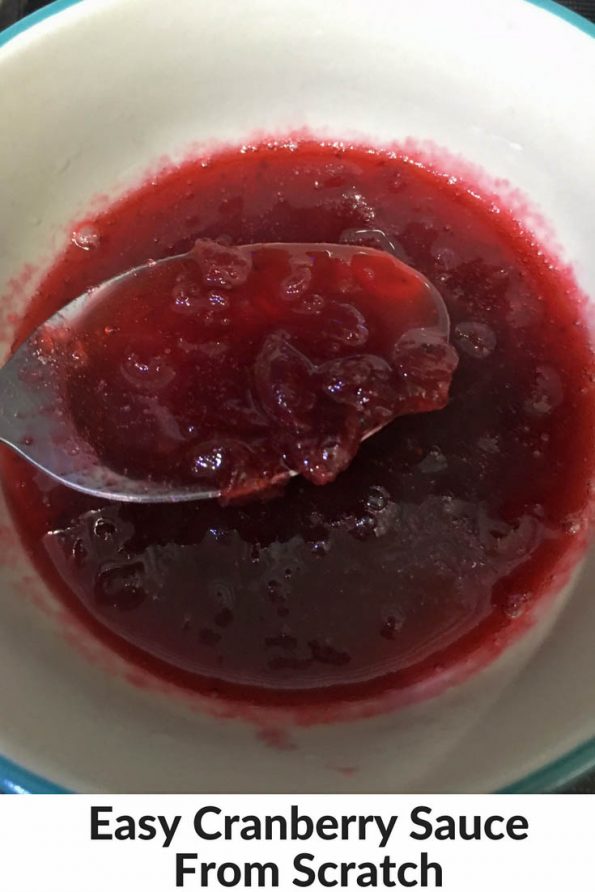 Hope you found this post on quick easy cranberry sauce helpful in making easy, quick and yummy cranberry sauce using fresh cranberries from scratch.