This quick easy homemade cranberry sauce recipe from scratch with just 3 ingredients is so easy and you can make delicious, tangy or slightly tart and mostly sweet cranberry sauce using fresh cranberries in very little time.
You can easily buy delicious cranberry sauce online, but you can also make yourself easy, quick, delicious and fresh cranberry sauce using fresh cranberries at your home.
I had used this quick easy cranberry sauce recipe to make easy and yummy cranberry sauce for thanksgiving dinner which was enjoyed with mostly cornbread and it was so flavorful and yummy that my kids loved it very much.
The fresh cranberries are so sour but you won't feel any extreme sourness in this sauce, but the tartness is just enough which pairs well with the sweetness of the sugar that we add.
I used fresh cranberries for this quick easy cranberry sauce recipe. We cook the cranberries with sugar and little water to make this yummy cranberry sauce which is much like a jam in texture and taste which you can enjoy as it is or pair it with any bread you love.
If you want to enjoy fresh cranberries without adding sugar, read my post here in how to enjoy cranberries without sugar.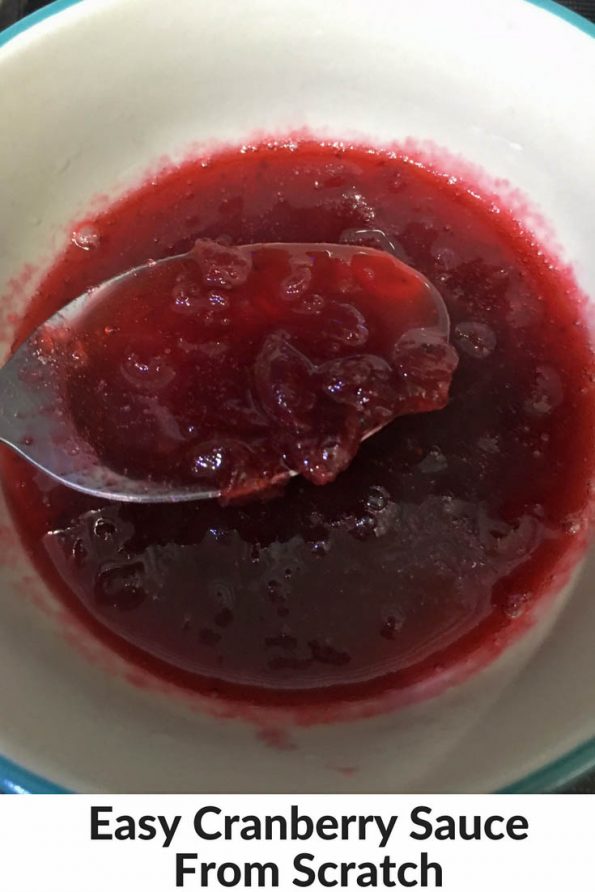 Cranberries, sugar and water are the basic ingredients you need to make the cranberry sauce. I once tried adding vanilla extract to the cranberry sauce but as of now, I really do not prefer the vanilla flavor in cranberry sauce so I just use the basic ingredients which taste the best.
There are other flavors that too go great with cranberry sauce, like orange juice, lemon juice etc, but my favorite recipe for cranberry sauce is plain with just cranberries, sugar and water.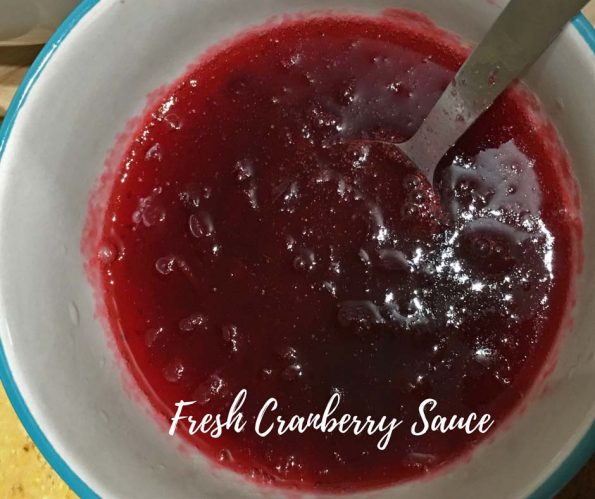 I haven't tried using dried cranberries or frozen cranberries to make this cranberry sauce, but it should be fairly easy to make cranberry sauce using dried cranberries or frozen cranberries by adjusting the cooking time and other ingredients a bit.
Related blog posts:
So here is how you can make this yummy and easy cranberry sauce with in few minutes following this quick easy cranberry sauce recipe from scratch.
Homemade Cranberry Sauce 3 Ingredients
Easy and quick cranberry sauce made at home from scratch (without oranges) using fresh cranberries will make a very delicious side and you can use this as part of a vegetarian Thanksgiving dinner menu too! This is not a very thick sauce, as we prefer quite thin liquid like consistency for the sauce, you can adjust the consistency as you prefer.
Print
Pin
Rate
Ingredients
1.5

cups

fresh cranberries

(12 oz)

1

cup

sugar

may add more at the end if you wish

½

cup

water
Instructions
Wash the cranberries and add it to a small saucepan.

Add about ¼ cup of water (about half of total amount of water) also to the pan and bring the mixture to a boil.

As the mixture starts boiling, the cranberries will burst and will soften. Add the sugar and also the remaining water to the pan, mix everything well.

Simmer the mixture in medium heat for another 7 to 8 minutes until the cranberries are well cooked and soft and the mixture is saucy in texture. Stir the contents occasionally. If the sauce has reached your preferred consistency, you may stop cooking at this point. If you wish to soften the cranberries further, follow the below steps.

Cover the pan, reduce the heat to very low and cook for another 2 to 3 minutes if needed, which will help to soften the cranberries further. I usually do this as I prefer softened cranberries.

Open the pan, stir the contents, and cook for another 1 to 2 more minutes (keeping the pan open) or until desired consistency is reached. Make sure not to overcook the cranberries as the skin of the cranberries will get overcooked very fast, which won't taste good if you are looking for a saucy, soft texture.

Use a spoon or ladle or potato masher to gently mash any cranberries that are not yet popped on its own. Because if the cranberries are not popped, they may taste slightly bitter in the sauce.

Taste the sauce and if needed you may add more sugar to your preference, stir the contents again so the sugar will be dissolved (if adding extra sugar) in the prepared sauce, switch off the stove and keep the pan away from heat. Close the pan and keep it covered, serve as needed, enjoy!
Notes
You can serve the cranberry sauce while it is still warm, as we did, or you can refrigerate the cranberry sauce once it has reached room temperature and enjoy the chilled sauce for best results.
You may add little more water while making the cranberry sauce if you prefer an even more thin liquid like consistency. Also you can add more sugar to increase the sweetness if you wish.
As the sauce is refrigerated, it will thicken naturally to the consistency of a jam. You may keep this in the refrigerator for about 2 to 3 days in a glass container.
If you like, you may also add a little lime juice or orange juice or little salt or just vanilla essence to add more flavors.
Make sure not to overcook the cranberries as the cranberry skins will become slightly different in texture as they are overcooked, which won't taste good. So once the cranberries are popped and the sauce is cooked just enough, make sure not to cook for more time.
Enjoy the cranberry sauce as it is or enjoy it with any bread or cake or anything you like!
Nutrition
Calories:
141
kcal
|
Carbohydrates:
36
g
|
Protein:
1
g
|
Fat:
1
g
|
Saturated Fat:
1
g
|
Sodium:
2
mg
|
Potassium:
21
mg
|
Fiber:
1
g
|
Sugar:
34
g
|
Vitamin A:
15
IU
|
Vitamin C:
3
mg
|
Calcium:
2
mg
|
Iron:
1
mg