Instant pot black beans (black beans cooked in instant pot) can be used for tacos, burritos, burgers or any recipe that calls for cooked black beans. This instant pot black beans recipe using soaked black beans (from dry beans) explains how to cook the dry black beans in the instant pot once you have soaked the black beans in water for enough hours including the water to beans ratio and time required to cook the black beans for different textures, depending on whether you want the beans soft, very soft or not soft but perfectly cooked.
Black beans is available as canned black beans and dry black beans(good price value), both are easily available online.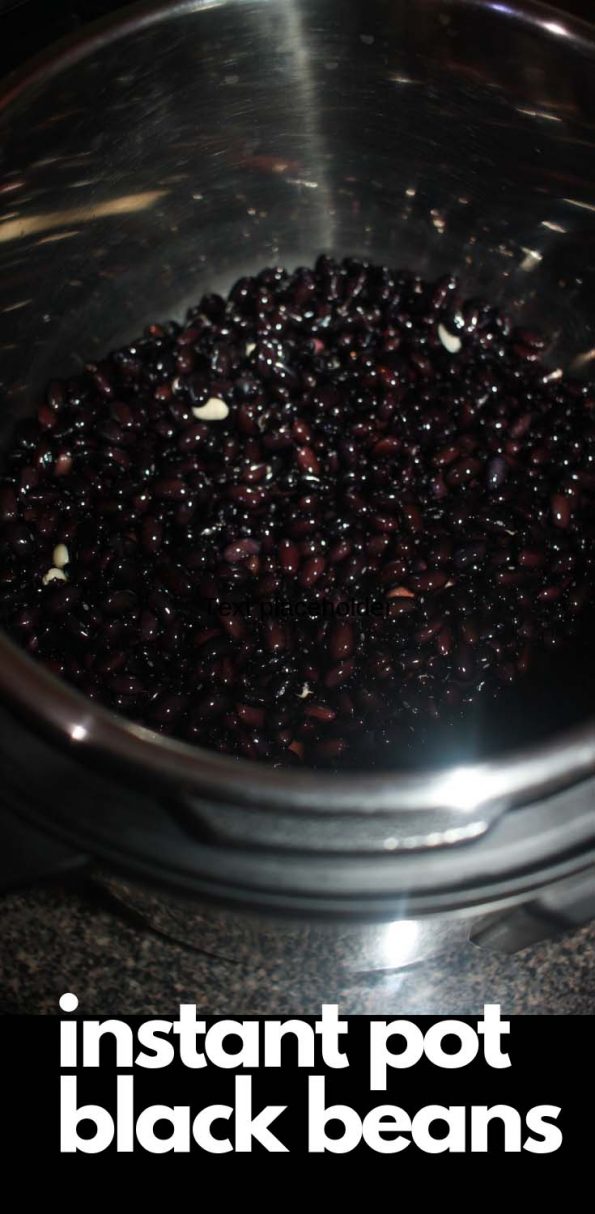 You can easily cook black beans using an instant pot using dry black beans or canned black beans. If you are using canned black beans, you can skip the soaking part.
If you are using dry black beans, we use the soaking method first to soak the dry beans and then easily cook the soaked beans using the instant pot.
You can actually cook dry beans in instant pot even without prior soaking, but if you are not in a hurry soaking the dried beans before cooking is the best practice, for best results and for better absorption of nutrients, so here we follow the soaking and cooking method.
How To Cook Soaked Dry Black Beans In Instant Pot?
Soak the dry black beans overnight in enough water in a large bowl or soak at least for 6 hours.
Once the beans is soaked, discard the water used for soaking and rinse the beans in fresh water.
Transfer the soaked beans to the instant pot, add enough water (and onion & garlic powders if using for flavor) and cook in high pressure for 7 minutes if you want the perfect cooked beans but if you want them soft which you can mash, cook for 10 minutes.
Do a natural pressure release followed by a careful manual release after 14 minutes of NPR.
Drain the water, add the salt and remaining seasoning ingredients (if using) and enjoy!
I am also updating the recipe card to add seasonings which you can use if you do not have a recipe that wants cooked black beans or you can simply skip the seasoning ingredients and then use the plain cooked black beans in any recipe that calls for cooked black beans.
So here is in detail how you can cook soaked dried black beans in instant pot following this easy recipe where I also explain the water to beans ratio and explain different cooking times for different textures for the cooked beans (as needed for different recipes) since we need much softer black beans for burgers while the beans shouldn't be too soft for salads.
The instant pot black beans is great for using in salads, soups, curry etc. I prepared this quinoa black bean salad and also this mustard greens curry with black beans using black beans cooked in instant pot.
You can use instant pot to cook the black beans in different textures (firm holding the shape, soft, very soft etc) for use in different recipes, and I have directions for those in the recipe card.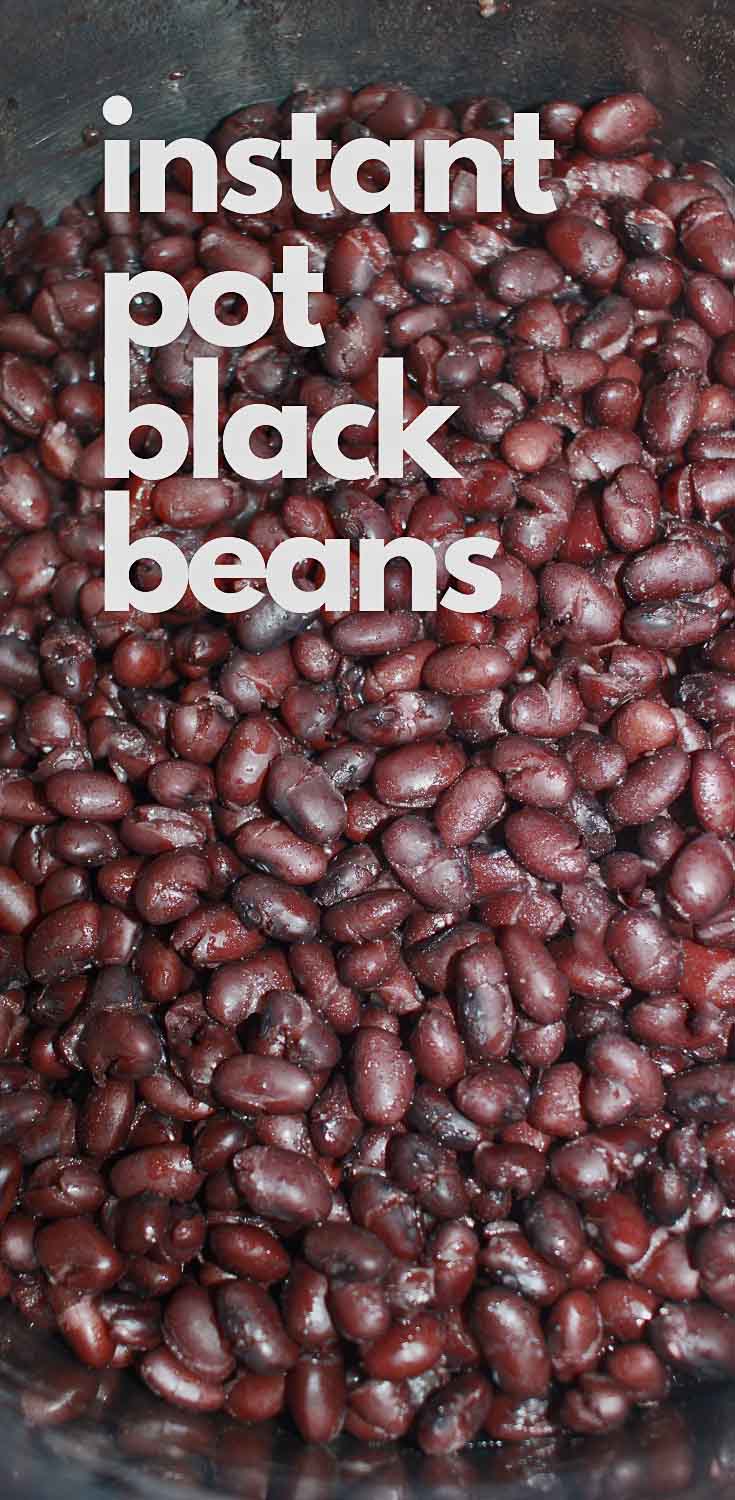 As I already mentioned above, the dry black beans is washed and soaked for about 6 hours (or overnight for best results) and then we discard the water used for soaking and rinse the beans again using fresh water. The washed beans is then transferred to the instant pot for cooking.
If you directly cook the dried beans in the instant pot (it is possible!) it would take longer time and if you use canned beans it would probably take lesser time and wouldn't need soaking.
But this instant pot recipe is for dried beans which is soaked in water for about 6 hours at least, which cooks faster than the dried beans which is not soaked in advance.
Related blog post:
instant pot chickpea recipe – how to cook chickpeas using instant pot
Below you can read the instant pot black beans recipe using soaked black beans in detail.
Instant Pot Black Beans Using Soaked Dry Black Beans
Easy recipe to cook soaked (dry beans) black beans in instant pot for tacos, burritos, burgers, curry etc with water to beans ratio explained.
Update: adding seasonings to further enhance the flavor of cooked black beans. This is optional as you may skip them and you can use the plain salted cooked beans in any recipes that calls for black beans as you wish.
Ingredients
2

cups

dry black beans

4

cups

water

salt

as needed

extra water

as needed for soaking the beans

2

teaspoons

onion powder

2

teaspoons

garlic powder
for seasoning (optional)
2

tablespoons

cilantro leaves

chopped

1

onion

peeled and finely chopped

1

jalapeno pepper

seeds removed and sliced thinly

1

tablespoon

lemon juice
Instructions
Wash the black beans and soak in enough water for about 5 to 6 hours. (If you are not cooking immediately, drain the water and save it in refrigerator for later use).

After soaking, drain the excess water and rinse the beans in fresh water again for 2 to 3 times.

Transfer the black beans to the inner pot of instant pot.

Add 4 cups of water, onion powder and garlic powder, mix well and close the instant pot with lid in sealing position.

Press the manual button and cook for 7 minutes in high pressure. If you want to cook the beans very soft so you can mash them with a spoon you will need to cook for a couple of minutes more, so I recommend cooking for about 10 minutes, however to be used in tacos, burritos or curry, you do not need extra soft beans so you can cook them for just 7 minutes).

Once the cooking is done, the instant pot will beep so you will have to wait until then. Once the instant pot beeps, press the 'keep warm/cancel' button and wait for the instant pot to naturally release the pressure or you may do a careful manual pressure release after about 15 minutes of natural pressure release.

Once the pressure is all, carefully open the lid by turning it to the venting position.

Drain the extra water from the cooked black beans, you can either discard the water or you can use it as a healthy vegetarian/vegan bean broth which can be used in soup recipes, curry recipes etc.

Once the water is all drained, add enough salt and all seasonings (finely chopped onion, cilantro leaves, jalapeno and lemon juice) if you wish, and mix well. Or if you do not want to use the seasoning, just mix with enough salt and the black beans is ready to be used in any recipes that call for cooked black beans!
Notes
Note that the total time mentioned below doesn't include the soaking time for the dry beans.
Nutrition
Calories:
176
kcal
|
Carbohydrates:
33
g
|
Protein:
11
g
|
Fat:
1
g
|
Saturated Fat:
1
g
|
Sodium:
10
mg
|
Potassium:
753
mg
|
Fiber:
8
g
|
Sugar:
2
g
|
Vitamin A:
34
IU
|
Vitamin C:
4
mg
|
Calcium:
68
mg
|
Iron:
3
mg