Instant pot chickpea recipe for cooking dry chickpeas (garbanzo beans) using soaking and cooking in instant pot with water to chickpea ratio explained.
Soaking in advance make the dry chickpeas double in size and they are said to better for health too, as soaking helps with the absorption of nutrients. Chickpeas is rich in nutrients and it is one of the most popular and delicious vegetarian/vegan sources of protein.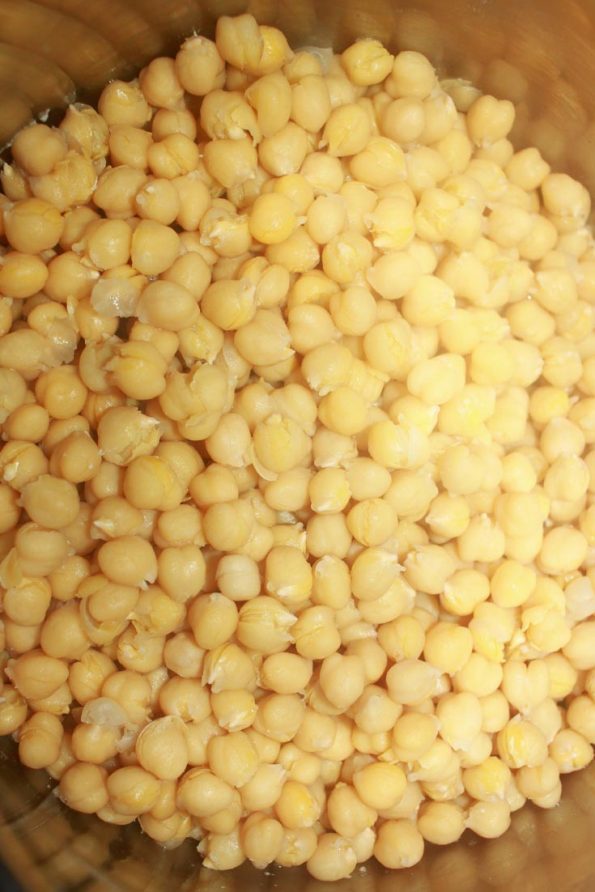 If you have dry chickpeas (you can buy dry chickpeas in bulk here and save money too as dry chickpeas is usually cheaper), you can soak the needed amount of dry chickpeas in enough water for few hours and then cook the chickpeas which can be used in many number of recipes including chickpea curry, chickpea stew/soup, chickpea salads and many more.
So having cooked chickpeas helps with planning your meals in advance and saving a lot of time, especially when you have an instant pot.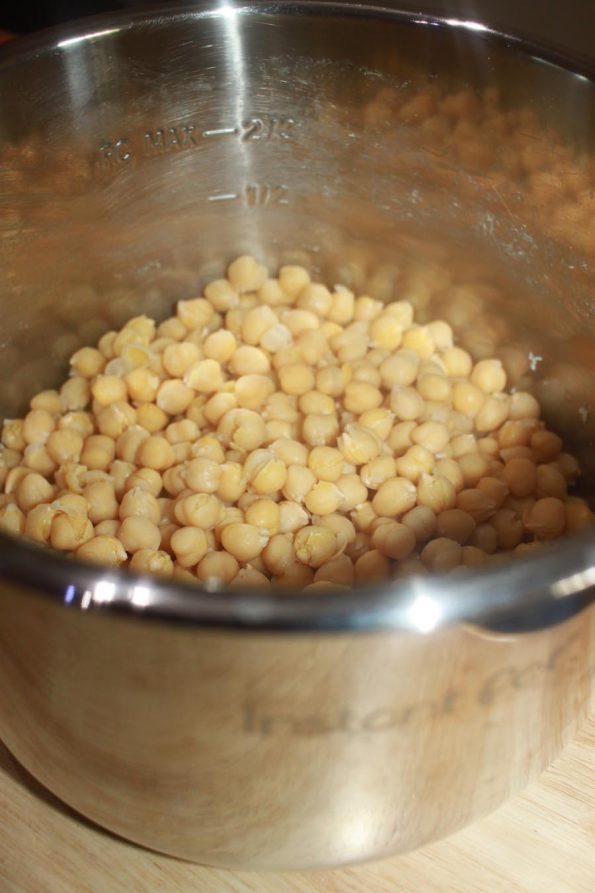 More instant pot recipes below:
See all instant pot recipes in this blog here.
You can use a 6 quart instant pot to easily cook this amount of chickpeas. Once the chickpeas is cooked, you can use the cooked chickpeas right away in recipes or you can store them in airtight containers and keep refrigerated for a couple of days to be used.
So here is how you can make chickpeas using this easy instant pot chickpea recipe.
Easy Instant Pot Chickpea Recipe Below
Instant Pot Chickpea Recipe, How To Cook Chickpeas (Garbanzo Beans) In Instant Pot
Easy instant pot chickpea recipe helps you to cook chickpeas (garbanzo beans) to use for hummus, stews, salads, curry, soups etc.
Ingredients
2

cups

dried chickpeas

6

cups

water

extra water for soaking dried chickpeas

as needed

½

teaspoon

salt

or use as needed
Instructions
Wash and soak the dry chickpeas for at least 6 to 8 hours or overnight for best results. After soaking, the chickpeas will increase in size so make sure to use enough water for soaking.

Once the soaking is done, discard the water used for soaking, rinse the chickpeas again in fresh water 2 to 3 times.

Transfer the soaked chickpeas to the inner pot of instant pot and add the 6 cups of water.

Close the instant pot with lid in sealing position, press manual and pressure cook in high for 12 minutes. For really soft cooked chickpeas (which can be mashed easily), use 7 cups of water and cook for 15 minutes of time.

Once the cooking is done, the instant pot will beep and you can press the 'keep warm' button so the cooking will stop. Now wait for another few minutes until the pressure is all naturally released.

Once the pressure is all naturally released, you can carefully open the lid by moving to the venting position and then open and see if the chickpeas is all cooked and soft. Add the salt and mix well.

You can use the liquid for any use in recipes like soups or gravies or if you are making chickpea curry, you may use it as such. If you need the chickpeas for any salads or any dish you do not need the liquid, strain the cooked chickpeas through a strainer to discard any leftover water and use the cooked chickpeas in any chickpea recipes as you wish!
Notes
This method works well if you soak the dry chickpeas for about 6 to 8 hours at least or overnight.
You may also try this with canned chickpeas instead. If you reduce the soaking time for chickpeas, you will probably need to cook the chickpeas for more time accordingly. 
For a more soft texture, for example if you want to mash the instant pot for making hummus, you can cook use 7 cups of water and cook in high pressure for 15 minutes which will give you chickpeas which are very soft and which you can mash easily using a ladle.
For a more firmer texture to be used in chickpea salads, use 6 cups of water itself and cook for about 10 minutes.
Nutrition
Calories:
242
kcal
|
Carbohydrates:
40
g
|
Protein:
12
g
|
Fat:
4
g
|
Sodium:
222
mg
|
Potassium:
583
mg
|
Fiber:
11
g
|
Sugar:
7
g
|
Vitamin A:
45
IU
|
Vitamin C:
2.6
mg
|
Calcium:
78
mg
|
Iron:
4.2
mg
Hope you found this post on instant pot chickpea recipe helpful in cooking chickpeas using instant pot.