You can speed up ripening avocados in different ways. If you wonder how to ripen avocados quickly or immediately even within minutes or overnight, you are not alone.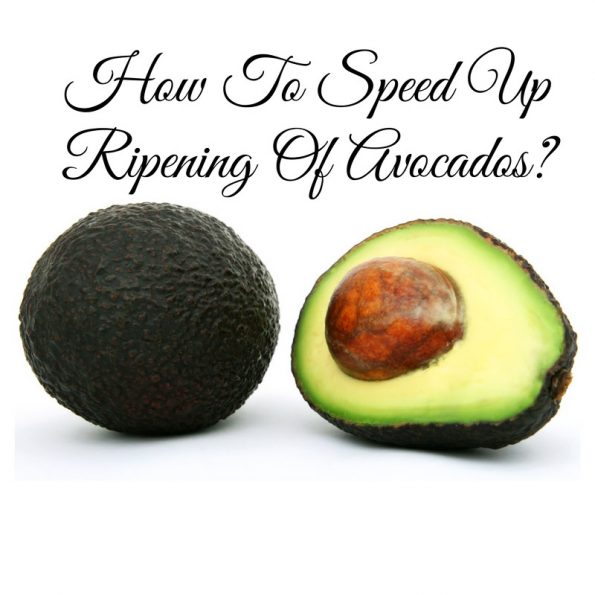 How To Speed Up Ripening Avocados - How To Ripen Avocados Quickly - How To Ripen Avocados Immediately/ Faster - How  To Make Unripe Avocados Soft 
The best thing you can do to ripen your avocados fast is to keep them in good quality brown paper bags.
The brown paper bags have many different uses and it is popularly used as lunch bags. However they are the best to ripen fruits too! You can read about this more as you scroll down.
Many of us end up buying unripe avocados which are not ready to be used in recipes. If you can wait for 2 to 3 days, you can ripen avocados naturally by placing them in your kitchen counter and your avocados will ripen naturally.
You might also love to see my post on how to slice avocados every time perfectly
Speed Up Ripening Avocados - How To Ripen Avocados Quickly/Immediately
As I mentioned above, you can speed up ripening avocados naturally by placing them in brown paper bags.
To make them ripe even faster keep them in brown bags along with ripe fruits like apples or bananas in the kitchen counter or near windows where they get light, as the gases (ethylene gas to be specific) released from these fruits will help ripen the avocados more quickly.
But these methods work only if you have a couple of days at least to let the avocados ripen naturally.
You can keep the avocados in direct sunlight (without placing other fruits near by) and most probably your unripe avocados will naturally ripen as fast as they can.
The speed of ripening will depend on how unripe your avocado really is and the amount and duration of sunlight it can get.
This type of natural ripening will also take a couple of days usually.
Another method to speed up ripening avocados is to bury the unripe avocado inside a bowl of rice or flour and wait for a couple of days.
This is the perfect method especially if you don't have a place to keep your avocados where they receive enough sunlight to ripen.
You can use a bowl to fill it with white rice or flour and bury the unripe avocado fruit inside it and leave it for a couple of days.
In this way, the naturally emitted ethylene gas from avocado get trapped inside and will speed up the ripening process naturally.
You can also try putting the rice or flour inside a brown paper bag and put your unripe avocado inside the bag and seal the bag ( in this case you don't need to bury the avocados in the flour or rice) and wait for a couple of days to naturally ripen the avocado fruit.
However if you want to ripen the avocados immediately (overnight or even within minutes), you can try different ways or tricks to help you to soften up the avocados immediately.
Know that, these methods or tricks actually may not ripen the avocados but they will soften up the avocados which resemble the ripen avocados in texture which will help you to use them in recipes immediately.
The softness or texture may be slightly different from the naturally ripen avocados, but you can still use them in your avocado recipes, as they are not rock hard like unripe avocados, but they are soft like ripen avocados.
Inspired by the original idea of California avocado grower Carol steed, we can say how you can blend the avocados (peeled and seed removed) with fresh or frozen green peas in a food processor or blender to use softened avocado pulp in recipes (you won't know the flavor of green peas).
You can wrap the unripe avocado in an aluminium foil and keep in a preheated oven (200 degree Fahrenheit) for a couple of hours (check after 1 hour) to make the unripe avocado really soft.
However the time it will take to soften up the avocado will really depend up on your oven and also how unripe the avocado is. So you should check every 10 to 15 minutes to see if your avocado is soft enough to be used.
It may take a couple of hours though if your avocado is very very unripe. The taste of this kind of oven softened avocado will slightly vary as the fruit is slightly baked in the oven.
You can soften up the unripe avocado using a microwave too. I have found that many people find it really hard to soften up the avocados in the microwave.
However my method is to cut up the unripe avocado in half first, remove the seed and then microwave in high heat in a microwave safe bowl for about 1 minute.
The avocado will be usually soft in this time period, but if its still not soft you can microwave it for some more time which should make it soft.
Why the oven/microwave methods to speed up ripening avocados 'mostly' fail?
Even though we are using microwave/oven techniques to "speed up ripening avocados" quickly or immediately, as I have already mentioned, the oven/microwave methods really do not ripen the unripe avocados but it really helps to soften the unripe fruit immediately and so you can have a soft avocado fruit quickly that resembles a real ripe avocado fruit.
However, these methods are not fail proof and sometimes they may not give expected results based on certain factors.
One thing is the oven temperature which can slightly vary based on different ovens. It will also depend on how unripe your avocado really is.
For avocados that are really very hard, you may need to keep it in the preheated oven for a couple of hours, and check them in between to see if they have softened up.
If you are using microwave, I always suggest cutting the fruit in half and removing the seed before heating them in the microwave to soften up. You may need to microwave for a period anywhere from 30 seconds to 2 minutes depending on how unripe your avocado is.
So the main reasons that leads to the failure of these methods is not waiting enough if the avocado is really very unripe and not preheating the oven enough or low oven temperature or not using the microwave in high heat.
Also, you cannot expect the taste of ripe avocados for avocados softened in oven or microwave as these methods really bake/cook avocados and make them soft.
However if you are going to use them in recipes along with other flavors like spices or lime juice where it is the soft texture of avocado is what that matters, you can go for these oven/microwave methods.
If you really want an avocado with the real ripe avocado taste and texture I would recommend using the natural ways of ripening the fruits even if it takes a couple of days.
Hope you found this post on how to speed up ripening avocados helpful!
You might like to see my post on healthy avocado smoothie recipe for weight loss
You might like to see my post on how to make simple guacamole dip - quick easy guacamole recipe