Roasted Cauliflower Crumbles Recipe – Easy, Healthy & Quick Baked Cauliflower Recipe
Easy Simple Baked Cauliflower Crumble Recipe – Baked Cauliflower Recipes
Delicious Roasted Cauliflower Crumbles Recipe With Indian Spices
Cauliflower crumbles recipe for roasted cauliflower crumbles is easy to follow and you get perfectly roasted, delicious cauliflowers crumbles in very little time. Since the cauliflower is crumbled into very small pieces, we don't have much work except marinating them in spices and roasting them in the oven.
See my post on easy delicious roasted cauliflower florets recipe
I bought the green giant cauliflower crumbles from the store and while initially I didn't think much about what to do with it, because it was suggested to use in a pizza crust or sauce and since I didn't make any pizza crust or sauce, the cauliflower crumbles sat there for quite a while.  Then I thought why can't I try roasting this, as roasted cauliflower always tastes good, especially when paired with Indian spices. By adding spices, you can make this very healthy too, as spices are really good for health.
You might like to see my post on easy and healthy stir fried broccoli recipe with coconut
And by adding spices and roasting, cauliflower crumbles tastes delicious. You can add your favorite spices, but I suggest you to not skip the garlic as garlic really add much flavor to the roasted cauliflower crumbles. You can add freshly grated or crushed or minced garlic, dried powdered garlic or dry minced garlic as you wish.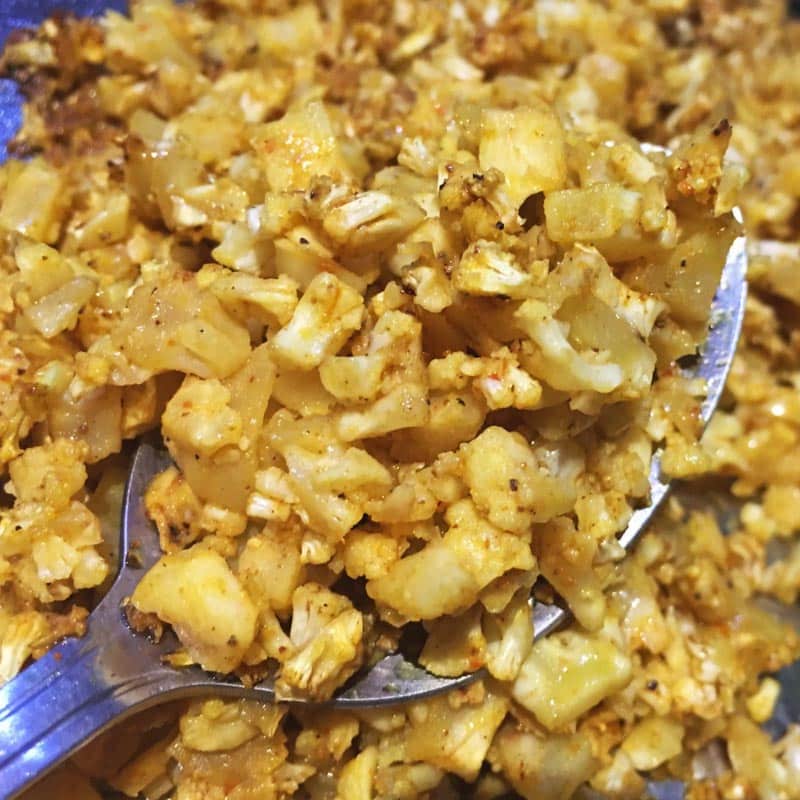 I also recommend not to skip the black pepper as it is really delicious when paired with this cauliflower crumbles.
So here is how I roasted the cauliflower crumbles using the roasted cauliflower crumbles recipe.
Easy Roasted Cauliflower Crumbles Recipe
Ingredients for roasted cauliflower crumbles recipe
Cauliflower crumbles 2 Cups (I used 1 bag of 16 oz Green Giant Cauliflower crumbles)
salt as required
oil (or melted butter for extra flavor) 2 to 3 tablespoon
turmeric powder 1 teaspoon
red chili powder 1/2 teaspoon
garlic minced or crushed 1 teaspoon
black pepper crushed or powder 1 teaspoon
garam masala powder 2 teaspoons
curry powder 1 teaspoon
cumin seeds powder 1 teaspoon
Instructions for roasted cauliflower crumbles recipe
Preheat oven at 350 degree Fahrenheit.
Transfer the crumbles to a large bowl and add all the remaining ingredients to it.
Mix all ingredients well so the crumbles are well coated with oil, salt and spices.
Let it sit for 5 to 10 minutes.
Arrange the marinated cauliflower crumbles in a single layer in a greased baking tray.
Bake for about 30 to 35 minutes or until the crumbles are lightly browned and roasted.
Serve hot with rice for lunch or dinner or use the roasted cauliflower crumbles in other recipes!
 Hope you found this roasted cauliflower crumbles recipe helpful!