Oven roasted cauliflower florets recipe which is also vegan roasted cauliflower recipe, is simple, easy to make and delicious.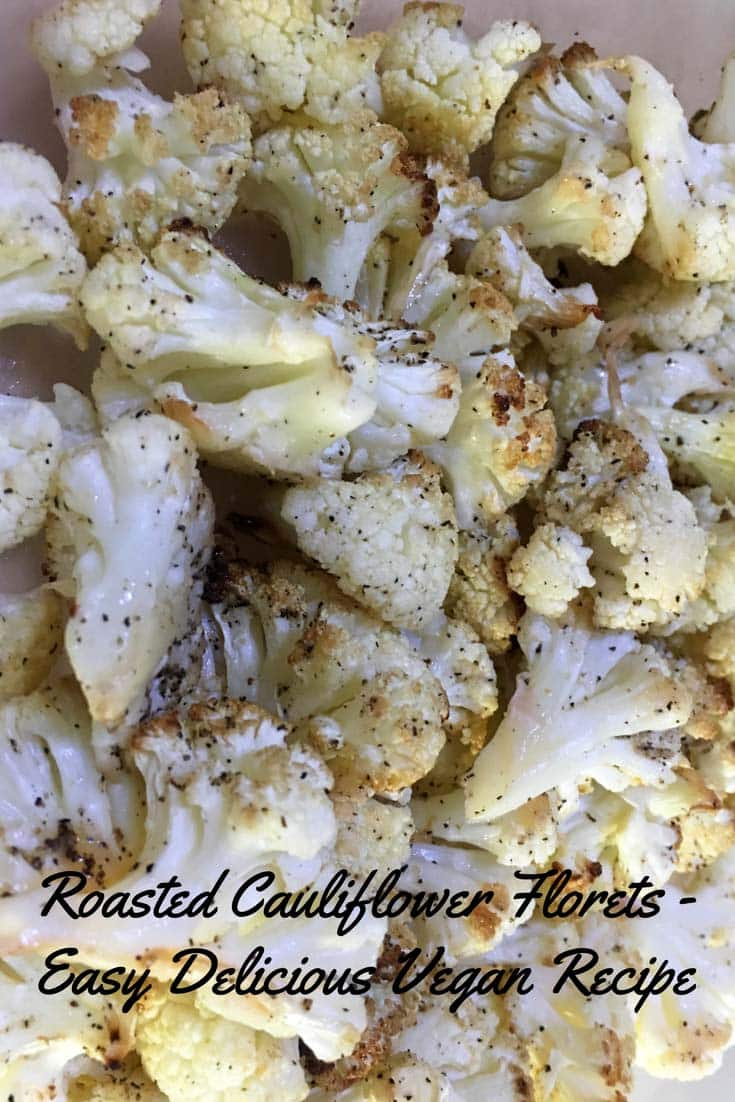 This crispy oven roasted cauliflower florets will be perfect side dish for vegetarian or vegan lunch or dinner or part of any brunch or meal.
See my post on roasted cauliflower crumbles recipe with spices
Oven roasted cauliflower florets are crispy, chewy, delicious and easy to make. You can use the florets from a medium sized cauliflower head which can be roasted in one or two batches. I had to bake two times to roast the florets from a medium sized cauliflower head.
See my post on broccoli stir fry with grated coconut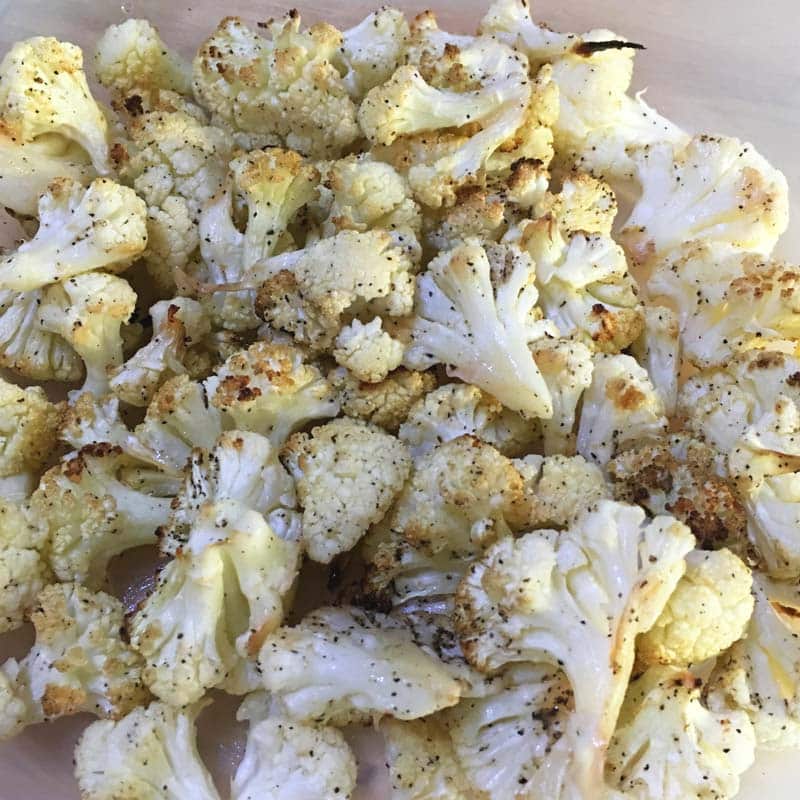 You can use your favorite spices for flavoring the cauliflower florets, here you can read the simple recipe for oven roasted cauliflower with very few spices as this is a mildly spiced roasted cauliflower florets recipe. It is delicious, healthy as well as easy to prepare.
So here is how you can make easy and delicious oven roasted cauliflower florets following this easy oven roasted cauliflower florets recipe.
Simple And Easy Oven Roasted Cauliflower Florets Recipe Below
Oven Roasted Cauliflower Recipe, How To Make Roasted Cauliflower Florets In Oven
Easy oven roasted cauliflower florets make a very yummy, vegan side dish for lunch, dinner or snack. You can adjust the spices or add more flavors to the florets as you wish.
Ingredients
1

medium sized cauliflower head

(or 3 to 4 cups of cauliflower florets)

1/4

teaspoon

salt

(adjust to taste)

2

tablespoons

lemon juice half of a medium sized lemon

(or more if you like)

1

teaspoon

black pepper

2

tablespoons

oil

2

teaspoons

garlic powder

(or minced garlic)
Instructions
Wash the cauliflower head and cut the stem and separate the florets. I mostly separate the florets using hands, occasionally using the knife as needed. If you are buying frozen or fresh cauliflower florets instead of the whole cauliflower head, you can skip this step.

Wash the florets lightly again and transfer the florets to a large bowl.

Add the lemon juice and salt, mix well to coat all the florets.

Add the black pepper and garlic powder, mix well.

Add the oil and mix everything well. Let the cauliflower sit there and get marinated for at least 15 minutes for best results.

Preheat the oven to 375 degree Fahrenheit.

Grease a large baking sheet with oil.

Transfer the cauliflower florets in a single layer in the baking sheet. If you have more florets left after arranging them in a single layer in the baking sheet, you can roast the remaining in a second batch. If you will be able to complete this in one or two batches will depend on the size of the cauliflower head used and also the size of your baking sheet.

Bake for 25 to 30 minutes for until the cauliflower florets have started to turn golden brown. Mine was done just after 25 minutes, but the heat in different ovens can vary so if you are roasting cauliflower florets for the first time in your oven, you have to watch this after about 25 minutes so as to avoid overdoing. Some ovens may take up to 30 minutes especially if you are doing the first batch.

Transfer the browned and crispy oven roasted cauliflower florets to the serving plate (as soon as you can handle the heat), serve and enjoy with rice or pasta (or anything you like) for lunch or dinner or snacks!
Nutrition
Calories:
152
kcal
|
Carbohydrates:
6
g
|
Protein:
1
g
|
Fat:
14
g
|
Saturated Fat:
1
g
|
Sodium:
308
mg
|
Potassium:
195
mg
|
Fiber:
1
g
|
Sugar:
1
g
|
Vitamin C:
38.3
%
|
Calcium:
1.2
%
|
Iron:
2.7
%
More Pictures From The Preparation Of Oven Roasted Cauliflower Florets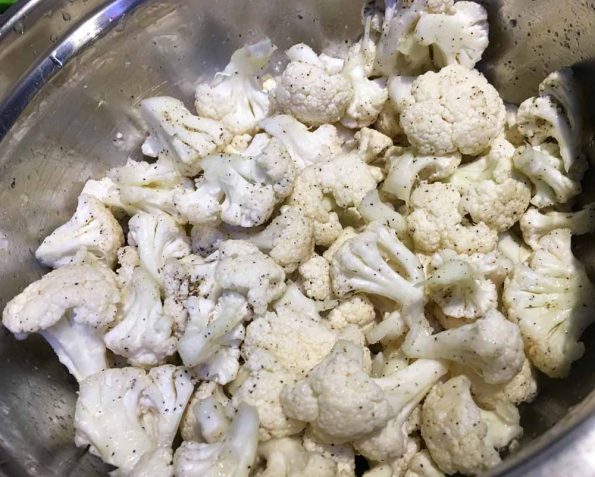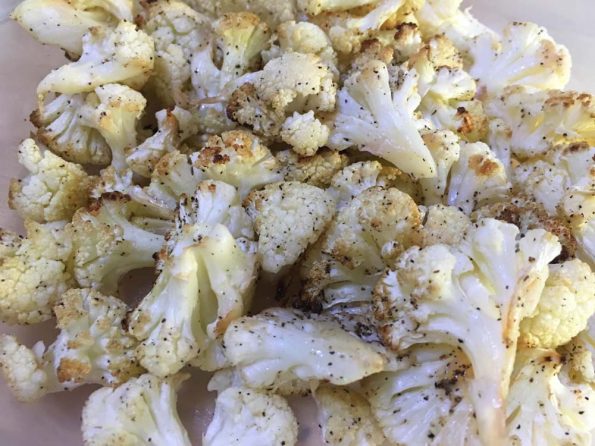 Hope you found this post on vegan cauliflower recipe – oven roasted cauliflower florets recipe helpful!