This vegan chocolate banana muffins recipe (I made mini muffins) is perfect if you are looking for easy and delicious vegan chocolate banana muffins for breakfast or snack.
How To Make Mini Chocolate Banana Muffins Eggless & Dairy Free
The vegan dairy free and egg free chocolate banana muffins is made using applesauce (and also the mashed bananas help with making egg free muffins) and instead of butter we use oil which makes the chocolate muffins even softer.
I used the muffin batter to make mini muffins which were baked in silicone mini muffin pan from this set.
I have used this cocoa powder and this applesauce for this mini chocolate banana muffins recipe.
Make sure to use ripe bananas to make the muffins as using ripe bananas (you can use very ripe bananas) will ensure the best texture and taste for this chocolate banana muffins.
You can also make regular muffins instead of mini muffins using this muffin batter just by using regular muffin molds. However the cooking time may slightly vary if you are making regular muffins.
Either way, the vegan chocolate banana muffins are soft, delicious and kid friendly, which you can make quickly and easily.
More Muffin Recipes:
Mini Banana Chocolate Chip Muffins Recipe
So here is how you can make easy and delicious chocolate banana muffins without eggs or dairy following this easy vegan chocolate banana muffins recipe.
Print Recipe
Vegan Chocolate Banana Muffins Recipe - Mini Chocolate Banana Muffins
This eggless, dairy free vegan chocolate banana mini muffins are so easy to bake and yummy too.
Servings:
24
mini muffins
Ingredients
flour 1 cup

cocoa powder ½ cup

baking powder 1.5 teaspoon

baking soda ½ teaspoon

oil 6 tablespoons

applesauce ¼ cup

bananas 3 ripe

sugar ½ cup

adjust slightly as needed

cinnamon powder 1 teaspoon

vanilla extract 1 teaspoon
Instructions
Preheat oven to 350 degree Fahrenheit.

In a large bowl, mix together the dry ingredients - flour, cocoa powder, baking powder, baking soda, cinnamon powder and also the sugar so everything will mix up evenly.

In another bowl, mash the bananas very well and add the applesauce, oil and vanilla extract, stir everything very well together until well combined.

Add the banana applesauce mixture to the dry flour mixture and stir very well without any lumps to make the batter for muffins.

Transfer spoonfuls of batter to the muffin molds, bake for 16 to 18 minutes.
Notes
Serve the muffins for breakfast or snack, or you may also top the muffins with any frosting of your choice and serve for dessert.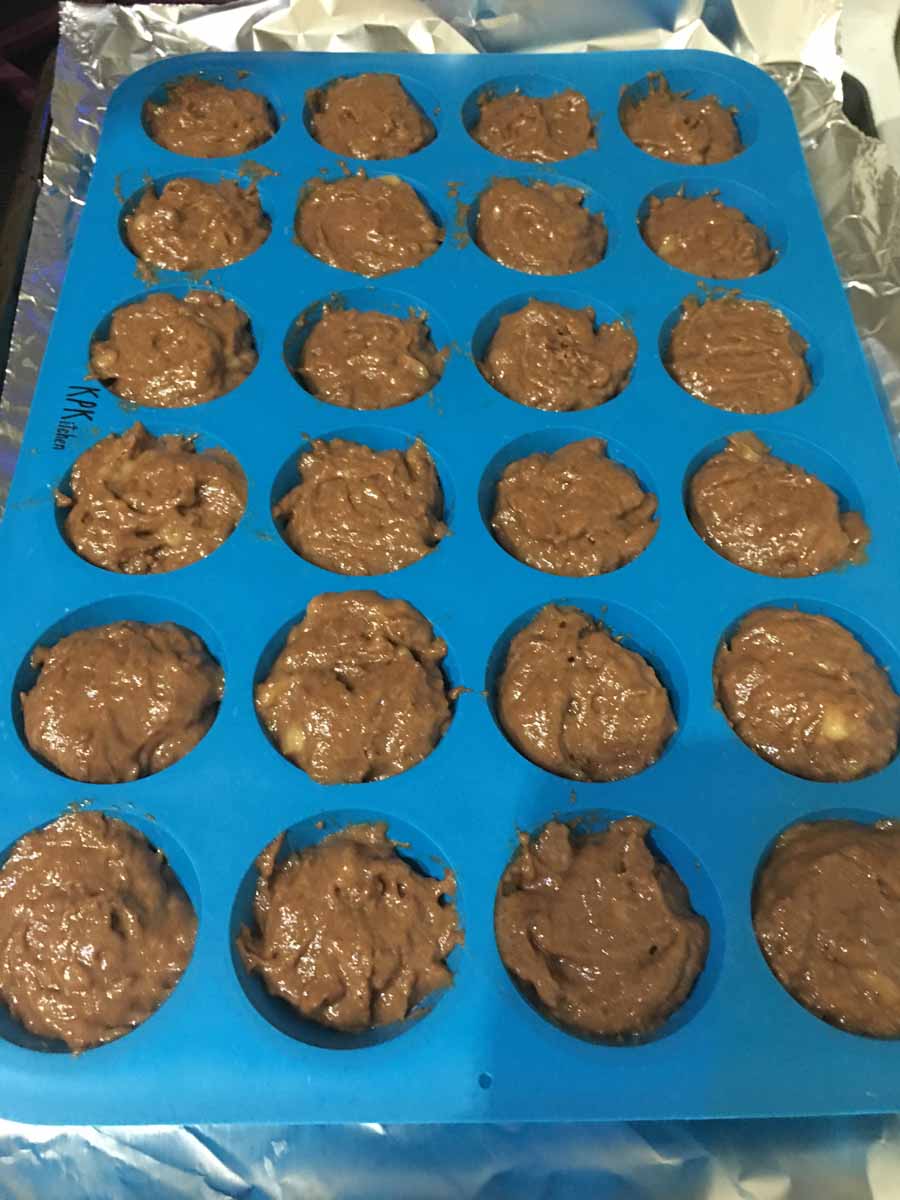 Hope you found this post on vegan chocolate banana muffins recipe helpful in making easy and yummy chocolate banana muffins at home!