This celery stir fry recipe using an iron skillet is so delicious and very easy and quick to prepare which you can enjoy as it is or enjoy it as a side with rice.
The stir fried celery is made so delicious and flavorful with the addition of exotic spices and herbs like this.
If you want to include celery in your diet and if you do not like the taste of fresh celery like in salads, this is a great way to add celery to your diet without compromising on flavor or taste.
I do not really like the raw celery taste or flavor and I do not care much about it in cooked form too.
However, I know celery is very healthy and good to include in food, and I found an easy way to include it in the food by stir frying the celery with mild spices. Even then, simple celery stir fry didn't appeal to me much as it looked bland and lacked something, and the flavor was still little too much for me.
However this celery stir fry recipe is different.
How To Make The Best Celery Stir Fry?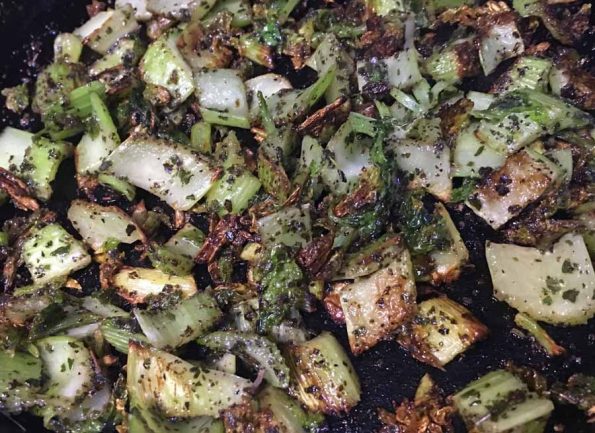 Must Spice (Ingredient) For This Celery Stir Fry
Thsi celery stir fry is crispy, lightly browned and delicious.
And to me, what changed the whole flavor of this dish is one ingredient - dried oregano flakes!
So the most important ingredient for this celery stir fry (of course celery sticks and salt are necessary too!) is dried oregano flakes..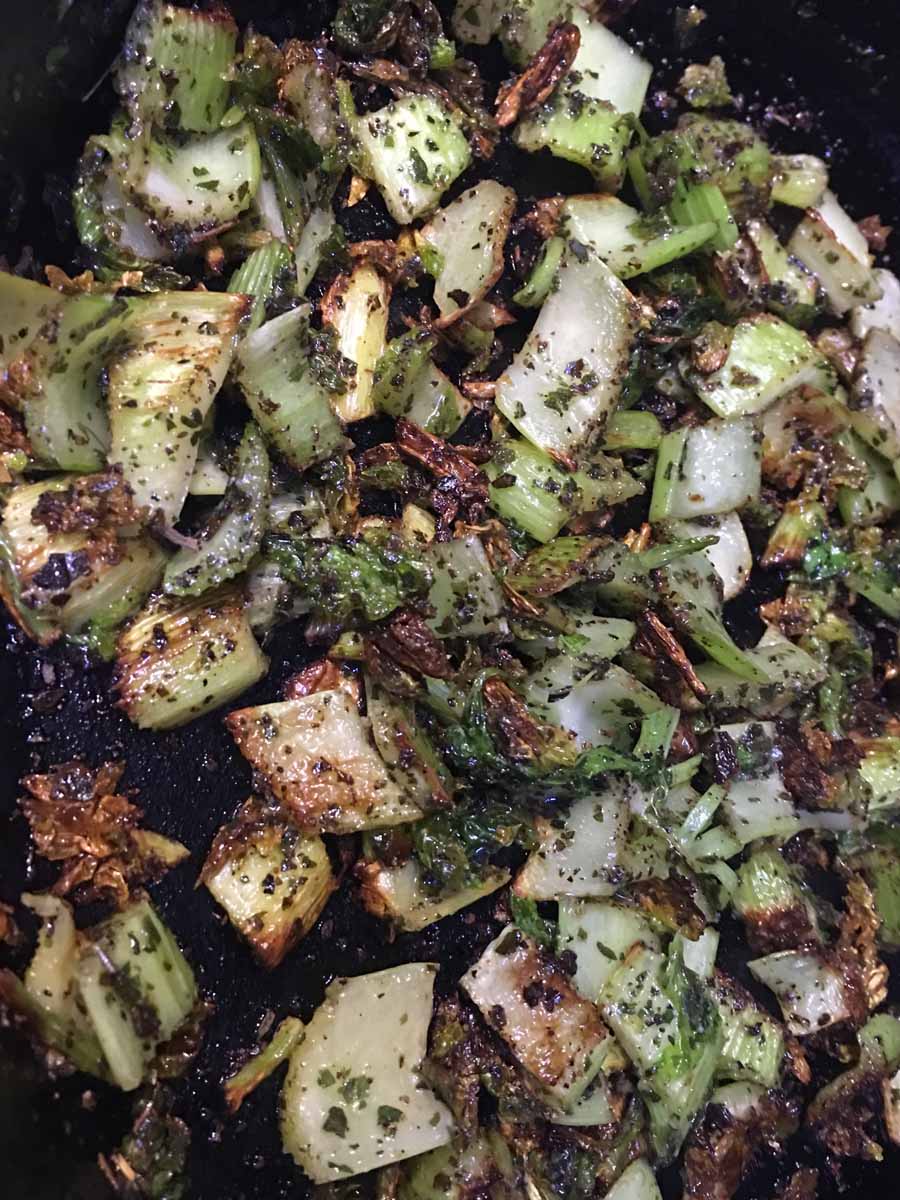 I didn't think much when I added dried oregano flakes to the celery stir fry, but it totally changed the flavor of the dish and lightly browning the dish in an iron skillet made this stir fry totally delicious. It is a win win with texture and flavor!
Other than using dried oregano flakes, I used garlic powder and black pepper powder which too adds flavor to this celery stir fry, so make sure to follow the recipe as it is for the best flavor!
More Stir Fry Recipes In This Blog:
So here is how you can make this easy, quick and delicious stir fried celery following this easy celery stir fry recipe.
Easy Celery Stir Fry Recipe Below
Easy Celery Stir Fry Recipe - How To Make Stir Fried Celery
Easy and tasty stir fried celery with spices or herbs can be made so quickly and it is a great way to prepare celery for lunch or dinner.
Print
Pin
Rate
Ingredients
4

celery sticks

¼

teaspoon

salt

adjust to taste

2

tablespoons

coconut oil

1

teaspoon

garlic powder

½

teaspoon

black pepper powder

2

tablespoons

dried oregano flakes
Instructions
Wash the celery sticks very well and chop into small sized pieces. You can also use the leaves that are in the celery sticks. Keep the chopped celery aside.

Heat the oil in a good quality iron skillet or pan, add the chopped celery sticks to it.

Add salt and mix well, let it stir fry for about a minute.

Add the garlic powder and dried oregano flakes and stir fry for another 2 to 3 minutes.

Finally add the black pepper powder, mix well and stir fry for another 2 minutes or until the celery is lightly browned and crispy in texture. Enjoy the delicious stir fried celery as it is or enjoy it as a side with rice as you wish!
Nutrition
Calories:
140
kcal
|
Carbohydrates:
4
g
|
Fat:
14
g
|
Saturated Fat:
12
g
|
Sodium:
294
mg
|
Potassium:
80
mg
|
Fiber:
2
g
|
Vitamin A:
85
IU
|
Calcium:
80
mg
|
Iron:
1.8
mg
More Pictures From The Preparation Of Stir Fried Celery With Spices & Herbs
Hope you found this post on celery stir fry recipe helpful in making easy and tasty celery stir fry!