Easy raspberry crisp recipe using real, fresh raspberries from scratch is easy to follow and you can make yummy and easy fruit/berry crisp at your home.
Fresh raspberries get spoiled quite fast and this easy raspberry crisp recipe is a yummy way to finish off the left over raspberries or extra raspberries that you have at your home.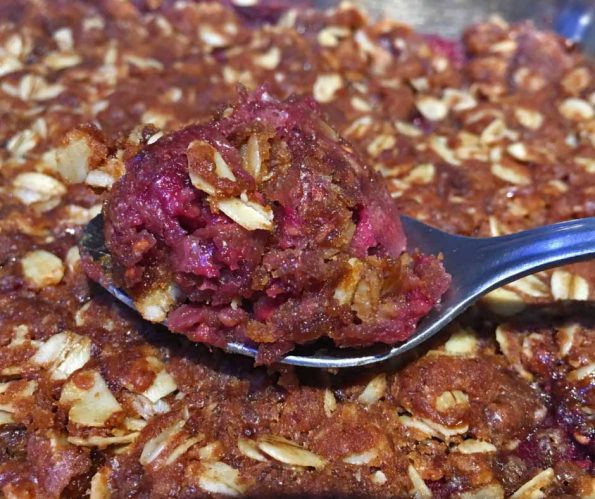 Easy Raspberry Crisp Recipe Using Fresh Raspberries & Coconut Palm Sugar
I used coconut palm sugar to make this raspberry crisp which gave it the dark chocolate color and also a wonderful flavor.
If you don't want to use coconut palm sugar, you can easily replace it with regular white sugar.
This easy raspberry crisp recipe gives you a easy and delicious dessert for dinner and you can enjoy it as a dessert for breakfast or snack.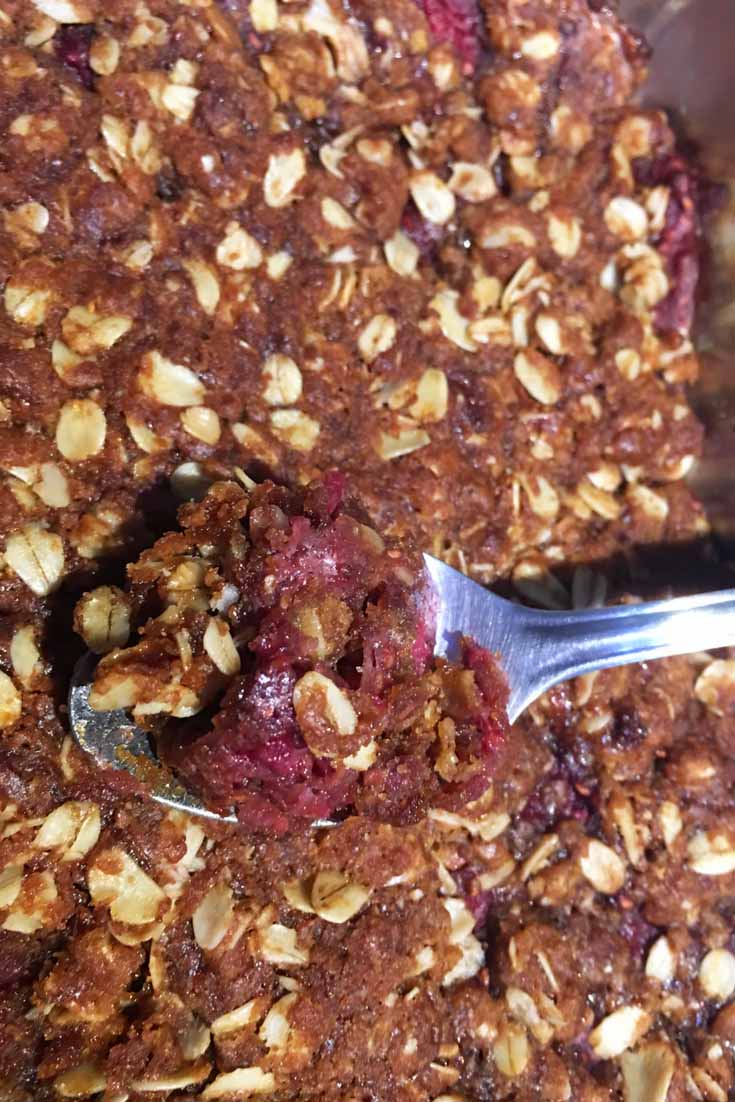 This fruit crisp make using fresh raspberries also makes a yummy after school snack for kids who like the flavor of coconut palm sugar. If your kids don't like coconut palm sugar, you may use white sugar.
I love baked desserts using fresh berries and I have a few here which are very simple to make and delicious too.
Blueberry crumble pie recipe made using fresh blueberries and strawberry cobbler recipe using fresh strawberries are very yummy desserts using berries which you can make very easily.
I referred to this raspberry crisp recipe from here which I modified to make my own.
So here is how I made this easy raspberry crisp following this super easy raspberry crisp recipe.
Easy Raspberry Crisp Recipe Below
Easy Raspberry Crisp Recipe From Scratch, How To Make Raspberry Crisp Using Fresh Raspberries At Home
If you have some leftover raspberries, try this easy and yummy raspberry crisp for a quick treat. You can use coconut palm sugar to make the crisp as called in the recipe for a unique flavor, otherwise you can replace the coconut palm sugar with regular white sugar easily.
Ingredients
2

cups

fresh raspberries

¾

cup

coconut palm sugar

1

tablespoon

extra sugar

or coconut palm sugar

⅓

cup

flour

2

tablespoons

extra flour

¼

cup

butter

softened

¾

cups

oats

extra butter for greasing the baking pan
Instructions
Preheat the oven to 350 degree Fahrenheit.

In a bowl, gently mix the fresh raspberries with the extra 2 tablespoons flour and extra 1 tablespoon of sugar until the raspberries are well coated. It is fine even if the raspberries get a bit mixed up.

Grease the baking pan with butter and layer the fruit mixture made of raspberries in a single layer.

In another bowl, mix together the remaining flour, oats and coconut palm sugar (or white sugar) and mix well.

Add the softened butter to the flour mixture and mix the contents until the contents are very well mixed.

Add this flour mixture on top of the raspberry mixture in the baking pan in a single layer. Gently press the mixture using a spoon.

Bake for about 25 to 30 minutes. Serve the delicious raspberry crisp while it is still warm, or you can also serve it at room temperature or chilled.
Nutrition
Calories:
406
kcal
|
Carbohydrates:
47
g
|
Protein:
10
g
|
Fat:
21
g
|
Saturated Fat:
13
g
|
Cholesterol:
50
mg
|
Sodium:
317
mg
|
Potassium:
112
mg
|
Fiber:
4
g
|
Sugar:
25
g
|
Vitamin A:
815
IU
|
Vitamin C:
15.8
mg
|
Calcium:
78
mg
|
Iron:
1.9
mg
Hope you like this post on easy raspberry crisp recipe using real, fresh raspberries and coconut palm sugar!