Easy sweet potato cake with cream cheese frosting
This easy sweet potato cake with cream cheese frosting is so simple and delicious and we used fresh, boiled or roasted sweet potato to make this at home from scratch.
This sweet potato cake with cream cheese frosting is perfect for holidays like Christmas, Thanksgiving, Easter celebrations, dinner parties or gatherings with friends and family etc or you can enjoy this as a dessert after dinner on any day as you like!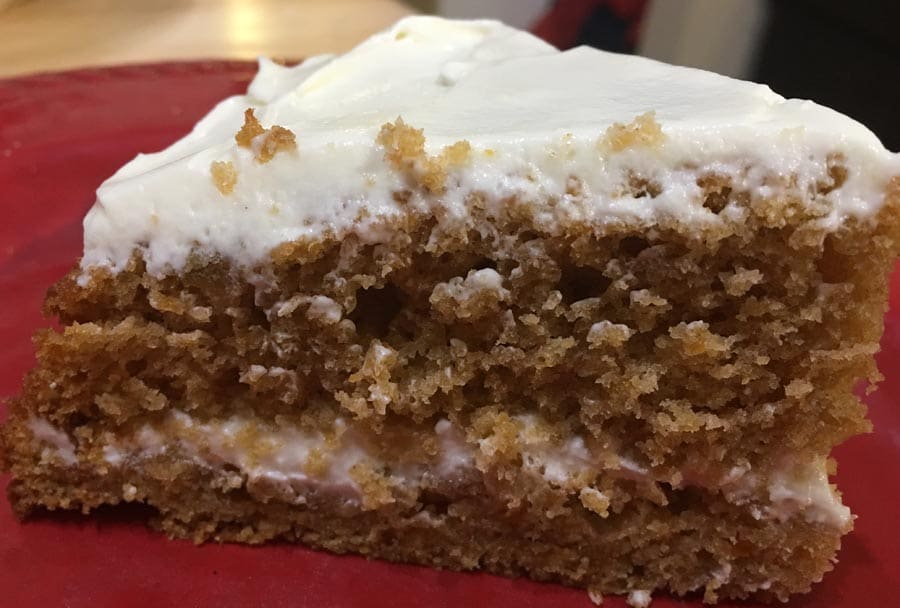 This is a delicious and easy way to use up any left over sweet potatoes that you may have at home and this delicious homemade cake goes great with a simple and delicious cream cheese frosting.
This is perfect for an easy, delicious dessert for dinner or for evenings with a cup of coffee or tea. Kids will love this homemade cake that is frosted with cream cheese frosting.
I used a simple and delicious homemade cream cheese frosting to frost this delicious cake.
Here is another sweet potato chocolate flavored cake recipe which I already have in my blog, so if you are looking for a chocolate cake that would be perfect (you can use vanilla cream cheese frosting or chocolate cream cheese frosting for chocolate sweet potato cake as well if you wish).
I used 8 oz Kraft Philadelphia cream cheese to make the frosting which was perfectly delicious and one 8 oz pack is enough to frost this cake which I sliced in two layers (I frosted with the cream cheese frosting inside the two layers and also on the top)!
This simple cake flavored with vanilla has a light orange color to it from the sweet potato, so it resembles kind of carrot cakes with cream cheese frosting which is perfect 🙂
So here is how you can make this easy and delicious sweet potato cake with cream cheese frosting following the below recipes to make the sweet potato cake and also the cream cheese frosting.
Easy Homemade Sweet Potato Cake With Cream Cheese Frosting Recipe Below
Easy Sweet Potato Cake With Cream Cheese Frosting, How To Make Simple & Delicious Sweet Potato Cake At Home
Sweet potato cake with cream cheese frosting is easy to prepare and delicious. It makes a quick, delicious dessert for dinner or you can enjoy this as a dessert for breakfast. An easy way to use any leftover sweet potatoes and an easy to way get veggies into delicious kid friendly desserts!
Print
Pin
Rate
Ingredients
½

cup

sweet potato mashed

you can use roasted or boiled

1

cup

brown sugar

½

cup

white sugar

1.5

cups

flour

½

teaspoon

baking soda

1.5

teaspoon

baking powder
salt

a pinch

1

teaspoon

cinnamon powder

1

teaspoon

vanilla essence

½

cup

oil

½

cup

milk

2

large

eggs
To make the cream cheese frosting for the cake
8

oz

cream cheese

at room temperature

1

teaspoon

vanilla essence

2

cups

powdered sugar

may adjust a little

2

tablespoons

heavy cream or whole milk

optional
Instructions
Preheat the oven to 350 degree Fahrenheit.

In a bowl, beat well the eggs.

Add the mashed sweet potatoes, mix well.

Add the brown sugar and mix the ingredients well.

Add the oil, mix again.

Add the milk, vanilla essence and cinnamon powder to the bowl and mix everything well.

In another large bowl, mix together the dry ingredients - flour, salt, baking powder and baking soda (you may also add some extra cinnamon powder if you like) until all ingredients are evenly mixed.

Add the wet ingredients mixture to the dry ingredients mixture, mix together to form the batter without forming any lumps.

Also add the white sugar to the batter, mix enough to blend in the sugar evenly across the batter.

Transfer the cake batter to a greased caked pan, bake for about 40 to 45 minutes or until a toothpick inserted at the center of the cake comes out clean. If the top of the cake is cooked before the inside is cooked completely, cover the pan with an aluminium foil and bake for the rest of the time. It is a good idea to check the cake after 25 minutes of baking time, since I had to cover the pan with foil at that point.

Allow the cake to cool down before you cut or apply the frosting.
To prepare the frosting
Chill the bowl (in which you want to make the frosting) and blades for at least 15 minutes in advance.

Once the bowl is chilled and cooled, add the cream cheese to the bowl.

Also add the vanilla essence and beat in high for about 1 to 2 minutes.

Add one cup of powdered sugar, beat until mixed with the cream cheese, add the remaining powdered sugar too and beat well for another 1 to 2 minutes.

Finally add the cream or milk, beat until its mixed with the contents in the bowl to form creamy and smooth cream cheese frosting. Use immediately for frosting the cake!

To apply cream cheese frosting to the sweet potato cake

Once the cake is cooled, remove the cake from the pan and slice the cake in half by cutting across the cake to make two almost equal sized cake layers (I use a serrated knife or just regular plastic knife or butter knife).

Place the first layer of cake on top of the turntable.

Apply some of the frosting over the first layer, spread it across.

Now place the second layer of cake on top of the first layer of the cake and apply the remaining frosting (put spoonfuls of frosting over the cake and apply almost evenly using an icing spatula).

Slice and serve immediately for a very delicious dessert with dinner or snack or keep refrigerated until ready to use!
Nutrition
Calories:
509
kcal
|
Carbohydrates:
75
g
|
Protein:
5
g
|
Fat:
21
g
|
Saturated Fat:
6
g
|
Cholesterol:
67
mg
|
Sodium:
160
mg
|
Potassium:
237
mg
|
Fiber:
1
g
|
Sugar:
57
g
|
Vitamin A:
3115
IU
|
Vitamin C:
2.7
mg
|
Calcium:
101
mg
|
Iron:
1.5
mg
Hope you found this post on sweet potato cake recipe with cream cheese frosting helpful in making easy and delicious sweet potato cake for a delicious and easy homemade dessert.