Dense Super Moist Yellow Cake Recipe – Very Moist Yellow Cake Recipe (Moist Yellow Butter Cake Recipe) – Dense Yellow Butter Cake Recipe
Homemade Yellow Cake Recipe Scratch – Homemade Butter Cake Recipe Scratch
Dense Super moist Butter Cake Recipe Scratch –

Homemade Yellow Butter Cake Recipe From Scratch
This dense and super moist yellow cake recipe from scratch is very easy to follow recipe which gives you a very moist and dense yellow cake that is homemade. You can make this super moist yellow cake at home following this easy homemade super moist yellow cake recipe. In fact this recipe is a homemade yellow butter cake recipe which yields a delicious yellow butter cake which is extra moist in texture and which can be easily made at home.
Super moist, delicious simple yellow butter cake recipe for beginners can be easily followed with using just basic ingredients. The result is a dense but soft, moist and delicious yellow butter cake which can be served to guests even with out any extra cream or toppings.
You may also make easy moist yellow butter cakes from the best moist yellow butter cake mix available online.
This recipe for super moist yellow cake yields is a small yellow butter cake which can be served for 6 to 8 people.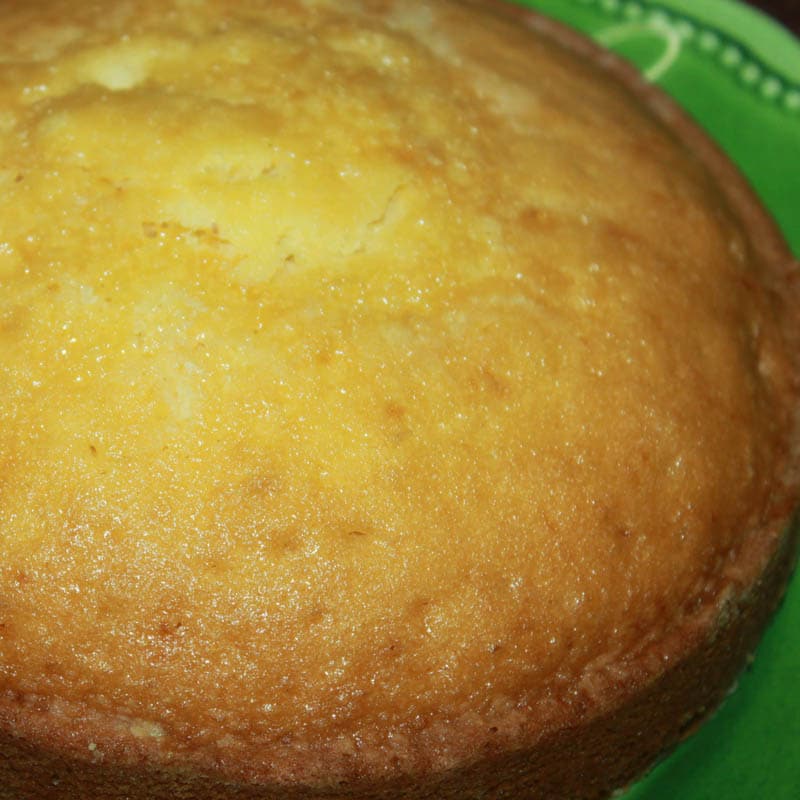 The cake is naturally dense and moist in texture and delicious in taste. The edges of this cake gets baked fast and the cake tends to rise in the middle where it is very soft, dense and moist. I recommend you to use cake strips to prepare your pan for best results if you prefer flat cake (and for not so crusty edges).
The natural light yellow color of the cake is from the fresh butter and yolks of the fresh eggs used in the yellow butter cake recipe. Yellow cakes can be made using butter or oil. And butter cakes are always made using butter as you guess. So a yellow butter cake is a yellow cake made using butter (no oil is used here). As I already mentioned, the color of this yellow cake comes from the yolk of the whole fresh eggs used and also the butter. But you may also use few drops of yellow food coloring if you want to add more color.
There are different kinds of yellow food colors available, click here to see the different yellow food colors.
Most popular ones include egg shade yellow color and lemon yellow color.
For this yellow butter cake recipe, I suggest using egg shade yellow color or this regular yellow food color, if you want to use food color. Here are more pictures of how my yellow butter cake turned out.
You can see the texture of the yellow butter cake below!
I suggest you use the super fine cake flour to make the best cakes. Also make sure you use all the ingredients at room temperature, or it may affect the results.
Ingredients for super moist yellow cake recipe scratch – very moist yellow cake recipe  
Cake flour or All purpose flour 1.5 Cups (plus a little extra flour for dusting the pan)
Baking Powder 1.5 teaspoon
Sugar 1 Cup ( actually 3/4 cup of sugar is just fine)
Butter softened 1/2 Cup
Eggs 2
Whole Milk 1/2 Cup
yellow food color  optional 1 to 2 drops (or according to package instructions)
Instructions For Super Moist Yellow Cake Recipe – Very Moist Butter Cake Recipe
Preheat oven to 350 degree Fahrenheit.
In a bowl, mix flour and baking powder together.
Beat the eggs and keep aside.
In another bowl, add the softened butter and sugar, beat well until well combined.
Add the beaten eggs to the butter sugar mixture and whisk together to mix all ingredients well.
Now add milk to the bowl, and mix well (add the food color also to the milk if you are using it).
Slowly add this wet mixture to the dry flour mixture, stirring in between so that no lumps are formed. Combine everything together to form the batter.
Prepare the cake pan by greasing with butter and dusting with little flour. Also put the cake strips around the pan for even baking to avoid crusty edges – make sure you follow the directions mentioned in the strips you are using.
Pour the cake batter into the pan and bake this for about 30 to 35 minutes in the oven.
Check your cake after 20 minutes of baking, if the sides are browned and if the center looks white, increase the oven temperature to 375 degree Fahrenheit and bake the last few minutes which should do the trick! If the top of the cake is browned before the cake is done, please cover the cake with an aluminium foil to prevent further browning while it will continue to bake the inside of the cake.
After 30 minutes, check your cake to see if it is cooked by inserting a toothpick in the center of the cake. If it comes out clean, your cake is done!
As soon as the cake is cool enough to handle, please take it out from the oven and keep it covered so as to retain the moisture.
Leaving the cake in the oven for more time can make it over baked which will result it hardening of the cake. So make sure you transfer the cake from the oven within few minutes after the baking and keep it covered.
This butter cake has got a wonderful texture and it is really dense, moist, soft and delicious. The good thing is that it is a basic simple recipe which you can modify to include nuts, raisins or vanilla flavor!
You might like to see my post on homemade orange cake recipe from scratch
Hope you found this post on dense, super moist yellow cake recipe from scratch helpful!