Strawberry blueberry spinach salad recipe is a healthy and easy fruit and vegetable salad recipe which is colorful and vegetarian and vegan salad as well.
You can enjoy this healthy mix of fruits and greens for a healthy and easy snack or you can enjoy this as part of a very healthy clean eating breakfast, lunch or dinner.
Just make sure you use fresh blueberries for this recipe if possible. You can use fresh or frozen spinach (or baby spinach leaves) and fresh or frozen strawberries to prepare this easy fruit and vegetable salad.
This is not a crunchy salad as I didn't use any nuts in this salad recipe as you can see it.
I have already posted the recipe for easy spinach and strawberry salad where the salad dressing is a simple mix of salt, lime juice & olive oil.
You can use the same salad dressing here too, but the sweetness of blueberries pair really well with the balsamic vinegar dressing that I have used here.
Recommended Ingredient To Make Salad Dressing For This Recipe – Balsamic Vinegar
The MiaBella balsamic vinegar shown here is very traditional balsamic vinegar made from Trebbiano grape juice and is a very unique vinegar product which is perfect to be used in sauces, salad dressings and many more.
This is made from pure trebbiano grapes and there is no added sugars or preservatives or flavors.
This syrupy vinegar is the best in taste and you will love it in your salads and many more dishes (wherever you normally use balsamic vinegar).
Balsamic vinegar is a popular alternative to red wine and such in salad dressings and dark and concentrated vinegar made from grapes, although some of them uses few other ingredients apart from grapes.
They are originated in Italy and you can see their use in many traditional Italian recipes as well.
This balsamic vinegar featured here is purely and wholly made of grapes and free of any preservatives. It is made in wood cask barrels made of oak and juniper resulting in a deep brown syrup and this is aged up to 18 years.
Spinach, strawberries and blueberries are very high in antioxidants, vitamins and minerals and if you use organic produce which is then washed and thoroughly cleaned they are very good for your health which will help you to cleanse your body and so they are super foods perfect for clean eating recipes.
As this salad is vegetarian and also free of any egg or dairy products this strawberry blueberry spinach salad recipe is a very healthy clean eating vegan recipe and perfect for any vegetarian or vegan who wants to eat a clean and healthy diet.
As you can see, we have not used any kind of sugar or preservatives and so this food is real whole food.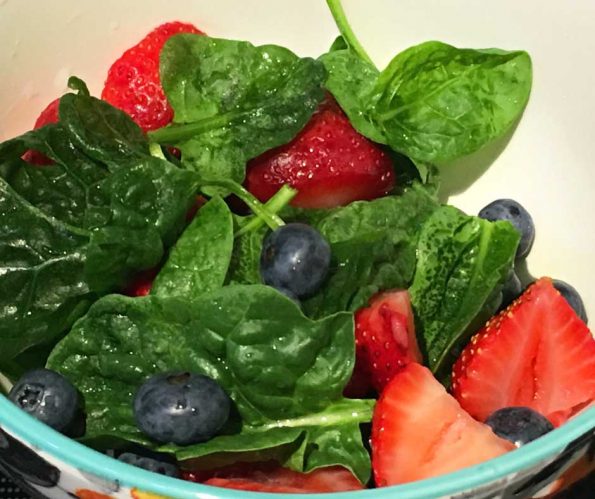 The balsamic vinegar we use here is also free from sugar or preservatives as I already mentioned above, and it is also made from pure grape juice which are real fruits, so this strawberry blueberry spinach salad recipe is a healthy mix of different fruits and greens (spinach here) which also tastes great!
The salad looks bright and colorful with the pink from strawberries, blue from blueberries and also the green from the spinach and you may also experiment the ingredients like swapping the spinach for other greens if you wish and adding nuts (if you don't have a nut allergy) like raw nuts or roasted and unsalted nuts like pecans, cashews, walnuts etc.
Simple Strawberry Blueberry Spinach Salad Recipe Below
Strawberry Blueberry Spinach Salad Recipe
This strawberry blueberry spinach salad is so simple to prepare but very delicious!
Print
Pin
Rate
Instructions
Wash the strawberries, blueberries and spinach thoroughly.

Slice the strawberries in half lengthwise and transfer them into a bowl.

Add the spinach and mix well with strawberries.

Finally add the blueberries to the same bowl.

In another small bowl, whisk together the salad dressing ingredients - olive oil, balsamic vinegar and salt.

Add the salad dressing to the salad and mix the contents so the dressing will coat well in the fruits and greens. Transfer the salad to a salad bowl and serve with breakfast, lunch, dinner or snack as you like.
Nutrition
Calories:
224
kcal
|
Carbohydrates:
23
g
|
Protein:
2
g
|
Fat:
14
g
|
Saturated Fat:
1
g
|
Sodium:
22
mg
|
Potassium:
402
mg
|
Fiber:
5
g
|
Sugar:
15
g
|
Vitamin A:
2150
IU
|
Vitamin C:
98.2
mg
|
Calcium:
45
mg
|
Iron:
1.4
mg
Hope you found this post on strawberry blueberry spinach salad recipe helpful!