Microwave cobbler in a mug following this strawberry cobbler recipe easy can be made using a microwave safe mug. You can make one to two servings of cobbler in a microwave using a mug.
In fact, I didn't plan to make this cobbler in a mug in microwave. I started out as usual, made the cobbler batter from scratch using this recipe here, and I have greased my cake pan with butter and poured over the batter and layered the strawberries on top to make the cobbler in the conventional oven. I switched on the oven for preheating, and its gone.
My conventional oven was not working and I didn't know what to do with the strawberry cobbler batter waiting in the cake pan.
I thought about ways to steam it or cook it on stove top so I transferred the contents to an iron skillet lined with few layers of aluminium foil and found a lid which I can use to close the skillet and I turned on the stove. After few seconds, the stove also went off and it was showing an error of F9 in the screen.
I googled to see what the error code F9 says and found that the electronic circuit need to be replaced. So this was going to take some time. I checked my microwave oven and luckily its working.
However, I didn't think about making the cobbler in microwave as I didn't have any microwave safe utensils which can hold the entire batter for cobbler (other than plastic ones which I only use for quick cooking recipes).
So I transferred the whole cobbler batter to a storage box and kept in the refrigerator and went to sleep.
The next day morning, as I realized the oven is not going to be repaired before another 3 to 4 days (its a weekend) I thought about making the strawberry cobbler in a mug.
I had the batter ready which I prepared to bake in the conventional oven. I cannot use the entire batter as the microwave safe mug is small which can hold one or two servings of batter.
The good thing is I had a lot of batter which I could use multiple times, preparing mini cobblers in the mug just enough for one or two servings. I greased the mug with melted butter and started making the strawberry cobbler in a mug.
As I was writing this post, someone came for maintenance and they replaced the entire stove and oven, it didn't took 3 to 4 days and I got a brand new stove and oven 🙂 However my strawberry cobbler in mug was already made!
So here is how I made this strawberry cobbler in a mug in the microwave.
As I already mentioned, I prepared the battery and strawberry mix for an entire cobbler as usual, so in this recipe I am using few spoons of the already prepared cobbler batter to make the microwave cobbler in a mug.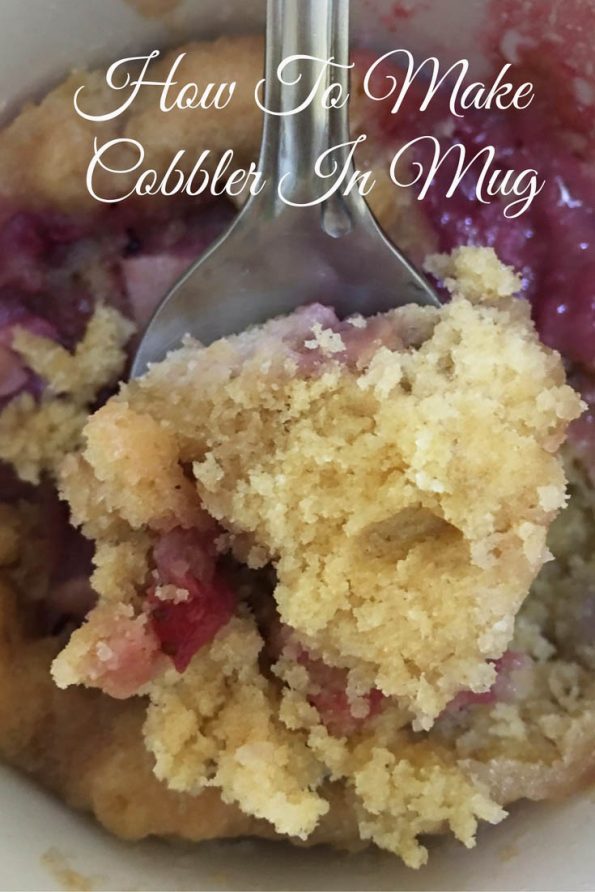 Things you need for making strawberry cobbler in a mug in microwave
Strawberry cobbler batter - see recipe here following the recipe in the given link, we prepare the batter and strawberry mix for topping the cobbler.
However since we want to save it for making mug cobblers we can mix the both together and keep this in a storage box in refrigerator. (you can always add more cut strawberries on top of each mug cobbler if you have extra strawberries)
microwave safe mug
Instructions to follow for this strawberry cobbler recipe easy made in a mug in microwave
Grease the microwave safe mug with a little melted butter.
Add 3 tablespoons of cobbler batter (with strawberry mix) to the mug.(as I already mentioned above, we are using the cobbler batter which is mixed with the strawberry mix, you may also try adding the batter and spoonful of strawberry topping separately)
Microwave in high heat for 2 minutes.
Give a cool off time for about a minute and then microwave for another 1 more minute.
Delicious strawberry cobbler in a mug is ready!
Wait for the cobbler to cool down, and enjoy the cobbler as it is or you can top it with more sliced fresh strawberries or whipped cream or whatever is your favorite topping for your strawberry cobbler.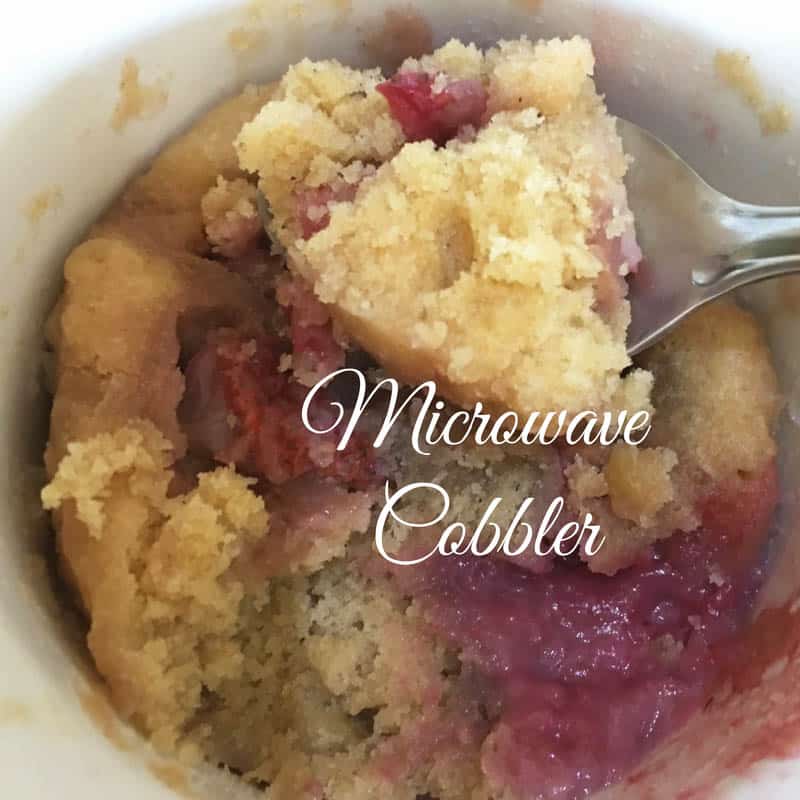 You can store the cobbler batter in the refrigerator and make more servings of cobblers in mug as needed!
Hope you found this post on strawberry cobbler recipe easy using a mug in microwave.