Easy Banana Cake Recipe From Scratch – Homemade Banana Cake Recipe From Scratch 
This easy banana cake recipe from scratch is a very simple banana cake recipe that is homemade. I recommend using super fine cake flour to make this banana cake for best results. Also make sure to use very ripe bananas, which are browned in skin if possible for the very best results. You can buy super fine cake flour here, you may also use regular all purpose flour instead.
You can easily follow this easy homemade banana cake recipe from scratch to make homemade banana cake. We use quite a lot of ripe bananas in this simple banana cake recipe, so if you have a lot of browned or over ripe bananas at your home, this is a very good recipe for banana cake where you can use your over ripe browned bananas.  You can also use overripe bananas to make banana bread following this easy banana bread recipe or this egg free banana bread recipe.
This simple and yummy banana cake can be enjoyed as dessert for breakfast with a little vanilla whipped cream on top or you can also enjoy this for snack with tea or dessert for dinner.
I actually made this simple banana cake for the fourth of July so I put a very simple decoration of red white and blue on this banana cake using vanilla whipped cream (for white), strawberry jam (for red) and blue sugar sprinkles (for blue) which looked so pretty and it was so easy to put them together.
The whole thing took less than one and half hours (other than the cooling time for cake) and so that is why I told it is so easy to make!
So here is how I made the simple banana cake following this easy banana cake recipe from scratch.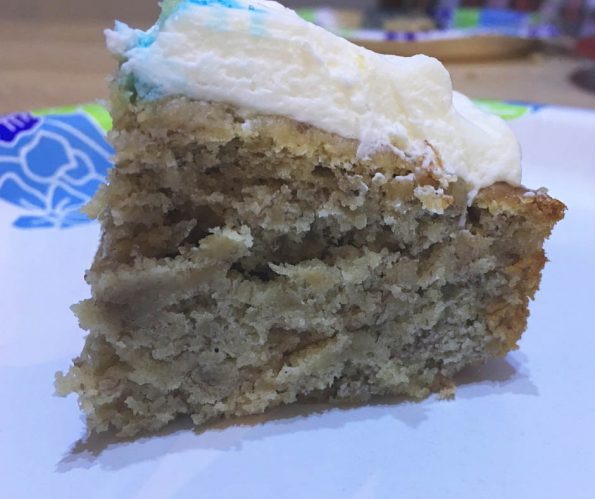 Ingredients
Ripe bananas 5
cake flour 2 cups
baking powder 2 teaspoons
baking soda 1/2 teaspoon
butter 1 stick melted
sugar 1 Cup
eggs 2
vanilla extract 1 teaspoon
Instructions
Preheat oven to 350 degree Fahrenheit.
Peel and mash the bananas and keep it aside.
In a large bowl, mix together the dry ingredients – flour, baking powder and baking soda.
In another bowl, mix together the melted butter and sugar.
Add the eggs to the butter sugar mixture and beat the mixture well using a balloon whisk for best results.
Add the vanilla extract to the egg butter sugar mixture and mix using a spoon.
Add the mashed bananas and the egg butter sugar mixture to the dry flour mixture.
Mix all ingredients together, you may use a balloon whisk or mixer to blend the ingredients and to avoid any lumps. It is important not to over mix the ingredients, just mixing for few seconds is enough.
Grease a cake pan with butter and pour the cake batter in to it.
Bake for about 40 minutes or until a toothpick inserted in the center of the cake comes out clean.
Allow the cake to cool in the rack.
After cooling the cake completely, you may apply any frosting or enjoy the cake as it is!
Hope you found this post on easy banana cake recipe from scratch helpful!