This pancake muffins recipe is eggless and you can use the eggless pancake batter to make this easy muffins for breakfast or snack as you wish.
How To Make Eggless Pancake Muffins/Mini Muffins Using Leftover Pancake Batter
I used this eggless pancake recipe to make the batter, but I made very few changes to the recipe this time based on my preferences.
The pancake muffins are absolutely delicious, soft and moist and the texture of the pancake muffins are slightly different from regular muffins as the top of the pancake muffins look more smooth much like the top of pancakes.
The same pancake batter can be used to make pancakes as well as muffins or mini muffins.
Below you can see the picture of a pancake made using the pancake batter.
The picture below shows the pancake mini muffins made using the same pancake batter.
Pancake and pancake mini muffin made using the same pancake batter!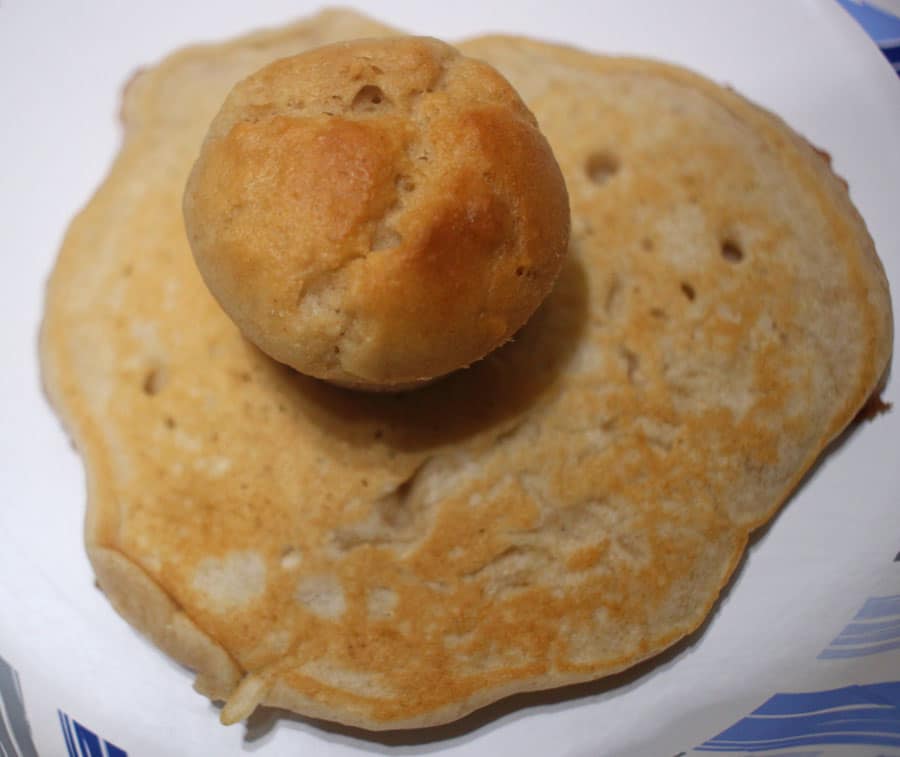 I used the silicon mini muffin pan from the set to make these pancake mini muffins. You can use the regular muffin pans to make regular sized muffins instead of mini muffins if you wish.
If you have any pancake mix or pancake batter, I believe it should work if you try to bake muffins or mini muffins using the pancake batter.
I made these using mini muffin molds and the only difference I noticed while making these pancake mini muffins is that they took more time to bake compared to using usual muffin batter.
If you look at my banana mini muffins recipe or chocolate banana mini muffins recipe you can see that they have taken less than 20 minutes (usually 15 to 16 minutes) to make the whole batch of mini muffins.
However with the pancake batter I had to bake the muffins for a longer time for about 22 to 24 minutes until the outside of the muffins are lightly browned and the inside is well cooked.
Since your pancake batter may vary from that of mine, you have to check yours starting from about 16 to 18 minutes of time and if the inside is not baked for few more minutes until the outside is lightly browned and the inside of the muffins is cooked.
If you are making regular muffins, it will take few more minutes to get cooked than mini muffins.
Always use a toothpick to check if the inside of the muffins is cooked by inserting the toothpick into the muffins an see if the batter is sticking so you can be sure.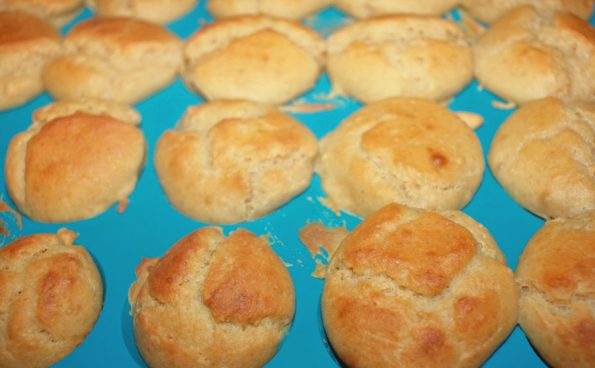 The pancake mini muffins were very delicious, not overly sweet and perfect for breakfast or snack. You can adjust the sweetness as you wish, if you like the muffins to be more sweet you may add more sugar.
The only reason why I made these mini muffins using pancake batter is that I didn't want to stand there and cook the pancakes one by one, so I thought of trying to make muffins instead of pancakes using the pancake batter and it turned out very successful!
You can use this batter to make pancakes as well as muffins or mini muffins as you wish though the cooking time for mini muffins and muffins will vary as regular muffins will take even more time (few more minutes) than mini muffins.
More Muffin Recipes In This Blog:
So here is how you can make mini pancake muffins following this easy pancake muffins recipe without eggs.
Eggless Pancake Muffins Recipe Below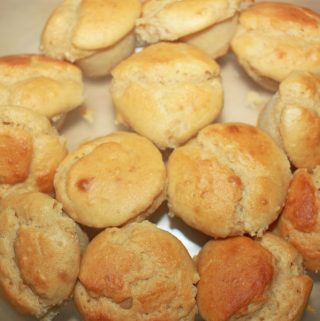 Easy Eggless Pancake Muffins - How To Make Pancake Mini Muffins Using Pancake Batter
Easy eggless pancake muffins or mini muffins make a delicious snack or breakfast!
Print
Pin
Rate
Servings:
24
mini muffins
Instructions
Preheat the oven to 350 degree Fahrenheit.

In a bowl, mix together the dry ingredients - flour, baking powder and baking soda until well combined.

In another bowl, mix well the yogurt and sugar and when the sugar is dissolved, add the whole milk, vanilla extract and oil also to the bowl and mix everything until the ingredients are well blended.

Transfer the wet ingredients mixture to the dry flour mixture and mix until the ingredients are combined, you may use a balloon whisk to mix the batter without forming any lumps.

Transfer spoonful of pancake muffin batter to the mini muffin molds and bake for 22 to 24 minutes or until the muffins are lightly browned on the outside and a toothpick inserted at the center of a muffin comes out clean. If you are using regular muffin pan instead of mini muffin pan, you will have to bake for few more minutes, so always make sure to use a toothpick to determine if the inside of the muffins are cooked. Serve the delicious pancake muffins warm for snack or you can save it for next day morning breakfast.
Nutrition
Calories:
86
kcal
|
Carbohydrates:
13
g
|
Protein:
2
g
|
Fat:
2
g
|
Cholesterol:
2
mg
|
Sodium:
34
mg
|
Potassium:
82
mg
|
Sugar:
4
g
|
Vitamin A:
35
IU
|
Vitamin C:
0.1
mg
|
Calcium:
46
mg
|
Iron:
0.6
mg
Hope you found this post on eggless pancake muffins recipe helpful in making easy and delicious pancake mini muffins for snack or breakfast.