This very moist applesauce cake recipe from scratch is super easy to make and it is moist and delicious with apple cinnamon flavor.
The texture of this applesauce cake is smooth as we do not use any chunks or pieces of apple, but we only use applesauce for the apple flavor so this is really a simple yet delicious cake with very smooth texture.
This recipe for applesauce cake is vegan, though the frosting I used is not vegan.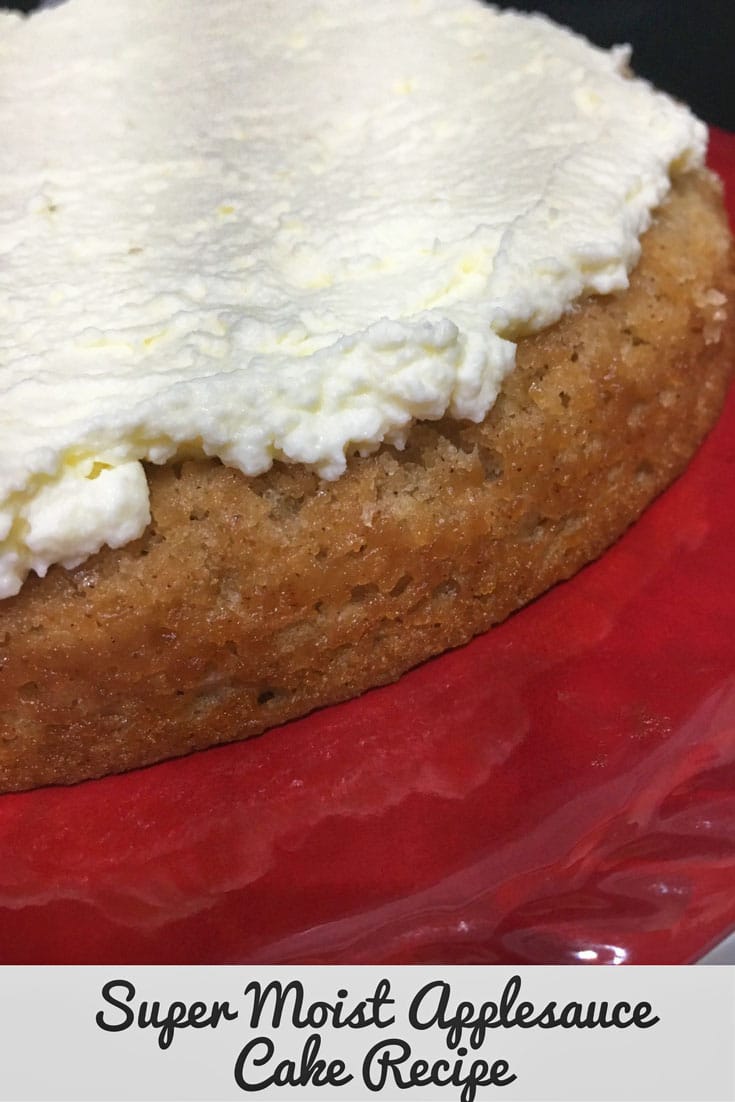 If you love chunks of apples in the cake, see my recipe for moist apple cake recipe here using fresh apples, or you can try this apple cashew nut cake recipe which is baked with fresh apples and cashews.
This applesauce cake is very moist and its bursting with the cinnamon flavor as we use cinnamon powder to flavor the cake. I adapted this simple and delicious applesauce cake recipe from here which I slightly modified and though the original cake recipe is vegan, I used heavy whipped cream frosting (recipe here) which is not vegan.
You may reduce or slightly increase the amount of cinnamon powder used as you prefer it.
We also use vanilla essence to flavor the cake, so basically this is a moist vanilla cake recipe with apple cinnamon flavor. And this is made without eggs or dairy and so its a vegan applesauce cake recipe, so those on vegan diet too can enjoy this moist applesauce cake!
We use apple cider vinegar in this recipe and also one of the egg free apple recipes I mentioned above, which makes this apple cake really moist and more flavorful.
Apple cider vinegar is really helpful to easily add the apple flavor and will help with making very moist cakes.
You can use homemade applesauce (recipe here) to make this moist applesauce cake or you can easily buy online the best applesauce which you can use to make the cake. You can use the applesauce in many other recipes too.
I decorated the cake using vanilla flavored whipped cream and some colorful sprinkles which was so easy to sprinkle over and made the cake look simple yet very beautiful with added sprinkle of colors!
You can decorate the cake as you wish or you can just enjoy it without any frosting, as the cake is delicious even without any frosting.
So here is how you can make this super moist applesauce cake following this simple and easy, very moist applesauce cake recipe from scratch.
Very Moist Applesauce Cake Recipe From Scratch
This super moist applesauce cake recipe is vegan (the frosting used in the picture is not vegan) and it is absolutely delicious and easy to make.
Print
Pin
Rate
Ingredients
1.5

cups

all purpose flour

1.5

teaspoon

baking powder

½

teaspoon

baking soda

1

cup

applesauce

¼

cup

oil

I used canola oil

1

cup

sugar

1

teaspoon

vanilla extract

1

teaspoon

cinnamon powder

extra cinnamon powder

a pinch for topping

1

tablespoon

apple cider vinegar
Instructions
Preheat the oven to 350 degree Fahrenheit.

In a bowl, mix all the dry ingredients together - flour, baking powder, baking soda and cinnamon powder.

In another bowl, mix the sugar and oil very well, add the applesauce and vanilla extract and again mix well so all the ingredients will combine well.

Add the apple cider vinegar to the sugar oil applesauce mixture and stir well to combine and blend with the other ingredients.

Transfer the wet mixture of applesauce and other ingredients to the dry flour mixture, mix well using a balloon whisk to combine all ingredients without any lumps.

Grease the cake pan with oil and transfer the prepared batter to the greased cake pan.

Sprinkle the extra cinnamon powder on top of the batter evenly.

Bake in the preheated oven for about 30 minutes or until the top is browned and a toothpick inserted through the center of the cake comes out almost clean (some moisture is fine as this is a moist apple cake made using applesauce).

Allow the cake to cool down in the rack before you transfer it from the cake pan and frost if you like and slice as needed.
Notes
Enjoy the warm or chilled applesauce vanilla cake with a cup or tea or coffee or milk!
Nutrition
Calories:
260
kcal
|
Carbohydrates:
47
g
|
Protein:
2
g
|
Fat:
7
g
|
Saturated Fat:
1
g
|
Sodium:
71
mg
|
Potassium:
123
mg
|
Fiber:
1
g
|
Sugar:
28
g
|
Vitamin A:
10
IU
|
Vitamin C:
0.3
mg
|
Calcium:
38
mg
|
Iron:
1.2
mg
Hope you found this post on easy and homemade applesauce cake recipe which is a very moist applesauce cake recipe helpful in baking a delicious and easy cake for dessert!