Cut out Christmas sugar cookies with rainbow sprinkles or sugar icing are so easy to make even beginners can make them from scratch so easily.
This is the best cut out sugar cookie recipe without brown sugar I have tried which is also so easy and flexible recipe and you can make crispy or soft (as you please) cut out cookies for Christmas, Easter or other holiday special cookies!
You may use any of your favorite cookie cutters to make different shaped cookies like star shaped cookies, Christmas tree shaped cookies, snowman shaped cookies, shamrock cookies, heart shaped cookies, flower shaped cookies or easy regular round sugar cookies as you wish.
If you are a beginner or if you are looking to make simple, delicious and easy cookies for Easter, Christmas or any holidays or special occasions, try these sugar cookies which is very simple and easy to learn and make yourself.
You can also make easy eggless sugar cookies if you want to try making eggless cookies for Christmas!
Cut out sugar cookies with colorful sprinkles (you can easily decorate using sprinkles) especially makes great Christmas cookies & Easter cookies.
With this easy homemade sugar cookie dough from scratch, just use any kind of cookie cutters or use different kinds of cookie cutters to make your favorite cut out sugar cookies in desired shapes.
If you do not have cookie cutters, you can easily make simple, easy round shaped cookies using this sugar cookie dough by easily making small balls from the dough and gently press them, which can be baked to make delicious round shaped sugar cookies.
So you can use this easy sugar cookies recipe to prepare the dough and make whichever shape of sugar cookies you like - whether you want simple, round sugar cookies (which can be made without cookie cutters) or make sugar cookies of different shapes using cookie cutters.
So here is how you can prepare homemade sugar cookie dough from scratch and make sugar cookies at home without using brown sugar.
I sometimes make them plain and sometimes I just add rainbow sprinkles.
You can also easily frost them with any cookie frosting or icing or different varieties of sprinkles.
Sugar cookies decorated with colorful rainbow sprinkles & simple sugar icing
You can see directions to add the sprinkles to different shapes of sugar cookies (made using different shaped cookie cutters) in the recipe card.
The simple and easy round shaped cookies with icing sugar frosting (as you see below) can be made with or without cookie cutters.
You can use the same cookie dough and cut round shaped cookies using circle shaped cookie cutters or you can make small balls out of the dough, gently press the balls and bake them, as they will flatten out during baking.
To make the simple frosting using icing sugar, I first mixed a tablespoon of powdered sugar with little water and made a thick mixture which is applied on top of the cookies.
This frosting thickens as it is cooled down.
You can make more of the frosting, as needed, by mixing more powdered sugar and little water together.
Only add very little water to make the frosting, as more water will thin it down.
How To Make Cut Out Christmas Sugar Cookies With Rainbow Sprinkles & Simple Sugar Icing (In Pictures) Without Using Brown Sugar
First, the cookie dough is made, chilled and rolled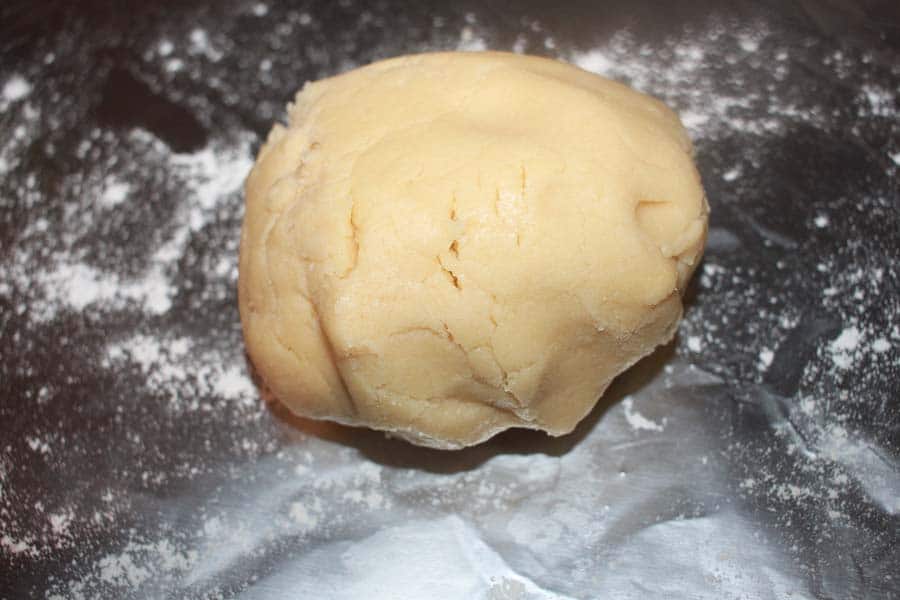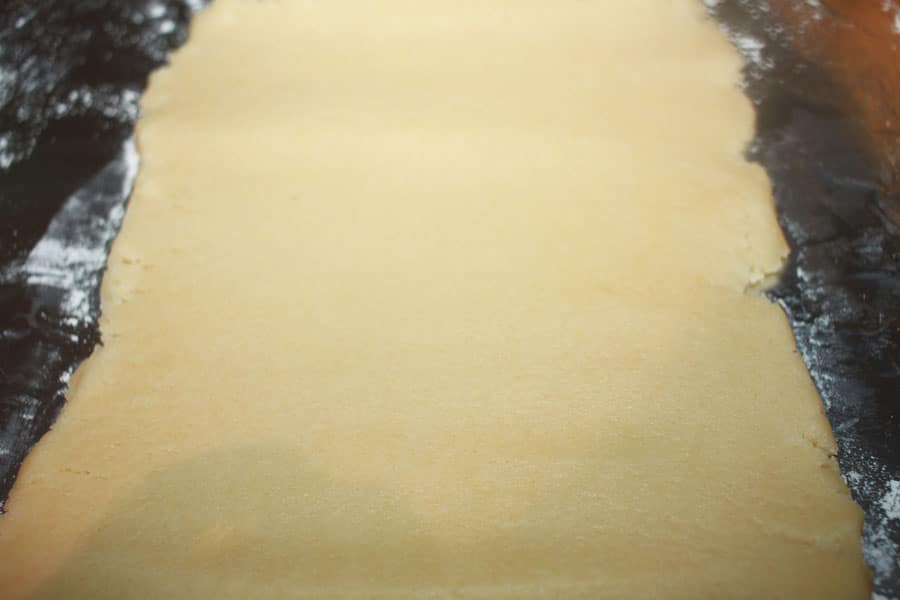 Cut shapes using cookie cutters, here star shaped cookie cutter is used to cut out the shapes
Add colorful sprinkles for easy decoration
Similarly use more shapes of cookie cutters to cut out the cookies in different shapes from the rolled dough, and add the sprinkles
to make circle shaped cookies, just make balls out of dough, gently press and add the sprinkles for decoration (the dough will flatten out as they bake)
sugar cookies in different shapes decorated with sprinkles ready for baking
easy, colorful and yummy sugar cookies all baked
simple round cookies with sugar icing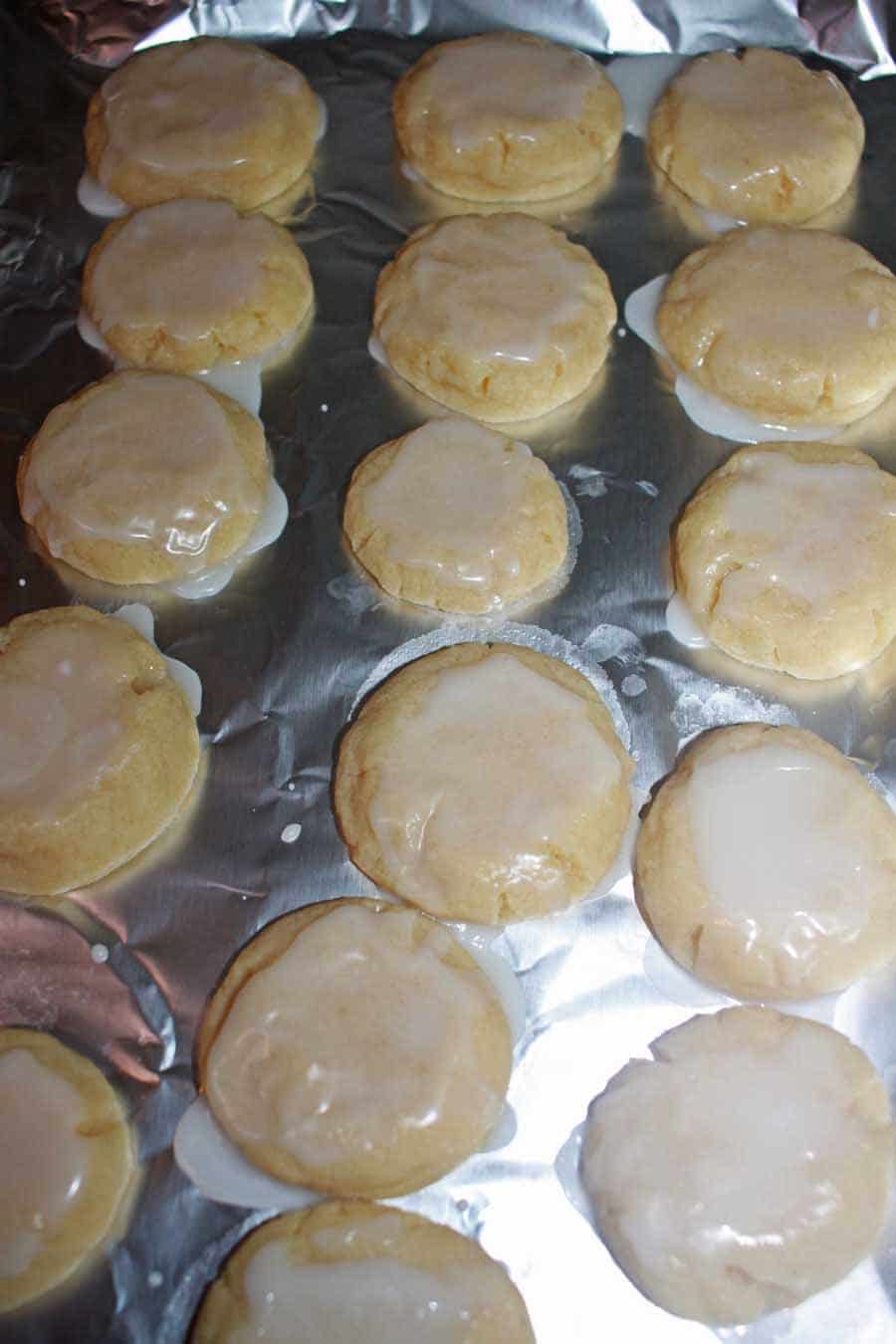 More Cookie Recipes In This Blog:
easy sugar cookies without eggs
chocolate m&m cookies with self rising flour
peanut butter chocolate chip cookies with self rising flour (eggless)
self rising flour chocolate chip cookies
moist chocolate cookie recipe from scratch
coconut flour chocolate chip cookies
banana chocolate chip cookies vegan recipe
More Christmas Holiday Dessert Recipes:
sweet potato cake with cream cheese frosting
moist fruit cake recipe for Christmas
no churn cranberry ice cream recipe
moist dense yellow cake recipe
instant pot rice pudding recipe with condensed milk
easy crustless pumpkin pie recipe
This recipe for sugar cookies makes 32 to 40 cookies - the number of cookies can vary anywhere from 32 to 40 numbers (on an average) depending on the shape and size of cookie cutters you use.
You can read the recipe in detail below.
Cut Out Christmas Sugar Cookies With Sprinkles (Without Brown Sugar)
Best, easy, simple and delicious cut out sugar cookies recipe with step by step instructions to prepare the cookie dough, cut out different shapes using cookie cutters, bake the cookies and also notes on adding colorful rainbow sprinkles or easy frosting using icing sugar.
These make great Christmas cookies, Easter cookies or cookies for any holidays or special occasions and make great homemade gifts for family and friends too.
You can make either crispy or soft sugar cut out sugar cookies using this recipe.
Print
Pin
Rate
Instructions
In a large bowl, mix together the dry ingredients - flour, baking powder and salt until they are evenly mixed.

In another bowl, mix well the softened butter and sugar until the sugar is dissolved.

Beat the egg very well and add this to the butter sugar mixture, also add the vanilla extract and mix well to combine.

Transfer the wet ingredients mixture to the dry flour mixture, mix well using a spoon and then knead well with your hands.

Add the oil and knead again. Now the sugar cookie dough is ready, cover and keep it in the refrigerator to chill the cookie dough for about half an hour (if you keep more time, the cookie dough will harden, if that happens you can leave it in the room temperature until you can work on it again of if you are in a hurry you can microwave it for 4 to 5 seconds which will help).
Divide the cookie dough into four equal sections so you can easily work with them.

Take one section of the divided dough and place it in a dusted (with flour) clean flat surface.

Roll the dough little thick (about ¼ inch) and using cookie cutters, cut the shapes. If its difficult to take the cutout from the remaining of the dough, you can slowly move the cookie cutter towards the edge and slowly slide the cutout onto your hand, then place it on a cookie sheet lined with parchment paper or aluminium foil. 

To make this easier, always try to make the cuts near to the edge of the rolled dough so you can easily move them out.

Cut out different shapes using different kinds of cookie cutters if you wish (if needed knead and roll the dough again, as you cut the shapes.

If you are using a lot of different kinds of cookie cutters at the same time with the rolled dough, you can make all the shapes at the same time which maybe more easy to do as well) and place them all in the cookie sheet with enough space in between (the cookies will slightly enlarge as they get baked, so do not keep too close).
Preheat oven to 350 degree Fahrenheit.

Once the oven is hot enough, place the first batch of cookies in the oven.

Bake for 8 to 10 minutes or couple of minutes more if you want them crispy.

Once the cookies are baked, transfer them immediately from the hot oven to avoid further baking which will make them harder.

Let the cookies sit in the cookie sheet for few minutes until they are cooled. Enjoy them as they or you can frost them if you wish.

Similarly work with the rest of the cookie dough as well (you can do it in multiple batches in whichever shapes you like).
Notes
You can decide if you want soft sugar cookies or crispy ones or you can find a balance by choosing a texture in between.
I found that baking the cookies for 8 to 10 minutes (depends on the oven too) will give you soft sugar cookies while baking for 12 minutes is just perfect (crispy and soft) while baking for 14 minutes will give very crispy and somewhat browned but still very delicious sugar cookies.
The times can also slightly vary based on different ovens, so you have to find out what's the right cooking time for you, but 10 minutes is what I would recommend for if you are trying this out for the first time.
To make round shaped cookies without cookie cutter or without rolling the dough
You can always roll the dough and make the round shaped cookies using round cookie cutters, lids etc if you wish.
However you do not need to use any of these as you can easily make simple round cookies using the sugar cookie dough.
To do this, simply make small balls (about 1 inch in diameter) out of the cookie dough and place them in the cookie sheet lined with parchment paper or aluminium foil. Make sure to leave some space between each ball.
Gently press the cookie dough balls a little with your palms. Now that's enough, it will bake just like the other cookies.
To add the sprinkles for easy decoration
If you are not frosting the cookies but want to add a little color, you can easily add some rainbow sprinkles to your cookies.
This has to be done before baking. To do this, once you have placed the raw cookies in the cookie sheet, you can add a little sprinkles on top of each cookie, and using your hand, gently press them into the cookie dough.
Now the decorated cookies are ready for baking.
Sugar cookies with sprinkles make easy, simple and delicious Easter cookies or Christmas cookies which also make great gifts for holidays.
More notes and directions inside the blog post on how to make simple frosted sugar cookies with frosting made using icing sugar.
Nutrition
Calories:
116
kcal
|
Carbohydrates:
16
g
|
Protein:
1
g
|
Fat:
4
g
|
Saturated Fat:
2
g
|
Cholesterol:
14
mg
|
Sodium:
28
mg
|
Potassium:
40
mg
|
Sugar:
7
g
|
Vitamin A:
100
IU
|
Calcium:
14
mg
|
Iron:
0.6
mg