This instant pot mango jam (without pectin) is the most easy and best homemade mango jam recipe I ever tried. This is so simple to make in the instant pot pressure cooker, but I also have instructions to make this jam in on stove top if you want to try that!
I have added a small video to show you the visuals of making this easy instant pot mango jam in instant pot without using pectin. In fact, it is easy to make fruit jams without pectin if you use the right kind of fruits and follow the instructions correctly.
easy fruit jams without pectin:
This instant pot fruit jam using fresh ripe mangoes is so simple to prepare, delicious, quick and ready in about 35 minutes of time in your instant pot (including the pressure build up and pressure release time for instant pot). Mangoes are exotic tropical fruits and when they are ripe and sweet, they are so delicious and juicy.
Ripe mangoes are often eaten as snacks since they are so delicious! Read more about mangoes!
These sweet, juicy tropical fruits are also used in a lot of recipes including drinks like smoothies and juice. Mango lassi is a kind of mango smoothie which is a very popular Indian drink. Mango lassi (and mango juice) is often made when mangoes are in season and its so delicious and refreshing during the hot summer months, just like refreshing watermelon juice for summer.
Mangoes are also used to make mango cakes and other desserts like homemade mango ice cream as well. More mango recipes in this blog include easy, delicious mango milkshake, mango orange juice smoothie, mango banana fruit salad etc!
do mangoes have pectin?
Do you wonder if mangoes have enough pectin or how to make mango jam without pectin?
Mangoes are said to be not very rich in pectin, though the peels of ripe mangoes are said to have higher levels of pectin. However we remove the peels from the mangoes to prepare this mango jam, but still I found it is too easy to make mango jam without adding any store bought pectin and I had no difficulty in thickening the jam,
This is an easy simple instant pot mango jam recipe without adding pectin, and we only use fresh lemon juice (along with sugar) instead of pectin which does the job perfectly. I didn't have any difficulty getting the mango jam to thicken on its own without the pectin.
All fruits have some amount of natural pectin in them and with the help of lemon juice, we can make this mango jam so easily in the instant pot without using store bought pectin.
what kind of mangoes are best for mango jam?
I used fresh ripe and sweet mangoes to make this instant pot mango jam and you can see how colorful this jam is! The mango jam looks golden yellow in color and it is very colorful indeed from the natural yellow/orange colors of the ripe mangoes.
Whatever is the variety of the mango you find, make sure to use ripe, sweet and juicy mangoes for the best results. Also, its better to go for mangoes which are not so fibrous. If there's a lot of stringy fibers in the mangoes, it may show up in the texture of the mango jam as well.
how to peel mangoes for mango jam?
To peel mangoes easily, I used a potato peeler.
Peeling mangoes is much easier using a potato peeler as it can difficult to do with a regular knife, since mangoes are little slippery without the skin. Alternatively, you may use a mango peeler to peel, slice and remove the pits easily from the mangoes.
So here is how you can make this instant pot mango jam without pectin following this easy and simple instant pot mango jam recipe from scratch.
how to make mango jam?
If you have never tried to make jams in instant pots before, it is so easy to make small batch fruit jams in the instant pot without using store bough pectin. They are not meant for canning, but these store bought fruit jams store well in refrigerators when stored in clean, dry glass jars for about two weeks (I have tried storing that long only).
We need the following ingredients to make the mango jam without pectin.
ingredients used to make mango jam without pectin
4 large mangoes ripe and sweet
¼ cup fresh lemon juice filtered, from a medium sized lemon
step by step instructions to make mango jam in instant pot
Wash the mangoes very well, peel and chop the mangoes (discard the seeds).
Transfer the chopped mangoes to the instant pot.
Also add the sugar, lemon juice and water. Mix everything well.
Close the instant pot with lid in sealing position and cook for about 7 minutes. Do a natural pressure release.
Once done, open the pot and stir the contents, mash the contents using a potato masher and simmer until almost the jam consistency is reached. Keep in mind that the jam always thickens more as it cools down.
If you want to make this easy mango jam without pectin on stove top, follow the below instructions.
You can use the same ingredients to make the small batch mango jam in both instant pot and stove top.
step by step instructions to make the mango jam on stove top
Add the diced mangoes, lemon juice and water (2 tablespoons) in a large, wide and tall good quality saucepan or pot.
Do not use aluminium pots or pans but use stainless steel or non stick as they are better when working with jams.
It is important to use wide & tall pots or pans because they help reduce any splatter of hot liquids during the preparation of jam.
Cover with lid and cook the mangoes in low heat until they are well cooked and very soft.
Once the mangoes are well cooked, open the pan and carefully mash the mangoes using a potato masher.
Switch off the stove and let the mixture cool down.
Once the mixture is cooled, add sugar also to the pot, stir in well to mix with the cooked mangoes and let this sit for about 30 minutes.
Stir the contents very well after 30 minutes, switch on the stove and simmer the contents in medium heat while you keep mashing and stirring to avoid the contents burning at the bottom of the pot. Also make sure to use a long spatula or spoon for stirring and be careful as the contents may splatter at this point.
Simmer until almost all the water content has evaporated and the contents have slightly thickened almost to a jam consistency.
Transfer the jam from the hot stove to avoid further cooking, or the jam can harden due to overcooking.
Transfer the mango jam to sterilized/dry, clean jars and store in refrigerator for upto two weeks.
how to store mango jam?
I stored this instant pot mango jam in clean, dry glass jars up to two weeks in the refrigerator and it was fresh and yummy all the time. This is a small batch mango jam prepared in the instant pot, which is not meant for canning. But it will last in the refrigerator or freezer for few days for sure if you store it in clean and dry mason jars or glass jars.
how to tell if mango are ripe enough to make jam?
Usually, the well ripened mangoes are soft and deep yellow (some varieties develop a deep orange/red color) in color.
When they are green, they are raw and tart in flavor. As they ripe, the yellow color deepens and once you gently touch over the skin, you can feel they are soft and ripe.
The unripe mangoes will be hard when you touch.
This instant pot mango jam is kid friendly as well (just like any other fruit jam :)) and we only use natural ingredients to make this at home. No preservatives, no pectin and it turned out great!
We really dump the ingredients (which are very few) to the instant pot and let it cook. Then once the cooking is done, we mash the contents gently (I used a potato masher), do few minutes of stirring and simmering so the jam will thicken up.
Just make sure to stop the cooking before you reach the desired consistency, because the jam will thicken up a bit more as it cools down.
So if you overcook the contents, the jam can become overly thick and sticky, just like any other jam. To avoid this and to get the perfect texture, make sure to watch and stir the contents as they simmer and stop the cooking once the jam is almost done.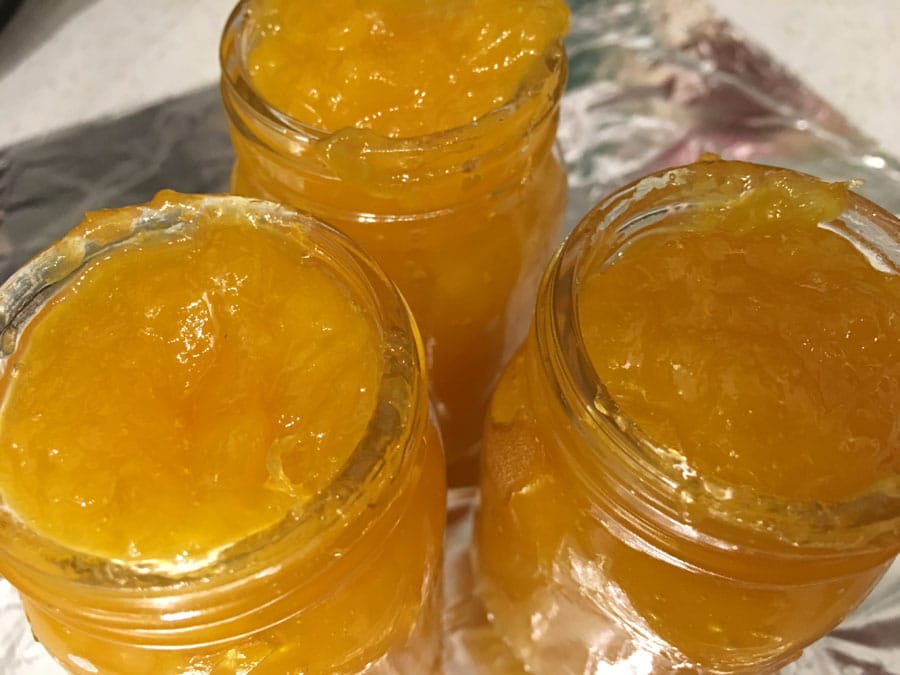 I prefer to stop cooking just before it reaches the consistency of a fruit spread which is perfect!
Make sure to use fresh mangoes that are sweet as well instead of sour ones (preferably with less stringy fibers) for the best results.
Jars suitable for jams & jellies
Bormioli Rocco Quattro Stagioni Glass Mason Jars 8.5 Ounce Mini Jars (12-Pack) with Metal Airtight Lid, For Jam, Jelly, baby food, Crafts, Spices, Dry Food Storage, Wedding favors, Decorating Jar

Ball 40801 Golden Harvest Mason Regular Mouth 8oz Jelly Jar 12PK 'Vintage Fruit Design', RM 8 Oz, Clear

Mini Mason Jars, VERONES Mason Jars 4 oz With Regular Lids, Ideal for Jam, Honey, Wedding Favors, Shower Favors, Baby Foods, DIY Magnetic Spice Jars, 25 PACK, Extra 20 Lids.

Things helpful: potato masher, potato skin peeler
Below you can get the recipe for mango jam in detail.
Mango Jam In Instant Pot (And Stove Top) Without Pectin
Instant pot mango jam using fresh ripe mangoes and lemon juice without pectin is so easy to prepare, delicious and ready in about 35 minutes of time.
Print
Pin
Rate
Ingredients
4

large

mangoes

ripe and sweet

1.5

cups

sugar

¼

cup

fresh lemon juice

filtered, from a medium sized lemon

2

tablespoons

water
Instructions
Wash the mangoes and peel the skin of the mangoes. I used a good quality potato peeler to easily remove the skin from the mangoes.

Chop the mangoes into small sized pieces (discard the seeds of the mangoes), transfer the chopped mangoes to the inner pot of the instant pot. While chopping the mangoes, some of the juice will release if the mangoes are very ripe, save that juice and transfer that also to the inner pot of instant pot.

Add the sugar also to the instant pot, mix well.

Add the filtered lemon juice and water, mix everything well.

Close the instant pot with lid in sealing position, press manual and cook in high pressure for 7 minutes. The instant pot will take few minutes to come into pressure and start cooking. Once the cooking is done, the pot will beep so you have to wait until then.

Once the cooking is all done and the instant pot beeps, wait for a natural pressure release for about 10 minutes and then manually release the pressure very carefully by turning the lid from sealing to venting position slowly and gradually.

Once the pressure is all released, carefully open the lid and stir the contents and mash the contents carefully (the contents will be very hot at this time so make sure to handle it without splashing anything hot). I used a good quality potato masher to mash the cooked fruits gently and effectively.

Press the saute button, select medium and simmer the contents for about 8 minutes while you keep stirring the contents and mashing as needed, until the extra liquids have evaporated and the jam has reached an almost fruit spread like consistency.

Once done, press the 'keep warm/cancel' button and carefully transfer the inner pot from the instant pot, to avoid any further cooking.

Once the jam is cooled enough, but while its still warm, transfer the jam to the jars.

Once cooled completely, transfer the jars to the refrigerator and store in the refrigerator for up to two weeks. Enjoy the delicious mango jam with breads, pancakes or anything as you like.
Notes
I used a medium sized lemon to get ¼ cup of lemon juice.
You may use lime juice instead.
The consistency, freshness and quality of the mango jam will very much depend on the mangoes you use as well. So always make sure to use ripe, fresh, good quality mangoes for the best results.
It is always best to use sweet mangoes (not sour ones) that have less stringy fibers for the best texture.
(I entered lime juice instead of lemon juice by mistake in the post and video. I updated the post, but the video shows it as lime juice. To clarify, I added lemon juice, not lime juice. However, both lime juice and lemon juice will work for this mango jam recipe.)
Nutrition
Calories:
33
kcal
|
Carbohydrates:
8
g
|
Protein:
1
g
|
Fat:
1
g
|
Saturated Fat:
1
g
|
Sodium:
1
mg
|
Potassium:
24
mg
|
Fiber:
1
g
|
Sugar:
8
g
|
Vitamin A:
150
IU
|
Vitamin C:
5.5
mg
|
Calcium:
2
mg