This instant pot mango jam recipe is really the best homemade instant pot mango jam recipe ever and I have added a small video link to show you the visuals of making this easy instant pot mango jam in instant pot without using pectin.
You can watch a quick video for instant pot mango jam preparation here:
music credit for the video: https://www.bensound.com/royalty-free-music
I entered lime juice instead of lemon juice by mistake in the post and video. I updated the post, but the video shows it as lime juice. To clarify, I added lemon juice, not lime juice. However, both lime juice and lemon juice will work for this mango jam recipe.
This instant pot fruit jam using fresh ripe mangoes is so simple to prepare, delicious, quick and ready in about 35 minutes of time in your instant pot (including the pressure build up and pressure release time for instant pot).
And this is an easy simple instant pot mango jam recipe without pectin as well, and we only use lemon juice instead of pectin which does the job perfectly.
I stored this instant pot mango jam in jars up to two weeks in the refrigerator and it was fresh and yummy all the time.
I used fresh ripe and sweet mangoes to make this instant pot mango jam and you can see how colorful this jam is! The mango jam looks golden yellow in color and it is very colorful indeed from the natural yellow/orange colors of the ripe mangoes.
This instant pot mango jam is kid friendly as well (just like any other fruit jam :)) and we only use natural ingredients to make this at home. No preservatives, no pectin and it turned out great!
We really dump the ingredients (which are very few) to the instant pot and let it cook.
Then once the cooking is done, we mash the contents gently (I used a potato masher), do few minutes of stirring and simmering so the jam will thicken up.
Just make sure to stop the cooking before you reach the desired consistency, because the jam will thicken up a bit more as it cools down.
So if you overcook the contents, the jam can become overly thick and sticky, just like any other jam. To avoid this and to get the perfect texture, make sure to watch and stir the contents as they simmer and stop the cooking once the jam is almost done.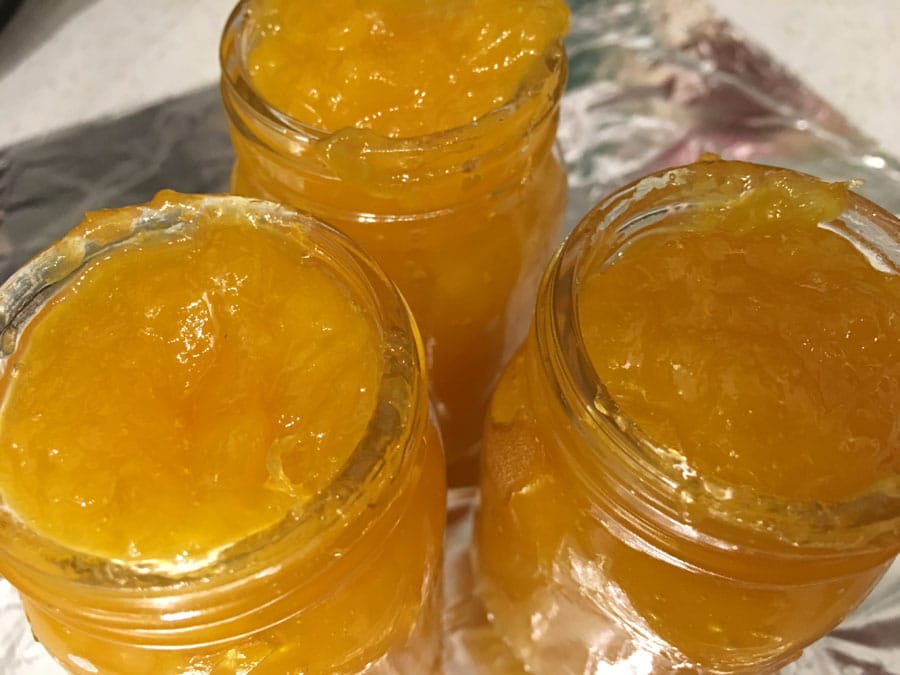 I prefer to stop cooking just before it reaches the consistency of a fruit spread which is perfect!
So here is how you can make this instant pot mango jam without pectin following this easy and simple instant pot mango jam recipe from scratch.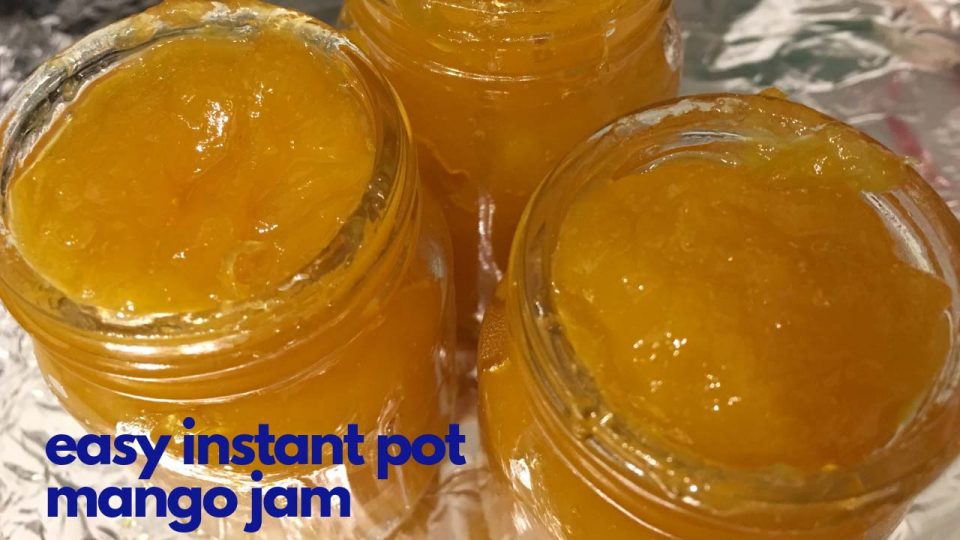 Make sure to use fresh mangoes that are sweet as well instead of sour ones (preferably with less stringy fibers) for the best results.
Jars suitable for jams & jellies
Bormioli Rocco Quattro Stagioni Glass Mason Jars 8.5 Ounce Mini Jars (12-Pack) with Metal Airtight Lid, For Jam, Jelly, baby food, Crafts, Spices, Dry Food Storage, Wedding favors, Decorating Jar

Ball 40801 Golden Harvest Mason Regular Mouth 8oz Jelly Jar 12PK 'Vintage Fruit Design', RM 8 Oz, Clear

Mini Mason Jars, VERONES Mason Jars 4 oz With Regular Lids, Ideal for Jam, Honey, Wedding Favors, Shower Favors, Baby Foods, DIY Magnetic Spice Jars, 25 PACK, Extra 20 Lids.

Easy Instant Pot Mango Jam Recipe Below
Things helpful: potato masher, potato skin peeler
Instant Pot Mango Jam Recipe Without Pectin
Instant pot mango jam using fresh ripe mangoes and lemon juice without pectin is so easy to prepare, delicious and ready in about 35 minutes of time.
instant pot pressure build and release time
20
minutes
Ingredients
4

large

mangoes

ripe and sweet

1.5

cups

sugar

1/4

cup

fresh lemon juice

filtered, from a medium sized lemon

2

tablespoons

water
Instructions
Wash the mangoes and peel the skin of the mangoes. I used a good quality potato peeler to easily remove the skin from the mangoes.

Chop the mangoes into small sized pieces (discard the seeds of the mangoes), transfer the chopped mangoes to the inner pot of the instant pot. While chopping the mangoes, some of the juice will release if the mangoes are very ripe, save that juice and transfer that also to the inner pot of instant pot.

Add the sugar also to the instant pot, mix well.

Add the filtered lemon juice and water, mix everything well.

Close the instant pot with lid in sealing position, press manual and cook in high pressure for 7 minutes. The instant pot will take few minutes to come into pressure and start cooking. Once the cooking is done, the pot will beep so you have to wait until then.

Once the cooking is all done and the instant pot beeps, wait for a natural pressure release for about 10 minutes and then manually release the pressure very carefully by turning the lid from sealing to venting position slowly and gradually.

Once the pressure is all released, carefully open the lid and stir the contents and mash the contents carefully (the contents will be very hot at this time so make sure to handle it without splashing anything hot). I used a good quality potato masher to mash the cooked fruits gently and effectively.

Press the saute button, select medium and simmer the contents for about 8 minutes while you keep stirring the contents and mashing as needed, until the extra liquids have evaporated and the jam has reached an almost fruit spread like consistency.

Once done, press the 'keep warm/cancel' button and carefully transfer the inner pot from the instant pot, to avoid any further cooking.

Once the jam is cooled enough, but while its still warm, transfer the jam to the jars.

Once cooled completely, transfer the jars to the refrigerator and store in the refrigerator for up to two weeks. Enjoy the delicious mango jam with breads, pancakes or anything as you like.
Notes
I used a medium sized lemon to get 1/4 cup of lemon juice. You may use lime juice instead. The consistency, freshness and quality of the mango jam will very much depend on the mangoes you use as well. So always make sure to use ripe, fresh, good quality mangoes for the best results. It is always best to use sweet mangoes (not sour ones) that have less stringy fibers for the best texture.
Nutrition
Calories:
33
kcal
|
Carbohydrates:
8
g
|
Protein:
1
g
|
Fat:
1
g
|
Saturated Fat:
1
g
|
Sodium:
1
mg
|
Potassium:
24
mg
|
Fiber:
1
g
|
Sugar:
8
g
|
Vitamin A:
3
%
|
Vitamin C:
6.7
%
|
Calcium:
0.2
%
|
Iron:
0.1
%
Hope you found this post on instant pot mango jam helpful in making easy and delicious mango jam at home!