Easy Quick Semolina Porridge Recipe Using Sooji/Semolina Flour – Sooji Rava Porridge Recipe (Homemade Cream Of Wheat Recipe)
Simple Semolina Porridge Recipe – Easy Semolina Porridge Recipe For Breakfast
Semolina porridge recipe to make semolina porridge at home is easy to follow and you can easily learn how to make semolina porridge. This semolina porridge recipe is a very popular, simple and easy to make homemade cream of wheat recipe.
One thing with semolina porridge is that unlike most other porridges, semolina porridge has a tendency to thicken so fast (other kind of porridge made from different grains like oats too thickens with time but semolina tends to thickens so fast and even form a cake like texture if you add little liquid). This is because semolina flour cooks really fast and it absorbs much of the liquid left.
So first of all you need to decide what is the texture of semolina porridge or cream of wheat you prefer, if you prefer thick semolina porridge you can follow the recipe and no need to add extra milk.
If you prefer more liquid like consistency which is preferred by babies and kids, you can add more chilled milk to the hot semolina porridge as soon as it is prepared, which will make it the right consistency of breakfast porridge.
It is best to use slightly coarse semolina flour to make the porridge.
Click here to buy semolina flour to make porridge
See more semolina flour options below, the prices and also other product details you can compare in Amazon.
Organic Flour Semolina, USDA Organic, No preservative,Used to make Pastas, Porridge
Organic Tattva Semolina Coarse Rawa Suji, 500g USDA Organic Certified
You can see from the picture that as soon as you prepare the semolina porridge, it is liquid like consistency. But it will thicken so fast, so add the chilled milk immediately to make it the consistency you prefer.
See my post on oatmeal porridge microwave recipe here
See here another popular South Indian breakfast recipe using semolina flour – sooji rava idli recipe
See easy sooji rava ladoo Indian dessert recipe here which is made using semolina flour
See my post on easy and delicious semolina yeast pancakes recipe for breakfast
See my post on masala upma recipe which is delicious savory breakfast made using semolina flour
So let us see how to make the semolina porridge at home in different consistencies.
You can also cook the porridge with more amount of milk if you prefer more liquid like consistency, but always keep some chilled milk with you since the semolina porridge has the tendency to thicken up fast.
If you are looking for semolina porridge recipe for babies or kids, you can easily tweak the recipe by skipping the cardamom powder (if you haven't used cardamom powder before) and adding more milk while preparing the porridge. Adding even more milk to the prepared porridge will help you reach the desired consistency needed for babies and kids. For those who have a milk allergy, you can use water instead of milk or you can use coconut milk for cooking the porridge, which may slightly alter the flavor but it is perfectly fine to be used.
Semolina Porridge Recipe
Makes 2 Servings Of Semolina Porridge
Ingredients for semolina porridge recipe – Ingredients to make semolina porridge
Semolina flour (sooji flour) 1/2 cup
Whole Milk 2 Cups
Extra Whole milk chilled as required
Sugar 3 tablespoons (or more as required)
cardamom powder a pinch (optional)
Instructions to make semolina porridge – Instructions for semolina porridge recipe
Add the semolina flour to a pan and dry roast it for about 2 to 3 minutes stirring constantly. If you are using roasted semolina flour, you can skip this step.
Add the milk, sugar and cardamom powder to the roasted semolina flour, mix well.
Keep in medium heat and bring the mixture to a boil, keep stirring continuously or the porridge will stick or burn at the bottom of the pan.
As the mixture starts boiling, reduce the heat to low, and cook for another few seconds stirring continuously.
Switch off the stove and remove the pan from the hot stove.
Semolina porridge is cooked and ready to be used.
Add more chilled milk to the porridge to make it more liquid like consistency and mix well to avoid lumps.
Serve hot for breakfast, you can also top with dry fruits like raisins or any chopped or toasted nuts if you wish!
If you don't add enough chilled milk and leave the porridge for few minutes, the porridge will thicken and form a cake like texture which is still delicious!
You can see from the pictures below how the semolina porridge thickens if you are not adding extra milk.
Hope you found this simple, easy quick semolina porridge recipe r homemade cream of wheat recipe helpful!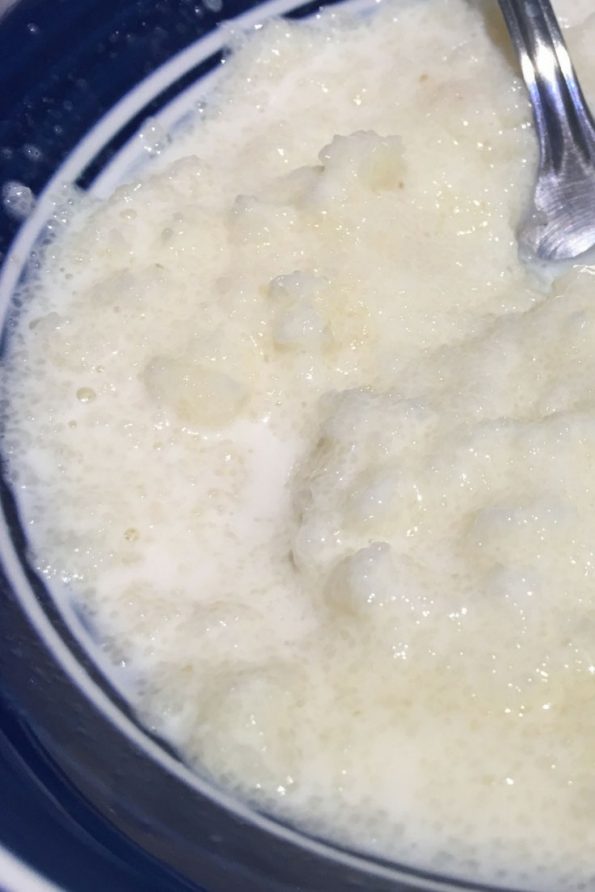 You might like to see my posts on oatmeal recipes here