How To Make Easy Mayo Egg Sandwich Recipe For Breakfast
Hard boiled egg sandwich following this hard boiled egg sandwich recipe is so easy to prepare and you can make quick and delicious egg sandwiches in no time if you have hard boiled eggs.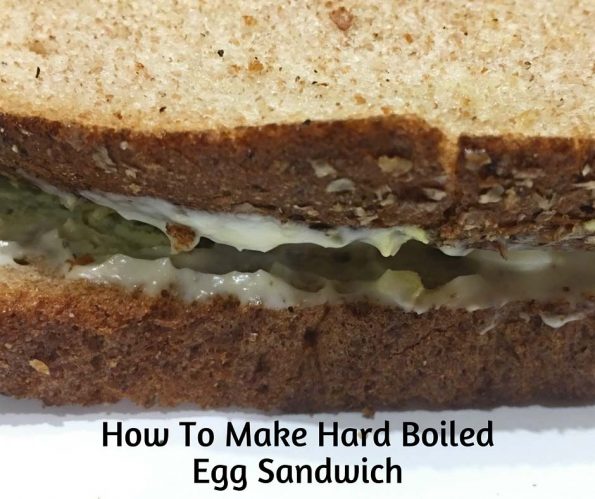 To make hard boiled eggs, add the eggs to a saucepan with enough water and add salt, bring the mixture to a boil and then reduce the heat to low and cook for another 10 minutes (with the pan closed with lid).
After 10 minutes of boiling, you can drain off the hot water carefully and add replace with regular water which will help the water to cool down.
Once the eggs are cooled, you can remove the shells and the hard boiled eggs are ready to use.
Here in this recipe for hard boiled egg sandwich, we use only one hard boiled egg which is enough to prepare sandwich for one person. If you have two people to serve, you can make two hard boiled eggs.
You can prepare the boiled eggs in advance and make the sandwich quickly as needed.
If you want to prepare a quick breakfast egg sandwich using boiled eggs, you may boil the eggs the night before, keep it refrigerated and use in the morning for preparing the breakfast sandwich.
I used wheat bread to make this boiled egg sandwich but you can use your favorite type of bread. Make sure to toast the bread for the best results!
Even if you don't have a bread toaster or sandwich maker, you can toast the bread using a regular iron skillet or pan, see my post here on how to toast bread without toaster.
We use mayonnaise as the spread for this delicious hard boiled egg sandwich recipe.
If you don't want to use mayonnaise because you are already using the eggs in the sandwich and so if you prefer an egg free spread, you can go for eggless mayonnaise or you can just use spreadable butter.
So here is how you can prepare this easy and quick boiled egg sandwich following this easy hard boiled egg sandwich recipe.
Easy Hard Boiled Egg Sandwich Recipe
Hard boiled egg sandwich recipe using mayonnaise is so delicious and very quick and easy to prepare for breakfast.
Ingredients
2

slices

bread

1

boiled egg

2

tablespoons

mayonnaise

2

teaspoons

extra mayonnaise

1

teaspoon

ground black pepper

2

tablespoons

butter

(to toast the bread slices in butter)

salt

as needed
Instructions
Toast your bread with butter, I used a good quality iron skillet to toast the bread slices. To toast the bread with butter using the skillet, first add a tablespoon of butter to the hot iron skillet and place one of the slices. Toast in low to medium heat for about a minute or until the bottom side is crispy and  lightly golden brown, flip the bread and toast the other side too. Once the first slice of bread is toasted, transfer it from the pan or skillet and add another tablespoon of butter and repeat the process to toast the second slice of bread too. Keep the toasted bread slices aside.

Take the boiled egg in a bowl and chop the boiled egg into very small pieces.

Add the mayonnaise, salt and ground black pepper to the chopped boiled egg and stir together to form a nice, creamy and spreadable mixture.

Take one slice of toasted bread and add the mayo egg mixture to it, and evenly spread the mixture over the slice.

Add the extra two teaspoons of mayonnaise to the second slice of bread and evenly spread it.

Take the second slice of bread (which is spread with mayo on one side) and place the slice on top of the first slice with the mixture, gently press the slices together. You may cut the boiled egg sandwich in triangles if you wish, which will make it easy to serve and eat, especially if you are serving for kids.

Enjoy the easy, simple and delicious hard boiled egg sandwich with mayonnaise for breakfast, snack or even dinner as you wish.
Nutrition
Calories:
533
kcal
|
Carbohydrates:
3
g
|
Protein:
7
g
|
Fat:
55
g
|
Saturated Fat:
20
g
|
Cholesterol:
261
mg
|
Sodium:
500
mg
|
Potassium:
63
mg
|
Sugar:
1
g
|
Vitamin A:
960
IU
|
Calcium:
25
mg
|
Iron:
0.8
mg
Hope you found this post on hard boiled egg sandwich recipe using mayonnaise helpful in making easy, quick and yummy egg sandwich for breakfast!